VIEW CART
To search this page for specific words type "Ctrl" + "F" on your keyboard (Command + "F" on a Mac). Then, type the word you are searching for in the search bar that pops up. In Firefox, the search bar will appear on the bottom of your screen. In Internet Explorer, it is at the top.
---
LOTS 1-50 | 51-100 | 101-150 | 151-200 | 201-250 | 251-300 | 301-350 | 351-400 | 401-450 | 451+
---
FTJ Auction 6802
6802 Fine Tool Journal Fall 2018 absentee auction bidding is OPEN. Please bid below!
Auction ends December 2, 2018.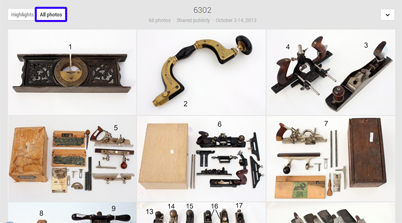 Auction Information:
Initial bids must be received on or before the end of the day Saturday, December 1, 2018. Initial bids can be increased at any time until the end of the auction on Sunday, December 2, 2018. If you would like to bid on a paper bid sheet, blank bid sheets can be printed out here. Mail, fax, or email your bids to the address provided on the form. You may also bid on the auction and submit an electronic bid sheet using the online auction listing below.
To view all auction items in our Web Albums, click here. To see all photos in order, select All Photos (in blue in the image above). Clicking on individual photos reveals full description and the ability to zoom in.
How to bid in our current auction below:
Enter bid in Maximum Bid box to the right of lot desired and click "Add to Cart" button.
Review bid on the next page.
If you would like to bid on more lots, click the "Continue Bidding" button to return to the current auction to place more bids. The number of bids in your cart will appear at top of current auction page.
Bid on next item(s) until completed bidding on all lots you wish to bid, hitting the "Continue Bidding" button after each bid is added to cart.
When placing your final bid, select the "Place Bid" button, then the "Confirm" button after reviewing all bids. Proceed with entering contact information to submit bid(s) to Fine Tool Journal.
To quickly and automatically process any auction wins, please call us a (800) 964-9036 to securely place your credit card on file.
Thanks for bidding!
To confirm we received your bids and to check on current High Bids please call (800) 964-9036. Bids may be increased by calling or by submitting increases online below.
Items marked with an asterisk (*) before the description allow a minimum bid of $1. All other items have a minimum $20 bid.
| | | |
| --- | --- | --- |
| PHOTO (CLICK TO ENLARGE) | DESCRIPTION | BID |
| | 6802-001 STANLEY No. 239-1/2 special dado plane IOB. Rare version with no provision for vertical nicker but does have a fence which is somewhat of an anomaly according to John Walter's book (pg. 443) as most of the No. 239-1/2 planes had no fence. Japanning 95%, 1/8 inch vee mark cutter, super clean. Box has light wear on edges, label 80% with the 1/2 after the 239 on the box as an overlay but looks original. From the John and Janet Wells collection. Fine (WLS242) 250 - 500 | |
| | 6802-002 STANLEY No. 90 bullnose rabbet plane. Type 1 with patent dates on cutter, nickel 80%, throat good. From the John and Janet Wells collection. Good (WLS138) 50 - 100 | |
| | 6802-003 STANLEY No. 90J bullnose rabbet plane IOB. Minty clean English version with paper and box in good shape. From the John and Janet Wells collection. Fine (WLS246) 40 - 80 | |
| | 6802-004 STANLEY No. 238 plow plane with cutters. Has all 7 cutters including the one in the plane and 6 wrapped in wax paper, all with notched rectangle mark. Plane has 90% japanning, clean and all there. From the John and Janet Wells collection. Good+ (WLS241) 100 - 200 | |
| | 6802-005 STANLEY No. 95 edge trimming plane. Type 1, japanning 90%, light wear. From the John and Janet Wells collection. Good (WLS133) 75 - 150 | |
| | 6802-006 STANLEY No. 239 special dado plane. 1/8 inch, early type body with no provision for the fence but has no "Patent Appl'd For" mark. Japanning near complete, clean. From the John and Janet Wells collection. Good+ (WLS243) 80 - 160 | |
| | 6802-007 STANLEY No. 98 and 99 side rabbet planes. Type 1 with patent date on skate, wood has light wear, some small spots of surface rust. Japanning 95%. From the John and Janet Wells collection. Good (WLS208) 75 - 150 | |
| | 6802-008 STANLEY No. 55 universal plane. Type with patent dates on skate and B casting mark, has 4 cutter sets but slitter and a few cutters missing from Box 3 and 4, Box 4 also missing some of its wood frame near top, labels 70-80%. Long rods only. Wood has some wear and a crack in tote, plating 75%. Inside user made dovejointed wood box. Good (TWR125) 100 - 200 | |
| | 6802-009 STANLEY No. 45 combination plane IOB. Type 14 with sweetheart mark on skate, plane looks barely used with clean wood except for small spot of glue on tote, nickel 95%. Seems to be all there except for screwdriver and has 27 cutters in two user made wood boxes. Orange pasteboard box has some wear but label 95%. Good (CWL67) 100 - 200 | |
| | 6802-010 English STANLEY No. 4 smoothing plane IOB. Little to no use with light surface rust on one cheek, original paper inside lightly worn box. Good (TWR376) 30 - 60 | |
| | 6802-011 STANLEY No. 78 rabbet plane IOB. Sweetheart cutter, looks unused, has numbers 243 cast above toe, japanning near complete. Includes sheet explaining proper bevel for grinding plane iron. Box has some wear and a few split seams, label ok with tape over it. Good (MAG127) 50 - 100 | |
| | 6802-012 OHIO TOOL CO. No. 96 unhandled screw-arm plow plane. Worn beech body and boxing on fence, chipped threads, a few stains. Could use a cleaning. Good- (FNK204) 30 - 60 | |
| | 6802-013 MOON wedge-arm plow plane. Stamp looks like "T*MOON" with initials J.G. underneath, looks early and could be for Thomas Moon who made planes in London from 1799-1818. Arm wedges broken off, wear and staining to wood. Good- (NHF8) 30 - 60 | |
| | 6802-014 J.H. LAMB handled screw arm plow plane. Beech body and fence, boxwood arms and nuts. Wedge chewed and finial broken off. User stamp, chips on threads, wear to wood, outer nuts have holes drilled in them, possibly as an aid to loosen or tighten them. Newbould cutter. Good (REW454) 35 - 70 | |
| | 6802-015 CASEY & CO handled screw-arm plow plane. Beech body with boxwood nuts. Threads have a few chips especially near shoulder, wedge chewed, tote ok. One shoulder has checks and staining and is a little loose. Good (REW453) 30 - 60 | |
| | 6802-016 Lot of two wedge arm filletsters. One by A. SMITH with fully boxed sole and boxwood fence, chip in corner of fence, light wear. Other marked HOLBROOK, side boxed, moderate wear and cutter wedge broken off but present. Arms have boxwood ruled strip down middle. Good- & better (GAN5136, 5108) 30 - 60 | |
| | 6802-017 GRIFFITHS OF NORWICH bridle plow. Boxwood bridle on vee-shaped arms. The plane itself is very clean, wedge is almost certainly a replacement, missing the knob on the right side that served in place of a tote. Good (PLH718) 80 - 150 | |
| | *6802-018 G. COLLIER wedge arm filletster. Wood has some light staining and wear, boxing ok, a couple brass tips on arms loose. Good (JBN172) 25 - 50 | |
| | 6802-019 Lot of two STANLEY No. 10 try squares. 9 inch and 8 inch sizes, wood has light scratching, both blades have faint semicircle mark and are fairly clean. From the John and Janet Wells collection. Good (WLS149) 40 - 80 | |
| | 6802-020 Lot of two try squares. A 12 inch STANLEY No. 1, light wear and user initials on wood and metal, light pitting. And a 9 inch by FENTON & MARSDEN, marked on handle, light wear and pitting, brass good and slightly polished. From the John and Janet Wells collection. Good (WLS156, 157) 50 - 100 | |
| | *6802-021 Lot of two English levels. A HOCKLEY ABBEY No. 1622, 8", brass top plate and feet stained, worn but intact with good vial, and one that also looks like a Hockley Abbey but mark is worn off, thin brass top plate, dented, good vial. Good (WOL) 20 - 40 | |
| | 6802-022 Lot of three watchmaker's poising calipers. Two of them have an unusual adjusting mechanism, with a bar that has a double-ended pawl that engages teeth around the central knob. One of these is labeled "J.E. Kampe Waltham Mass." Mr. Kampe did have a 1911 patent for a poising caliper but it used a different type of adjustment. The third is unmarked. Good & better. (UNK) 25 - 50 | |
| | 6802-023 DAVIS LEVEL & TOOL cast iron inclinometer. Second type, with the more delicate filigree, locking screws through the top rail and no gold highlighting. 12". Japanning nearly intact and never repainted, good brass dial with one screw missing, all corners present but a small gouge from the bottom rail. Good (MSV9) 150 - 250 | |
| | 6802-024 DAVIS LEVEL & TOOL cast iron inclinometer. 9" version. The decorative ogee shapes on the ends have been milled flat and holes drilled in the top and bottom rails as if to attach it to something, the lower right rail has broken around the hole. Otherwise in decent shape. Good - (ASY66) 75 - 150 | |
| | 6802-025 CUTTS, SUTTON & SON sector rule. 6 inch long with scales on both sides, boxwood is nice with a couple of small nicks in edges. Cutts, Sutton & Son were Sheffield makers of surveying instruments in the mid-to-late 19th century but also had a shop in New York City in 1854. From the John and Janet Wells collection. Good+ (WLS196) 40 - 80 | |
| | 6802-026 T. BRADBURN ironmonger's caliper rule. One-foot, three-fold boxwood and brass, scales for both square and iron rounds on inside, in nice shape. From the John and Janet Wells collection. Good+ (WLS) 40 - 80 | |
| | 6802-027 WM BEATTY & SONS shipwright's adze. 5 inch edge with a couple of nicks that could be smoothed out. 2 inch poll, cow stamp and 28 inch curved handle, clean. Good+ (CBY3) 45 - 90 | |
| | 6802-028 Mortising axe. Double ended with 3 inch and 2 inch edges at right angles, looks handforged. 19 inch handle. Unmarked. Good (SPM244) 40 - 80 | |
| | *6802-029 Lot of four handed tools. Two turnscrews with wood handles, a honing steel with decorative handle, and a gouge with metal handle and heavy rust. Good- & better (MSV95) 20 - 40 | |
| | 6802-030 Hook tip bark spud. 27-3/4 inch long overall; unmarked, blade has surface rust and light pitting; handle a little loose but still solid. Good (JRI1284) 30 - 60 | |
| | 6802-031 BEATTY & SONS No.4 broad axe. 12 inch edge, semi circle mark on front and backside has stamp of a fish.14 inch worn handle with metal spike in eye. Good (CBY49) 50 - 100 | |
| | 6802-032 Slick. 3-3/4 inch edge, unmarked and looks handforged, handcarved handle. Crack in metal on right edge 1 inch from tip. Good- (SPM896) 30 - 60 | |
| | 6802-033 MILLERS FALLS No. 4 ratcheting auger bit handle. 15 inches across, partial logo, has most of its japanning, light wear. Good (SPM745) 50 - 100 | |
| | 6802-034 Decorative hand adze. Marked "Sido" with 4 inch edge held in place with decorative star marked metal bracket and nicely carved wooden handle made of what looks like burl. Clean. Good+ (GST419) 40 - 80 | |
| | *6802-035 Scorp. Open handle, sharp 5 inch edge, clean. Good+ (RRT807) 30 - 60 | |
| | *6802-036 RAMELSON carving tools IOB. Five tools out of six, all clean in original green box. Good+ (NCY29) 20 - 40 | |
| | *6802-037 DISSTON stair saw. 6 inch wide blade, wood has a few dings otherwise clean. Good+ (GST158) 30 - 60 | |
| | 6802-038 Carving chisels and gouges in wooden box. Five with labels from Germany, three are HENRY TAYLOR, one BUCK BROS and one BUTCHER. Plus two FALLS RUN carving knives in sleeve. Inside 15 inch x 11 inch veneer box with one drawer, likely originally used for silverware, missing two of the feet on bottom. Good & better (HNL1175) 40 - 80 | |
| | 6802-039 Lot of eleven BUCK BROS crank neck gouges. 1/8 inch to 1 inch in widths, handles have variety of wear and a few are different than the rest. Metal clean. Good (CWL165) 100 - 200 | |
| | 6802-040 Lot of 10 turning tools. Three with rosewood handles plus an extra handle, a few marked BUCK with hardwood handles. Some surface rust. Good (PLH609) 35 - 70 | |
| | 6802-041 Lot of six gouges. Three by ASHLEY ISLES, one MARPLES, one T.S. KAYE & SONS, and one HOWARTH. Half are crank neck. All with good boxwood handles, clean and sharp. Good+ (WOL860) 80 - 160 | |
| | 6802-042 Lot of five chisels. One gooseneck, rest flat. Makers include SORBY, MARPLES, STORMONT, and one marked PALM TREE. 1/4 inch and 1/2 inch in size, nice handles. Good (WOL865) 40 - 80 | |
| | 6802-043 Lot of 12 carving chisels. Mixture of makers and handles including MARSDEN, HERRING, MATHIESON, MARPLES, ADDIS. Flat and crank ends, Good (WOL866) 30 - 60 | |
| | 6802-044 STANLEY No. 608 Bedrock jointer. Mix of Type 3 and Type 4, japanning 90%, wood good. Overall nice and clean. Good+ (CWL134) 100 - 200 | |
| | 6802-045 STANLEY No. 7C jointer plane. Type 7, japanning 80%, user name on one cheek. Good (CVR207) 40 - 80 | |
| | 6802-046 STANLEY No. 90 steel case rabbet. Made only for 11 years from 1877-1888, this is one of Stanley's rarer planes. Wood clean with very faint stamps, throat appears unaltered, metal has very light surface rust in a few spots. Good+ (KDL238) 75 - 150 | |
| | 6802-047 Lot of two No. 3 sized planes. One by VAUGHAN & BUSHNELL, light wear to wood. And a STANLEY G3 gage, 90% japanning, wear to wood. Good- & better (RRT816) 35 - 70 | |
| | *6802-048 VICTOR No. 20 circular plane. Early version, missing medallions, decorative lever cap screw. Has most of its plating, light rust. Good- (HNL928) 25 - 50 | |
| | 6802-049 STANLEY No. 2 smoothing plane. Sweetheart cutter, notched rectangle lever cap, 70% of decal on tote. Japanning 60%, repaired crack at base of tote, knob ok. Some rust at top of cutter, ding in one cheek. Good (KDL226) 75 - 150 | |
| | 6802-050 STANLEY No. 113 circular plane. Type 1A, front knob a little loose with about 40% plating, japanning 85%, faint mark on proper cutter. Very light rust. Good (HEN32) 50 - 100 | |
| | *6802-051 Lot of two planes. A SHELTON No. 4 bench plane, some rust on cheeks, wood ok. And an unmarked block plane marked "Made in USA" with large replacement wooden knob, japanning 80%. Good- (MSV92) 15 - 30 | |
| | 6802-052 Lot of three GAGE transitional planes. Nos. 2, 4, and 9, all marked Gage at toe. One is missing metal plate on top of tote, japanning 80-90%, wood has wear and staining. Totes look repainted. Good (KDL140,142,143,) 35 - 70 | |
| | 6802-053 STANLEY No. 57 core box plane. Semicircle mark on cutter, wood worn and has crack in base of tote. Has two sets of extensions and one turnbuckle, 3 of the extensions have B casting marks and one has S mark. Plating good on backside but front of plane and extensions have heavy coat of rust. Could clean up well. Good- (CWL147) 150 - 300 | |
| | 6802-054 CHAPLIN Improved jack plane. Good example of Chaplin's improved design as marketed by Tower & Lyon, with 15 inch smooth sole, nonadjustable throat, proper marked cutter with surface rust, vulcanized rubber tote with small chip, "Chaplin's Improved" cast around rosewood knob. Japanning worn. Good (CVR150) 50 - 100 | |
| | 6802-055 STANLEY No. 3 bench plane. Later type with kidney lever cap, japanning near complete, number 5 cast into frog and lever cap, light wear to wood. Good (LWN64) 30 - 60 | |
| | 6802-056 No. 2 sized plane. Cutter marked ECLIPSE, low knob and tote both painted black, cast 114 on back of plain lever cap. Metal has moderate rust but could clean up. Good- (GST258) 40 - 80 | |
| | 6802-057 STANLEY No. 90 steel case rabbet. Made only for 11 years from 1877-1888, this is one of Stanley's rarer planes. Wood has some wear and dinging, both Stanley mark and patent date on top, a few spots of surface rust, throat slightly widened. Good (KDL237) 50 - 100 | |
| | 6802-058 STANLEY No. 57 core box plane. No extensions. Tote worn and stained, replacement lever cap screw. Knob good. Has been spray painted silver. Good- (KDL239) 50 - 100 | |
| | 6802-059 STANLEY No. 45 combination plane. Type 1 with light wear to wood and chip off tip of tote, japanning 80%. Missing slitter, surface rust. Fence screws are unslotted, long rods and one cutter only. Good (RRT813) 60 - 120 | |
| | 6802-060 SIEGLEY combination plow plane. Early model with locking thumbscrews and rosewood lined fence with cast clover leaf pattern. Wood has some wear and crack in wood at front of fence, surface rust, traces of japanning. One cutter, short rods, missing depth stop. Good (KDL225) 60 - 120 | |
| | 6802-061 STANLEY No. 78 duplex rabbet and filletster. Sweetheart cutter, has fence and depth stop, japanning 90%. Good (LWN69) 30 - 60 | |
| | *6802-062 STANLEY No. 192 rabbet plane. Vee mark on cutter, surface rust. Japanning 80%. Good (CVR300) 20 - 40 | |
| | 6802-063 Lot of two STANLEY scrub planes. No. 40 with sweetheart cutter, japanning good, tote cracked. And a No. 40-1/2 with T mark, wood has light wear and user initials punched into one side of tote, japanning 70%. Good+ (KDL234,235) 75 - 150 | |
| | 6802-064 STANLEY No. 11 beltmaker's plane. Later type with 1982 patent cutter, good rosewood handles, B casting mark, japanning retouched and throat looks cleaned. Good (CVR399) 40 - 80 | |
| | 6802-065 STANLEY No. 194 fibre board beveller. One cutter, good clean condition, some scratching on tote. Good+ (LWN58) 40 - 80 | |
| | 6802-066 EVERKEEN No. 3 sized plane. Everkeen was a mark used by the John Pritzlaff Hardware Co. of Milwaukee. Not sure who made this one, low knob, Bailey-type adjustment. Has an unusual tapered cutter. Japanning ok, light surface rust. Good (HNL1005) 30 - 60 | |
| | *6802-067 Lot of three hatchets. Makers are STANLEY Foursquare, WINCHESTER, and AMERICAN AXE & TOOL CO. Slight surface rust on all, handles have light wear but generally ok. Good (RUS359, 366) 30 - 60 | |
| | 6802-068 Lot of five broad hatchets. Two by KEEN KUTTER, a PLUMB, a KELLY, and a WARDS MASTER. Edges ok, light wear, a few have rust spots. Good (RUS348, 355, 357, 358) 50 - 100 | |
| | 6802-069 Shipwrights adze. 3-3/4 inch sharp edge, 2 inch large poll, appears to have mark but is illegible, 23 inch straight handle. Good (SPM621) 30 - 60 | |
| | 6802-070 BEATTY & SON adze. 3-5/8 inch edge with small chip in corner, 31 inch slightly curved handle. Chester PA cow mark is overstamped Good (CBY5) 35 - 70 | |
| | 6802-071 Slick. 3 inch sharp edge and 30 inch long total but handle is only 8 inches and held with flat screw. Looks hand forged and early, unmarked. Surface rust. Good (SPM79) 35 - 70 | |
| | *6802-072 Lot of 6 handled tools. Various carving and linoleum knives in different shapes with some having handcarved handles and others look manufactured, one marked GOODELL. Plus a 4 inch bung auger. Good (MSV69) 20 - 40 | |
| | 6802-073 YOUNGSTOWN KITCHEN cabinet extensible rule. Large sliding rule used to measure kitchen cabinets. One side shows rule measurements while the "selector side" is marked for specific cabinet measurements within the Youngstown Kitchen collection. Looks to fully extend to 186 inches. A few spots of water damage. Good (KDL423) 40 - 80 | |
| | 6802-074 Lot of measuring tools. 13 inch and 7 inch wing dividers, larger are winged, and 6 inch outside calipers. All with decorative brass joints and iron legs, look handforged. An attractive set. Good (BTS) 40 - 80 | |
| | 6802-075 Large plumb bob. 6 pound, 7-1/2 inch iron plumb. User mark, possibly handmade, some rust. Good (PCM1) 30 - 60 | |
| | *6802-076 Lot of framing squares. Four cast steel framing squares, two marked S HAWES, one JF BROWN with some wear on rule marks along with some rust, and one unmarked. Plus we're throwing in a cast iron traveler with wood handle, some rule marks visible, no makers mark. Good (LDZ85,179) 30 - 60 | |
| | *6802-077 Bevel. Handmade with wood handle and thick iron plates at ends, 9-1/2 inch ruled blade is locked with square nut and needs a little elbow grease, curved end is reinforced on both sides. Different. Good (RRT815) 20 - 40 | |
| | *6802-078 Lot of three metal travelers. All unmarked. Two with open handles; one has brass pointer and the other is made entirely of brass. One appears to be handmade with no rule marks and solid pointed handle. Good (GST199, 379) 30 - 60 | |
| | 6802-079 INDICATING CALIPERS CO. patented indicating calipers. Marked with 8/8/16 and 2/25/19 patent dates as well as New York, bakelite handle. Jaw opens and moves dial on curved ruled top via gear in center. Some mild surface rust otherwise clean. Good+ (CWL160) 75 - 150 | |
| | *6802-080 STANLEY No. 32-1/2 carpenter's caliper rule. One-foot, 4-fold boxwood rule with brass plating. Clean with some wear to brass, has all pins. Small spot of red paint on one edge. Good (PLH91X) 20 - 40 | |
| | 6802-081 Lot of 6 brass plumb bobs. All brass, 7 inch to 3 inch in lengths, including LUFKIN No.590 and GENERAL No. 300, four unmarked. Good (PCM2) 40 - 80 | |
| | *6802-082 Lot of 8 boxwood folding rules. Three STANLEY including two No.68, one No.136 caliper. And a STEARNS No. 3 carpenter's caliper rule, a LUFKIN, and a shoe rule with brass calipers. Nearly all have chips and staining. Good- (MSV50) 20 - 40 | |
| | 6802-083 Stanley No. 93 butt and rabbet gauge. Vee mark on thumbscrew, early script mark on one side. Plating 80%. An uncommon gauge. Good (TWR361) 30 - 60 | |
| | 6802-084 CAMPBELL patent rule attachment. Deceptively simple tool that clamps onto a rule to make it into a square using a cog locking lever, fully made of brass and has patent date stamped on it. Similar to the Boyes patent but much less common. Good+ (KDL1007) 50 - 100 | |
| | 6802-085 STANLEY No. 40 ivory caliper rule. Four fold, one foot, German silver bound. Not marked Stanley. Yellowed inside and out with a few hairline cracks. One face pin missing. Good- & better (RRT) 40 - 80 | |
| | 6802-086 STANLEY No. 1 Odd-Jobs. Looks like Type 2 with both patent dates, vial wet. 2 replacement screws used as scratch awl and to hold scribe and to hold scratch awl. Traces of nickel. Good- (TWR360) 30 - 60 | |
| | *6802-087 Pocket level. Square wood body marked "London Warranted" and ruled on two sides, 4 inches long. Brass face on vial, wet. Nicely made. Good (WOL837) 25 - 50 | |
| | *6802-088 Lot of two STANLEY jointer planes. A No. 7, later type, wood has some wear, japanning ok but could use cleaning. And a No. 8 with no cutter and lateral missing its pin, japanning 75%, tote has staining. Fair & better (CWL132,136) 25 - 50 | |
| | *6802-089 Lot of three planes. STANLEY Handyman H1205 and No. 4. Handyman is clean with light wear to wood, No. 4 has more worn wood and notched rectangle cutter, japaning 80%. Plus a brass GTL bench plane with light wear and tight crack in knob. Good (MSV48) 25 - 50 | |
| | 6802-090 STANLEY No. 603 Bedrock. Sweetheart cutter, Bedrock lever cap, two patent dates behind frog, crack in tote, tall knob ok. 90% japanning, light surface rust. Good (BWH50) 75 - 150 | |
| | 6802-091 LAKESIDE No. 2 sized smoothing plane. Plain lever cap and Lakeside cutter, body and frog look like Stanley but has a twisted end on lateral. Japanning 60%, wood good with nickel plated screws that hold knob and tote. A few spots of light pitting. Good (RRT823) 60 - 120 | |
| | 6802-092 STANLEY No. A18 aluminum block plane. Sweetheart on cutter, japanning 80%, light scratching on sole. Good (CVR161) 60 - 120 | |
| | 6802-093 Lot of two BIRMINGHAM PLANE CO. block planes. One 6-1/2" with straight sides, knob missing, one 5" with coffin shaped sole, finger rest, cutter locking mechanism a little sloppy. Both with original "B. Plane" cutters, 50% japanning. Good (JCI96) 40 - 80 | |
| | 6802-094 STANLEY No. 13 circular plane. Later version of Type 2 with no model number but sole riveted rather than screwed. Cutter marked with Bailey's patent. Traces of japanning with surface rust on sole. Good- (KNT12) 50 - 100 | |
| | 6802-095 STANLEY No. 112 cabinet scraper. Type 1 with early semicircle mark on cutter, japanning 85%, wood good noting small chip on tip of tote, discoloration on sole. Good (RRT821) 80 - 160 | |
| | 6802-096 STANLEY No. 12 1/2 rosewood bottom veneer scraper. Handles and soles have wear, japanning 50%, cutter unmarked. Good- (TWR352) 30 - 60 | |
| | 6802-097 STANLEY No. 12 veneer scraper. Handles have light wear, japanning 40%, cutter unmarked. Good (SAN259) 30 - 60 | |
| | 6802-098 Stanley No. 11 beltmakers plane. Vee mark on cutter with some surface rust. Japanning repainted. Handle has some minor scratches and dings but nothing serious. Good (KDL265) 30 - 60 | |
| | 6802-099 STANLEY No. 12-1/2 rosewood bottom veneer scraper. Japanning 80%, handles have some light wear, sole has minor scratching and a few chips at throat. Cutter marked Stanley No. OHS. Good (GAN238G) 40 - 80 | |
| | 6802-100 STANLEY No. 83 scraper. Wide roller looks proper, good handles, nickel 90%, notched rectangle mark on cutter. Good (TWR308) 40 - 80 | |
| | 6802-101 STANLEY No. 71 router. Type 1, japanning 90%, includes one 1/4 inch cutter. Wood has some wear and a few cracks at bases. Good+ (LDZ165) 40 - 80 | |
| | 6802-102 STANLEY No. 71-1/2. Type 3, dirty and one knob has large chip, mild pitting and surface rust. 1/2 inch cutter only. Good- (CSD7) 35 - 70 | |
| | *6802-103 Router plane. Unmarked and likely user made, metal body looks similar to a Stanley No. 71-1/2 and japanned. Brass collar, 1/2 inch cutter, knobs ok. Good (RML35) 30 - 60 | |
| | 6802-104 STANLEY No. 81 cabinet scraper. Nickel plating good except for wear on handles; sweetheart mark on blade, some scratches on rosewood sole. Good (TWR344) 30 - 60 | |
| | 6802-105 Lot of two BAILEY spokeshaves. A No. 3, Type 4, cutter marked with patent, japanning 75%. And a No. 4, later version, unmarked cutter, traces of japanning. Good (SAN) 80 - 160 | |
| | *6802-106 STANLEY No. 67 universal spokeshave. Round bottom only, one handle replacement as it is ebonized and other lacquered and highly worn, ebonized collar is cracked. Good- (KDL83) 25 - 50 | |
| | 6802-107 MILLERS FALLS cigar shave. Marked only with Goodell's 2/19/84 patent. Wood lightly worn with a few small chips, traces of red paint on metal. Good (DRN10) 30 - 60 | |
| | *6802-108 STANLEY No. 80 cabinet scraper. Has sweetheart mark on tension bar and cutter, japanning repainted. Small gouge in sole near throat. Good (ECN15) 20 - 40 | |
| | 6802-109 OHIO TOOL CO. No. 101 screw arm plow plane. Beech with boxwood arms and nuts and boxed fence. A few chips out of the end of arms and few small chips on threads, cutter spalled. A little wear to wood but otherwise in decent shape. Good (GST425) 50 - 100 | |
| | 6802-110 OHIO TOOL CO. No. 101 screw arm plow plane. Beech body and fence, boxed, with boxwood arms and nuts. Minor chipping to threads some staining on wood, wedge chewed, original OTC cutter. Missing side brass thumbscrew. Good- (RRT811) 40 - 80 | |
| | 6802-111 D.M. SHEPARD wedge-arm plow plane. Beech body, brass caps on arms slightly loose, fully brass skate, one wedge chipped, no cutter, user mark. Shepard is a 3 star maker from Albany, NY, in the early 19th century. Good (JCI93) 40 - 80 | |
| | 6802-112 GREENFIELD TOOL CO. No. 545 screw-arm plow. Handled beech plow with boxwood arms and nuts. Moderate chipping to threads. The mystery on this plane is its fence that is set a bit farther forward than usual and appears to be intentional (rather than an ill-fitting replacement) as it has the same user mark on toe and on front of fence. Some wear and staining to wood, rust spots on skate. Good (RUS206) 35 - 70 | |
| | *6802-113 G & W.H. ROSEBOOM sash plane. 2 star mark, wear to wood and light chewing on wedges, a couple chips on screw arms, double boxed and fence attached to right cheek. Good (FNK205) 20 - 40 | |
| | 6802-114 SANDUSKY TOOL CO. No. 119 handled screw-arm plow plane. Beech body, arms are shorter than usual and seem to have been cut then reattached at shoulders, threads have a couple chips, right handed tote. Both outer nuts have splits. Mathieson cutter. Fair (CVR242) 30 - 60 | |
| | 6802-115 SANDUSKY TOOL CO. No. 132 handled screw-arm plow plane. Solid boxwood but lacquer and wood highly worn, proper cutter. Checks in body, threads have moderate chipping, large chips on outer nuts. Good- (CVR41) 40 - 80 | |
| | 6802-116 Wedge arm filletster. Unmarked other than user names, beech body, good boxing, overall fairly clean. Good (JBN171) 30 - 60 | |
| | 6802-117 T. WATERMAN sash plane. 4 star maker from Maine, A mark, with user mark stamped over maker mark and elsewhere. Slightly decorative cheeks, light wear but remarkably clean for a late 18th or early 19th century plane. Good+ (SPM949) 40 - 80 | |
| | 6802-118 OHIO TOOL CO. tongue and groove pair. Both marked No. 76 at toe, cuts 3/8 inch t&g. Metal lined fences. Light wear. Good (NHF269) 30 - 60 | |
| | 6802-119 Fenced ogee molding plane. Made of tiger maple and unmarked, has two integral fences and rabbet escapements on both cheeks. Possibly European. Different but beautiful. Good (CVR572) 30 - 60 | |
| | 6802-120 M. CRANNELL hollows and rounds. The number 10 and number 16 pairs with same user stamp on both hollow planes, light wear. Good (BZE19) 30 - 60 | |
| | *6802-121 L. GARDNER ogee plane. Single boxed, cuts 1-3/4 inch, age checks and light wear, DWIGHTS FRENCH cutter. Good (SPM947) 20 - 40 | |
| | *6802-122 Lot of two molding planes. A 3/8 inch quarter round by SHILLINGLAW, spring marked with a few chips and wear. And a 1/4 inch tongue plane by COLLINS & ROBBINS of 2 star makers in Utica, NY, with some wear and staining. Good- (WOL) 20 - 40 | |
| | *6802-123 Lot of two handsaws. A D-8 with thumbhole, 5 ppi, initials in worn handle, light wear. And an Apollo by the HARPER-MCINTIRE CO. of Ottumwa, IA, with some surface rust, good wheatsheaf handle. Harper-McIntire were hardware dealers established in 1867. Good (RRT803) 30 - 60 | |
| | 6802-124 STUBB hacksaw. Decorative frame with 10 inch blade, wood handle good, mild surface discoloration. Good (GST142) 30 - 60 | |
| | *6802-125 Lot of two SIMONDS saws. No. 10 and No. 10-1/2 with 8 and 7 ppi respectively. Handles have some wear and mild chewing. A few light spots of pitting. Good (BFS321, 323) 25 - 50 | |
| | 6802-126 W. CRESSON backsaw. 10 inch blade, open handle with light wear, steel backing. A few surface rust spots, hanghole in backing at end. Cresson worked in Philadelphia in the 1840s before being bought out by Disston Good (RRT814) 40 - 80 | |
| | 6802-127 Lot of three SIMONDS saws. A No. 4-1/2, 12 ppi, 26 inch blade, repaired horns and wear to wood. A No. 62, 5 ppi, 28 inch blade, repaired bottom horn and relacquered handle. And a No. 10 rip saw with 10 ppi, 24 inch blade, horns have chipping and wear to lacquer on handle, Good- & better (BFS322, 325, 342) 30 - 60 | |
| | 6802-128 Glue pot. Looks like tarnished copper, 8 inches wide with 4 inch inner pot. Unmarked. Small split in rim of outer pot. Good (SPM598) 40 - 80 | |
| | 6802-129 JAS. P. MARSH brass gauge. 7-1/2 inches wide with dial that reads from 0 to 30 in increments of 5, threaded knob at base. A few dings. Good (MHT59) 30 - 60 | |
| | 6802-130 Fleshing knife. Unmarked. Ebonized handles with brass collars, 4-3/4 inch slightly curved edges, some pitting spots. Good (PNG72) 30 - 60 | |
| | 6802-131 Surveyor chain. Unmarked except for "4P" on one of the brass handles, looks like 100 feet with variety of brass tags, some rust on chain. Good (RRT189) 50 - 100 | |
| | 6802-132 Lot of two jeweler's drills. One is archimedean style by HOBBIES, other has wood handle that slides over top and brass disc near chuck. Plus we're throwing in a bow for a bow drill, 33 inches long with brass ends, Good (ACS87, 130) 30 - 60 | |
| | *6802-133 A.W. BRINKERHOFF & SON patented brass corn husker. Adjustable and designed to fit over palm of hand, marked clearly with 2/21/1882 patent. A few spots of tarnish otherwise nice. Brinkerhoff was based out of Upper Sandusky, OH. Good (DCR469) 25 - 50 | |
| | *6802-134 Tapered auger. That's my best guess. 11-1/2 inch long tapered rosewood body with 6 inch blade held in place by both brass and iron collars, handle has hole. Good (SPM683) 20 - 40 | |
| | 6802-135 Chinese ink line. Also called a Sumitsubo. Curved figural body nicely made out of what looks like keyaki wood with ink well painted red, pointed line weight. Has Chinese characters on bottom. Super clean and might be more modern, similar ones are selling for $80 new. Good+ (HNL561) 35 - 70 | |
| | *6802-136 Lot of three printer blocks. Two for hand snips and one for what looks like an air compressor. Good (PNG105) 10 - 20 | |
| | 6802-137 German tool kit. Small round handle into which interchangeable tools can be inserted; tools include hammer, saw, knife, corkscrew, screwdriver, drill bit, file, chisel, etc. Most are marked "D.R.G.M" which translates to "registered design of the German Reich." All held inside cloth-lined folding leather case with snaps to hold shut. Good (WOL657) 50 - 100 | |
| | 6802-138 STANLEY No. 13 circular plane. Later version of Type 2 with no model number but sole riveted rather than screwed. Cutter marked with Bailey's patent. Japanning on body about 65%. Good (RRT822) 60 - 120 | |
| | 6802-139 STANLEY No. 20 circular plane. Has Schade's patent date on bridge, cutter is later replacement, plating 80%. A few spots of rust but generally clean. B mark on frog. Good+ (CVR173) 60 - 120 | |
| | *6802-140 VICTOR No. 20 circular plane. Early version, missing medallions, decorative lever cap screw. Has blade cut short at top and traces of nickel plating. Light rust. Good- (HNL929) 25 - 50 | |
| | 6802-141 STANLEY No. 113 circular plane. Type 1A, front knob a little loose with about 50% plating, japanning 80%, faint mark on proper cutter. Some rust. Good (RRT817) 45 - 90 | |
| | 6802-142 Brass instrument maker plane. 3 inch sole with 5/8 inch cutter that needs sharpening and is curved at end. Has handle with wood knob. Good (KDL248) 30 - 60 | |
| | 6802-143 STANLEY No. 79 side rabbet. Notched rectangle marks on cutters, later type body, made in USA. Plating 80%, a few rust spots. No fence. Good (GST300) 30 - 60 | |
| | 6802-144 STANLEY No. 278 rabbet and filletster. Rusty with unmarked cutter, missing fence and one nicker. Japanning 80%. Good (GST297) 30 - 60 | |
| | 6802-145 STANLEY No. 92 rabbet plane. Made in USA. Plating 80%, throat good, user name scratched in cheek, trace of corrosion on the cap screw. Good (CWL159) 60 - 120 | |
| | 6802-146 STANLEY No. 90 bullnose rabbet plane. Someone took the time and effort to renickel it but it's nicely done. User name etched into one cheek. Patent dates on cutter, throat good. Good (CWL153) 30 - 60 | |
| | 6802-147 STANLEY No. 97 chisel edge plane. Later type, unfortunately has no cutter, japanning retouched, knob in nice shape. Small nick in front edge corner, several hang holes drilled through sole and body. Fair (CWL154) 50 - 100 | |
| | 6802-148 Coachmaker's rabbet. Brass body with front horn, short rosewood wedge, 1-3/8" wide sole. Unsigned. Good (GST313) 30 - 60 | |
| | 6802-149 STANLEY No. 96 blind nailer chisel plane. Later unmarked type, plating 95%. Good+ (KDL249) 50 - 100 | |
| | *6802-150 CRAFTSMAN rabbet and filletster plane. Similar to the No. 78, appears to be made by Sargent. Japanning near complete, has fence and depth stop. Clean. Good (CWL156) 25 - 50 | |
| | 6802-151 STANLEY No. 112 cabinet scraper. Japanning 70%, some light pitting on sole, wood good except for a small X carved on front part of top of tote, unmarked cutter. Good (CVR415) 50 - 100 | |
| | 6802-152 STANLEY No. 10-1/2 carriagemaker's rabbet plane. Nonadjustable throat, patent date cutter, plain lever cap, B casting mark. Wood lightly worn and a few nicks but no major damage, japanning ok, very fine pitting on metal. Good throat. Good (CVR411) 75 - 150 | |
| | 6802-153 STANLEY No. 10C carriagemaker's rabbet plane. Early type with low knob, graceful tote and patent mark on cutter. Japanning retouched, wood and metal clean and nicely reglued crack in tote. From the John and Janet Wells collection. Good (WLS232) 150 - 300 | |
| | 6802-154 STANLEY No. 10-1/2 carriagemaker's rabbet plane. Type 1 with adjustable throat and washer under knob, S casting, patent date cutter with a few nicks. Tote ok noting a little bit of smoothed out area on top of end of tip, knob good. A little discoloration on some areas of metal, user stamp. From the John and Janet Wells collection. Good (WLS174) 150 - 300 | |
| | 6802-155 STANLEY No. 604C Bedrock. Type 5 with flat top sides, tall knob, japanning 90%, a few dings in cheeks, some wear to tote but knob good, throat has very small chip. From the John and Janet Wells collection. Good (WLS202) 100 - 200 | |
| | 6802-156 SARGENT VBM No. 708 smoothing plane. Features Albert Page's "auto set" patent; much rarer than the typical Bailey knockoff. Japanning near complete, tote has smoothed out chips on both sides of tip, faint discoloration on sole. A rare plane. From the John and Janet Wells collection. Good (WLS206) 80 - 160 | |
| | 6802-157 Lot of two STANLEY No. 39 dado planes. A Type 1 3/8 inch, japanning 75%. And a Type 3A 1/2 inch, traces of japanning. Good (CVR307, 309) 100 - 200 | |
| | 6802-158 Lot of two STANLEY Sweetheart No. 39 dado planes. Both have sweetheart mark on caps, but one still has patent date so Type 3A maybe? in 1/4 inch size and other is Type 4 in 3/8 inch size. Japanning 70-80%. 1/4 inch has worn spurs. Good (CVR308, 310) 100 - 200 | |
| | 6802-159 STANLEY No. 2 smoothing plane. Sweetheart cutter and notched rectangle lever cap, japanning 70%, knob is replacement but tote lightly worn with no cracks. Throat good, very light surface pitting. Good (CVR417) 75 - 150 | |
| | 6802-160 Lot of four metal braces. A STANLEY No. 921, 8" sweep, very clean, ratchet works smoothly, perfect user. STREETER's 1867 patent, 9" sweep, head a little loose but chuck works. A user-made heavy iron brace with a spoon bit locked by a wedge tightened by a nut, 10" sweep, metal grip, good brass head. And one that we've seen but can't place the patent, a nut on the rear of the chuck tightens the jaws, 8" sweep, rosewood grip, head is dirty and could also be rosewood. Good & better. (GST508) 80 - 150 | |
| | 6802-161 Lot of two patented braces. Gardiner Holt's 1883 patent with its distinctive ball-headed chuck, clearly marked, 6" sweep, mild chipping to edge of head, and an unmarked but very clean example of Taylor's patent, 12" sweep, has a "5" assembly number on the brass screw holding the iron head (tight crack). Good (RRT278,283) 60 - 120 | |
| | 6802-162 Lot of two BACKUS patented braces. Quimby Backus' 1872 patent, with his unique ratchet design (not functioning properly), and a good example of the "clamshell" type chuck that Backus marketed but was actually based on a tool holder patent by William Draper, with a closed ratchet. Both braces have modest surface rust, 10" sweeps, good rosewood grips and lignum heads. Good & better (GST506) 80 - 150 | |
| | 6802-163 Lot of two IVES patented braces. William Ives received a total of nine brace patents over his career. These are examples of his 1872 patent, 9" sweep, rosewood grip and head with a crack, and his 1877 patent, 8" sweep with rosewood grip and cast iron head. Both have some surface rust but jaws are complete and work smoothly. Good (GST507) 70 - 140 | |
| | 6802-164 PECK patented brace. Early 1863 patent from the prolific Obed Peck, chuck has a hinged jaw locked by a sliding collar. Rated A in Pearson. Moderate surface pitting, 9" sweep. Good (GST503) 50 - 100 | |
| | 6802-165 TUCKER patented brace. William Tucker's 1859 brace with a screw that pulls a cog in to hold the brace. Good clean condition with some light surface rust. 7" sweep. Good+ (GST502) 50 - 100 | |
| | 6802-166 Scandinavian style brace. 3-1/2 inch long figural wooden head, thumbscrew square chuck, metal grip, two bits. Some surface rust. Good (DCR363) 30 - 60 | |
| | 6802-167 HOYT AND BEERS patented brace. Early 1859 patent, includes the ring used to lock the jaws together. Crudely cast with some surface pitting but a rare early brace. Good (GST501) 50 - 100 | |
| | 6802-168 AMIDON patented brace. Early 1867 patent from the prolific Charles Amidon, in which the bit is held in an iron ring tightened by a wingnut from the side. Modest surface rust, good lignum head, 7" sweep. Good+ (GST505) 50 - 100 | |
| | 6802-169 WRIGHT patented brace wrench. Sylvester Wright's 1873 patent, minor rust, includes the usually missing piece held in the jaws to convert it to a normal brace. 8" sweep. Good+ (GST500) 50 - 100 | |
| | 6802-170 Lathe sizing chisel. Marked "BMCo", has japanning on neck, 1/4 inch edge on chisel, adjusted with locking thumbscrew. 5 inch long handle has some splits. Good (CWL163) 30 - 60 | |
| | *6802-171 Large wood bevel. Unmarked and user made with locking decorative thumbscrew, 18 inch edge folds into handle, looks like oak. Good (VTD304) 20 - 40 | |
| | 6802-172 Advertising rule. Bakelite front with brass backing, ruled in inches and centimeters, marked on handle "The Patriot and the Evening News, Harrisburg, PA." Needs a nice cleaning. Good (SPM743) 30 - 60 | |
| | *6802-173 Lot of two iron levels. One 12 inch version of MILLERS FALLS decorative design level, one vial dry but others ok, one end has chip, japanning 70%. And a STANLEY No. 40 pocket level, traces of japanning. Good- & better (MSV7, 54) 20 - 40 | |
| | 6802-174 Lot of three travelers. Two by WELLS BROS., Greenfield, MA. And one with thick wheel, ruled, that looks handmade, hanghole at edge. Wood worn on all, some surface rust. Good (SPM729, 730, 731) 30 - 60 | |
| | *6802-175 Brass artillery level. CLINO MORTAR MK IV No.16618, likely from WWII as it is marked with date 1944. 7-3/4 inch long brass body with ruled curved track on which the sighting vial rides, vial dry. Small spot of tarnish but clean overall. Good- & better (JRI757) 20 - 40 | |
| | 6802-176 STARRETT No. 98 machinist level. 8 inch base, rotating vial cover on main vial, cross level. Both vials wet, a few spots of surface rust. Good (KDL366) 60 - 120 | |
| | 6802-177 Brass double calipers. 16 inches long and massive, 1 inch wide iron screw in middle, initials RPOB carved on both sides. Some dinging and mild pitting but still nice. Good (DJG) 30 - 60 | |
| | *6802-178 Lot of two British levels. A 10 inch HOCKLEY ABBEY No.1621 and a 6 inch J. RABONE & SONS. Some wear to wood and minor tarnish on the brass, vials wet. Good (WOL832) 30 - 60 | |
| | 6802-179 STANLEY No. 31 angle divider. Early type angle divider based on Traut's 1903 patent with rosewood body and no bottom bar, made only from 1911 through 1917 before it was supplanted by the nickel-plated No. 30. Good rosewood, surface rust on blades with 85% nickel. Good (KDL1009) 50 - 100 | |
| | 6802-180 Lot of two levels. A 12" GOODELL-PRATT No. 2712, finish worn off and red paint on vial covers, no damage, and what looks like a STANLEY No. 182 camera level, unmarked, mounted on a wood block. Good & better. (KDL401,1004) 30 - 60 | |
| | *6802-181 Lot of three STANLEY level glasses IOB. Two pasteboard boxes, one wood box with sliding lid, all contain several vials in wood shavings. Two boxes are 1-3/4 inch and one is 1-1/2 inch vials. Good+ (TWR) 20 - 40 | |
| | 6802-182 LEONARD BAILEY patented bevel. Type 1, clearly marked with Bailey's 3/19/72 patent, light surface rust, locking mechanism works smoothly, lightly stamped in a few places by owner. Good+ (PLH722) 80 - 150 | |
| | 6802-183 User-made level. Unmarked, 11-1/2" long, looks like red mahogany with attractive grain, full brass top plate, original vial. A nice attractive example. Fine (MAG191) 40 - 80 | |
| | 6802-184 Rosewood level. 18-1/2" long, scalloped ends, thick brass top plate with several decorative cutouts, original vial. An exceptionally attractive example. Stamped "H. West"; presumably the owner. Fine (PLH719) 80 - 150 | |
| | 6802-185 STANLEY No. 34V shafting level. Type 3 in the uncommon 10" size, nice and clean with original vial. Good+ (MAG211) 30 - 60 | |
| | 6802-186 DAVIS LEVEL & TOOL cast iron inclinometer. Second type, with the more delicate filigree, locking screws through the top rail and no gold highlighting. 12". Dirty with some surface corrosion, but filigree and corners intact. Good (ASY2) 125 - 225 | |
| | 6802-187 Lot of two English levels. A 4" combined boxwood rule and level by E. PRESTON & SONS, uncommon size in immaculate condition, and an unmarked 9" rosewood and brass torpedo level with a few scratches. Good & better (PLH14X) 40 - 80 | |
| | 6802-188 Scottish level. Ebony, 8" long, thick brass top plate with rectangular cutouts, brass feet. Tarnished and dirty but undamaged, could be cleaned to a nice example. Good (PLH3040) 30 - 60 | |
| | 6802-189 PRESTON shoe rule. Clean with a couple stains, good pin. From the John and Janet Wells collection. Good (WLS185) 40 - 80 | |
| | 6802-190 Lot of four rules. Three by STANLEY including a No. 31-1/2F shrinkage rule, No. 60 and No. 53-1/2 carpenter's rules. No. 53-1/2 clean, other two have light scratching and wear to boxwood and brass. Plus a LUFKIN No. 751, clean. From the John and Janet Wells collection. Good (WLS198) 35 - 70 | |
| | 6802-191 CHAPIN-STEPHENS No. 78-1/2 carpenter's rule. Fully brass bound, four-fold, two foot, with double arch joints, super clean with light scratching and tarnish. Pin missing, one end slightly sprung. From the John and Janet Wells collection. Good (WLS) 60 - 120 | |
| | 6802-192 LUFKIN No. 863L inclinometer rule. Very nice example of Lufkin's fourfold, two-foot folding rule with a level in the edge. Boxwood nice and clean with much original finish, brass slightly tarnished, good pins. From the John and Janet Wells collection. (WLS238) 50 - 100 | |
| | 6802-193 Cornice plane. Unmarked, cuts 4-1/2 inch wide bevel, bead, back bevel, and flute. 15-1/8 inch long by 5-5/8 inchbody has some wear and staining and apprentice hole. Tote has large chip on one side of tip. Good (DTN268) 100 - 200 | |
| | 6802-194 G. WHITE panel raiser. It has the B1 mark with eagle under it so nothing exactly like the examples in AWP but the B1 mark without the eagle is 2 stars. Tote tip missing, wedge chewed and one bottom tip missing, a few chips at top of toe and on fence, age checks and staining. Good- (GST390) 50 - 100 | |
| | 6802-195 TYLER DAVIDSON & CO handled molder. B mark from this mid-19th century Cincinnati hardware dealer. Cuts 7/8 inch ogee bevel, single boxed and spring marked, clean with a little bit of writing in pencil on top of body. A few age checks. Good (SPM948) 35 - 70 | |
| | 6802-196 Wide ogee plane. Handled and cuts 2-1/2 inch wide ogee, apprentice hole at toe, unmarked. Age checks and some wear. Good (CVR290) 30 - 60 | |
| | 6802-197 CASEY & CO. panel raiser. 3 inch cutter also marked Casey & Co. Replacement wedge for nicker, generally clean and tote good. A few symbols I don't recognize written in ink on heel. Good (CVR292) 40 - 80 | |
| | 6802-198 Lot of two ogee bevel molding planes. Handled one by D. COLTON & B. SHENEMAN that cuts 1-1/2 inch, dinging at toe and heel, a few cracks in boxing, some stains and user stamps. And unhandled one by ARROWMAMMETT WORKS, 2 inch single boxed cut, some wear especially at toe and age checks, spring marked. Good- & better (GAN44, 467) 35 - 70 | |
| | 6802-199 Lot of four molding planes. Two by SANDUSKY including a No. 54 7/8 inch quarter round and a No. 152 triple boxed reeding plane. A cove astragal by R. WELLS, A mark, some chips at toe and wear. And a 5/8 inch quarter round by GABRIEL with a few chips in body and inactive worm. Good (TKY147) 50 - 100 | |
| | 6802-200 Lot of 8 MATHIESON side bead planes. Appears to be a mixture of owners and marks so can't say for certain if it's a set. 1/8 inch to 7/8 inch in widths, most single boxed but two fully boxed. Many have chewed wedges and wear to wood. Good (WOL874) 60 - 120 | |
| | 6802-201 Lot of 6 MOSELEY side bead planes. Appears to be a mixture of owners and marks so can't say for certain if it's a set. 1/4 inch to 5/8 inch in size. Most are single boxed but one 1/4 inch is fully boxed. Some dinging at heels and wear to wood. Good (WOL873) 50 - 100 | |
| | 6802-202 STANLEY Yankee Accessories store display. 15-1/2" x 11" x 2" maroon box with gold logo on lid, inside lid is laminated compartment labels with price tags. Plastic tray compartments have variety of bits with at least 50 total. Includes Phillips and flat head bits of various sizes and several kinds of drill bits. Most marked Yankee and clean. Some wear to outside of box, lock is a bit rusty and doesn't quite close properly. Good (BTS1) 100 - 200 | |
| | 6802-203 Lot of two breast drills. A YANKEE No. 555A with five position ratcheting mechanism, two-speed shift lever on crank, has 3 patent dates under stamp, two jaw chuck. Japanning 85% and nickel plating 75%. Wood handles lightly worn. Plus a MILLERS FALLS No. 99 two-speed with replaced handle from a No. 10. Japanning and red paint 40-50%, three-jaw chuck. Wood has wear. Good- & better (MHT60) 60 - 120 | |
| | 6802-204 CHANTRELL patented brace. Felix Chantrell's 1882 patent, with the split chuck intended by the patent for a socket wrench, rated A in Pearson. Modest surface rust, good rosewood grip with pewter rings, some age checks in the head but nothing serious. 8" sweep. Good+ (GST504) 60 - 120 | |
| | 6802-205 HARRY S. BARTHOLOMEW No. 12 breast drill. Marked with Bartholomew's 5/28/1870 patent for the chuck mechanism (Pearson B rating). Bartholomew's breast drills are far more rare than his braces; this one is missing its breast pad but otherwise in very clean condition. Good (DCR437) 60 - 120 | |
| | 6802-206 GOODELL-PRATT No. 20 breast drill. Single-speed drill with leather strap breast plate and D handle, three jaw chuck. Red japanning and decal on the drive wheel slightly crackled, black japanning 70%. Breast strap is unbroken and in decent shape. Good (RRT) 60 - 120 | |
| | 6802-207 STANLEY No. 992 corner bit brace. 8 inch size, marked on both frames, plating 80%, wood lightly worn. Good (HEN) 50 - 100 | |
| | *6802-208 User made tongue plane. Small fenced version with screw arms. 7-1/2 inch long and cuts 1/4 inch tongue, cutter made from file. Good (JBN169) 20 - 40 | |
| | *6802-209 Lot of two old woman's tooth wooden routers. Both user made beech 5-1/2 inch wide bodies, one with HEATHCOTT & LINLEY cutter and other unmarked. Good (KNT17) 25 - 50 | |
| | *6802-210 Lot of two wooden scrapers. One by ATKINS with 12" wide beech body; cast iron bracket held by two wingnuts and marked "E.C. ATKINS INDIANAPOLIS IND"; body worn but no damage, no cutter. And what looks like user made one with brass sole, 10-1/2 inches wide with nicely turned handles. Good (ESY103) 30 - 60 | |
| | 6802-211 Wooden brace. User made, unusual long low design (21" long with only a 4" sweep), carved decoration, no bit. Good (PLH723) 50 - 100 | |
| | 6802-212 Cooper's inside shave. Used to smooth the interior of casks. Whelan 13:34. 9" across, user made. Good (ETN1) 30 - 60 | |
| | 6802-213 ATKIN & PEACE food chopper. Semi-circular chopper, 6-1/4 inch across, D-shaped handle with split nuts, marked "Atkin and Peace Celtic Works Sheffield No. 1." Atkin and Peace was a maker of saws and files in the 1850s. Good (CRT) 75 - 150 | |
| | 6802-214 Lot of three spokeshaves. Two with wood bodies - one is fixed blade type, other has blade secured by brass thumbscrews and illegible mark. And a MILLERS FALLS No. 2 reversible spokeshave, clean with near complete nickel plating and light wear to handles. Good (MSV76) 40 - 80 | |
| | *6802-215 Lot of three hand tools. Two wood shaves and bevel with 6 inch blade. Light wear. Good (BEN31) 20 - 40 | |
| | 6802-216 Lot of two mincing knives. One with 4-1/2 inch rounded blade that looks to be made from a file and 3-1/2 inch wood handle. And a larger one with 6 inch slightly curved blade and 7 inch wood handle. Both have some rust but more so on larger one. Good (DCR366, 367) 30 - 60 | |
| | 6802-217 WOODMAN'S PAL brush axe. The No. 284 "Special Military" model combined machete and brush axe. In original metal sheath with belt loop. Obviously well used but intact leather handle and still wicked sharp. Perfect for hacking your way through the jungle, or clearing brush in your back yard. Good (PLH724) 60 - 120 | |
| | 6802-218 SIMONDS No. 254 butcher saw. Clearly marked on frame, beech handle with thumb rest, 22 inch blade. Handle has a few small chips otherwise clean. Good+ (BFS371) 30 - 60 | |
| | 6802-219 Knife. Obviously a special purpose tool but we're not sure what that purpose is. 10" long head with two edges, a 2" wide blade in front and a concave edge below the rounded end. Possibly a leather worker's tool, or maybe agricultural. Good 5-1/2" original wooden handle with a crack. Good (SPM707) 50 - 100 | |
| | 6802-220 GOODELL-PRATT No. 222 triple stem marking gauge. Surface rust so needs a little elbow grease to get stems to move, plating 70%. Good- (HEN53) 40 - 80 | |
| | 6802-221 Lot of two DISSTON D-8 handsaws. Both mostly clean 5-1/2 inch ppi blades, good etches and handles with tumbholes. Wood clean noting one small chip on backside of thumbhole on one. Look unused. Good+ (GAN5610) 40 - 80 | |
| | *6802-222 Lot of two brass tools. HOLT MFG CO. brass scraper with red japanning, and brass core box plane with curved handle also with red japanning but unmarked. Good (PNG12, 13) 35 - 70 | |
| | 6802-223 Lot of two auto body spoons. Both with curved 10 inch long bodies and metal handles. One marked FAIRMOUNT with straight edge and red paint on handle, other unmarked with black japanning and more rounded end. Used to smooth out auto bodies. Good (BSR449, 450) 30 - 60 | |
| | 6802-224 Unusual hacksaw. Handforged screwdriver with a 8-1/2 inch hacksaw blade attached and what looks like nail puller at end of blade. Different. Good (DCR468) 20 - 40 | |
| | 6802-225 BAILEY TOOL CO. Defiance No. 1 spokeshave. Unmarked cutters, japanning 60%, hang hole in one arm, locking lever works smoothly. Good (PLH721) 80 - 150 | |
| | 6802-226 Lot of two spokeshaves. A PRESTON ovolo sash shave, 5/8 inch cutters marked, japanning 80%. Plus a user made brass chamfer shave, chamfer part on underside is from what looks like a Stanley, japanned with surface rust. Good (JCI87) 30 - 60 | |
| | 6802-227 Lot of four gasket or washer cutters. Two examples of King & Smith's 1865 patent as manufactured by SAVAGE AND SMITH, one with only one cutter head (the Smith is Otis Smith of Fales plane fame), one by GOODELL-PRATT and one by BRAUSNDOERFER MUELLER marked "BMCo." Good (VIN288) 50 - 100 | |
| | 6802-228 Lot of two A.J. WILKINSON folding drawknives. One with sharp 9 inch edge, clean. Other is rusty with 7 inch edge. Good- & better (PCM4) 40 - 80 | |
| | *6802-229 Lot of three drawknives. Two are curved, one is unmarked width 7-1/2 inch edge, other is marked "Weldon" with 6-3/4 inch edge. Plus one with straight 13-3/8 edge, unmarked. All three have hand carved worn handles. Good (LDZ60, 61, 90) 30 - 60 | |
| | *6802-230 Lot of four drawknives. One marked BEATTY, rest are unmarked, edges are 7-8 inches, a few with little life left. Handles worn, one with paint, all rusty. Good- (PCM3) 20 - 40 | |
| | 6802-231 UNDERHILL BROS cooper's chamfer shave. 7-1/2 inch edge, clean, wood handle has one split. Good (JCI147) 35 - 70 | |
| | 6802-232 Slick. 2 inch edge is clean and sharp, 16 inch turned handle looks like replacement. Partial stamp ends with "SSMAN". Metal looks cleaned. Good (MSV90) 30 - 60 | |
| | 6802-233 Gooseneck mortise chisel. Partial stamp illegible, handle a little loose, 5/8 inch edge, 22 inches long total. Good (WOL861) 30 - 60 | |
| | 6802-234 Grab bag of chisels. Mix of crank neck and straight neck, makers include JENNINGS, MARPLES, BUCK BROS. Two do not have handles, remaining 12 have light wear. Good (RRT809) 80 - 160 | |
| | 6802-235 Lot of two crank neck chisels. 2 inch one by BUCK BROS, other is 1-1/2 inch with partial circular makers mark that is illegible. Wood handles nice, a few rust spots. Good (CWL164) 30 - 60 | |
| | 6802-236 OHIO TOOL CO. corner chisel. 1 inch edges, a few dings near handle, a few worn chips in wood with strike ring at end. Good (BEN27) 30 - 60 | |
| | *6802-237 STANLEY thumb latch No. 3 IOB. All parts appear present but I haven't assembled it so don't hold me to that. Box has sweetheart label and has some wear. Good+ (TWR148) 20 - 40 | |
| | *6802-238 Lot of two STANLEY No. 59 dowel jigs. Both clean and unused with five dowels and original instructions, boxes and labels good. Good+ (RBN252,255) 25 - 50 | |
| | 6802-239 Lot of two screwdrivers IOB. A MILLERS FALLS No. 29 with an extra set of five Yankee bits in a plastic tube and a countersink, and a GREENLEE No. 458 with three blades. Tools are near mint, boxes complete with intact labels, the Millers Falls looks unused. Good+ (SPM588,589) 60 - 120 | |
| | 6802-240 Lot of two YANKEE push drills IOB. A YANKEE No. 130A and No. 30A manufactured by NORTH BROTHERS. Both appear virtually unused with original bits. Boxes have wear but labels ok. Good (SPM587) 30 - 60 | |
| | 6802-241 HOOK scraper No. 75 IOB. Super clean and looks unused, includes extra toothed blade and original instructions. Box has a few split seams but good label on lid. Good+ (RML230) 35 - 70 | |
| | 6802-242 YANKEE No. 50 Reciprocating Drill IOB. Clean with most of its original decal and nice red handle, a few spots of rust. Box has a couple split seams. Good+ (GST290) 30 - 60 | |
| | 6802-243 Lot of two STANLEY No. 90 marking gauges IOB. Both gauges clean, one box has split bottom seam and some stains, other has label for No. 90G. Good+ (TWR143) 30 - 60 | |
| | 6802-244 Lot of two STANLEY level tools IOB. A No. 36 level clean and looks unused with a few rust spots with original instructions, box lightly worn but intact. And No. 138 level sights, also appear unused in clean box. Good+ (TWR145) 40 - 80 | |
| | 6802-245 Pair of STANLEY No. 4 trammel points IOB. Clean and crisp later type pair in yellow box with a few light stains Good+ (TWR147) 30 - 60 | |
| | *6802-246 Lot of two STANLEY tools IOB. A No. 90G marking gauge, clean and unused, box has some wear and one hole in lid. Plus a No. 95 butt gauge, clean in box with split seams and partial label. Good+ (SAN245, 103) 15 - 30 | |
| | *6802-247 STANLEY No. 91 double stem marking gauge IOB. Clean and unused, box has wear and missing label. Good+ (TWR146) 20 - 40 | |
| | 6802-248 STANLEY No. 42 saw set IOB. A No. 42 saw set, japanning good, nearly complete decal on handle, metal has a few spots of rust. Instructions included, box worn and lid ends detached but present. Also has a 1927 STANLEY TOOLS advertising booklet for their No. 34 catalog, pages yellowed and a little dirty. Good (NCY33) 30 - 60 | |
| | *6802-249 SCHIFFER hack saw blades IOB. Roughly 50 blades in original pasteboard box, rust on a few. Plus we're throwing in a tin cigarette box full of triangle and round files. Good (NCY30,109) 15 - 30 | |
| | 6802-250 Lot of two STANLEY trammel points IOB. Later type No. 4 pair in orange box with split seams, and No. 14 pair in yellow box, both clean and unused. Good+ (KDL1010) 35 - 70 | |
| | 6802-251 STANLEY No. 46 combination plane. Later type, nickel 75%, long rods only, wood has light wear. No depth stop. Good- (RUS109) 50 - 100 | |
| | 6802-252 Lot of two bench planes. A UNION No. 3 size with properly marked cutter and lever cap, unmarked bed, wood has moderate wear, japanning 85%. And a WINCHESTER No. 3205C, japanning retouched, some pitting on metal and tip of tote reglued. Good- & better (RUS333,325) 35 - 70 | |
| | *6802-253 STANLEY No. 78 rabbet & filletster plane. Pre-1925 with fishscale handle, japanning 70%, three holes drilled into sole for some reason. Good- (RUS110) 20 - 40 | |
| | *6802-254 Smoothing plane. Unmarked. 9 inch long with a brass cutter locking mechanism similar to a Stanley 120, decorative shaped toe, japanning 90%, tall knob has some wear to lacquer. Different. Good (HNL200) 25 - 50 | |
| | 6802-255 STANLEY No. 143 Miller's Patent plow plane. Scarce last type with "No. 143" cast into the body. Plating 75%, tote moderately worn but fence rosewood a little better, sweetheart mark on skate. Has small hole through body near slitter that might be a hanghole. Has 1/8 inch cutter and short rods. Good (CVR222) 200 - 400 | |
| | 6802-256 STANLEY No. 2 smoothing plane. Sweetheart mark; letter T stamped on back of cutter. Japanning 90%, hairline crack on left side of throat. Tote ok but lacquer worn on knob. Good- (HEN21) 50 - 100 | |
| | 6802-257 STANLEY No. 148 match plane. Plating 90%, notched rectangle logo, 7/8 inch cutters, a few spots of rust. Good+ (HEN104) 50 - 100 | |
| | 6802-258 STANLEY No. A18 aluminum block plane. Sweetheart mark; some wear and flaking to nickel on lever cap and minor surface rust. Light scratching. Good (HEN23) 75 - 150 | |
| | 6802-259 STANLEY No. 94 rabbet plane. Largest and hardest to find of the 90 series of Stanley rabbets. Third sweetheart on front plate, some loss of nickel plating. Unfortunately missing it's lever cap; if you have access to a spare one you're in business. Good- (MAG216) 40 - 80 | |
| | *6802-260 STANLEY No. 39-1/4 Dado plane. Chip at top of body by depth stop, repair on lever cap and replacement cap screw, repainted. Surface rust. Fair (HEN17) 20 - 40 | |
| | 6802-261 STANLEY No. 144-1/2 corner rounding plane. Japanning retouched, sweetheart cutter, patent date cast into body, a few spots of surface rust. Good (HEN22) 75 - 150 | |
| | 6802-262 STANLEY No. 98 and 99 side rabbet planes. Type 3A with sweetheart marks and depth stops, one knob screw is replacement, wood has light wear, nickel 50%. Good (HEN45,46) 40 - 80 | |
| | 6802-263 Grooving plane. We're pretty sure we've seen these before, and they look manufactured, but they're never marked. It has a gunmetal body with beech inlaid tote and beech knob, cuts a 3/16" wide groove 1/2" deep with no fence or depth stop. Good (SPM902) 60 - 120 | |
| | 6802-264 Lot of two O.S. OSBORN draw gauges. One has rosewood filled handles, the other is solid iron with some wear. Surface rust. Good (KDL) 50 - 100 | |
| | 6802-265 Lot of three STANLEY No. 66 hand beaders. One has no cutter, one has double ended center bead cutter, other has user made hollow cutter. All have straight fence, one has oval fence as well. Japanning 60-80%. One has paint splotch. Good- (LDZ172) 40 - 80 | |
| | 6802-266 STANLEY No. 83 scraper. Wide roller looks proper, good handles, nickel 80%, unmarked cutter. Good+ (RRT818) 40 - 80 | |
| | 6802-267 MILLERS FALLS No. 4 ratcheting auger bit handle. 15 inches across, most of logo, has most of its japanning, light wear. Good+ (RRT317) 50 - 100 | |
| | 6802-268 HOLT corner brace. Uncommon form of corner brace based on Gardiner Holt's 1892 ratchet patent, ranked as "A" for rarity in Pearson. Differs from more common corner braces due to its small knob, ebonized wood. Clean and works smoothly. Good (SPM714) 40 - 80 | |
| | 6802-269 Lot of five spokeshaves and scraper. L. BAILEY No. 3 spokeshave, locking thumbscrew replaced with regular screw. Cutter marked on backside with Bailey's patent as well as underside of handles, traces of japanning. Plus two STANLEY No. 51 and one No. 60 spokeshaves and a No. 80 scraper, japanning mostly complete but No. 60 repainted. Good (MSV75) 50 - 100 | |
| | 6802-270 Mortise gauge. User made with wood body, square head, and brass lined on about half the stem. Second point held in place with wood wedge, head locks with wood thumbscrew. Different. Good (DRN11) 30 - 60 | |
| | 6802-271 Draw gauge . No makers mark. Brass and rosewood handle with ruled cutter bar. Some surface rust, cutter sharp. Good (DRN6) 30 - 60 | |
| | 6802-272 STANLEY No. 71-1/2 router plane. Type 4, nickel plating in excellent shape; has 1/2 inch and 1/4 inch cutters, good knobs with owner stamp. Good+ (LDZ166) 50 - 100 | |
| | 6802-273 Hand beader. Wood body and round head with notch that allows the different shaped edges on cutter to rotate and be exposed at the notch, profile include side, triple beads, quirked beads, etc. Cutter locked with cylindrical thumbscrew. Wood worn. Good (DRN14) 40 - 80 | |
| | *6802-274 Wood spokeshave. 12-1/2" rosewood with boxwood inlay wear plate, 2" blade held with screws. A few chips. Good (REW1288) 20 - 40 | |
| | 6802-275 COES knife handle monkey wrench. Marked Coes Wrench Co. and with Loring Coes' 1880 and 1884 patents. 21", metal oxidized but undamaged, good clean wooden handle. Good+ (RUS57) 60 - 120 | |
| | 6802-276 Lot of two hand vises. One is marked "Stevens" and "4116", well made with spring-operated jaws. The other is 5" long with parallel jaws and is marked by BILLINGS & SPENCER. Both clean and operate smoothly. Good+ (PLH181) 60 - 120 | |
| | *6802-277 COES-type perfect handle wrench. Unmarked but clearly based on the Coes design. 15", jaws sprung with light surface rust and a punched design, handle dirty with a chunk missing but solid. Good (ESY131) 30 - 60 | |
| | 6802-278 Lot of five wrenches. Three pipe wrenches, an 18" and a 14" with wooden handle (badly cracked), both marked only "Made in USA", and an 8" "Trimo" by TRIMONT MFG. CO. Plus a 9" adjustable nut wrench and a 6" bicycle wrench, both unmarked. Mixed (PLH) 40 - 80 | |
| | 6802-279 Lot of two wrenches. An uncommon example of Squire Robinson's 6/16/85 patent, marketed as Robinson's Steel Bar wrench by PECK, STOW & WILCOX, 8", marked only with a partial patent date and "Warranted." Plus a COES based on Taft's 2/23/64 patent, advertised as adapted for railroad use, 10", head dinged up so mark is very faint and jaws sprung, wooden handle. Good & better. (PLH596) 50 - 100 | |
| | 6802-280 TRYON patent combination wrench. Very uncommon example of Edward Tryon's 1901 patent that combined nut, pipe and buggy wrench with a unique side-mounted adjustment. Manufactured in the US by the HARTFORD HARDWARE CO. but marked only with the patent date, as is typical. 9" long, nickel plating mostly worn with rust. There may be a knob missing at the bottom of the sliding adjustment bar. Good (PLH597) 80 - 150 | |
| | 6802-281 BELLOWS 1918 patent ratchet wrench. Uncommon wrench with internal ratchet, patented in 1918 and marketed by WALDEN-WORCESTER, INC. 9", surface corrosion but works smoothly. Good (PLH595) 40 - 80 | |
| | 6802-282 Lot of five S-handle adjustable nut wrenches. Four by BEMIS & CALL - 10", 8" and two 6", one solid and one open handle. Plus we're throwing in one by HAZET, 10". Good & better. (ESY133) 40 - 80 | |
| | 6802-283 BEMIS & CALL combination wrench. Based in Bemis's 12/2/73 patent, two-sided head includes pipe and nut wrench. 9", nice clean condition with good mark, jaws slightly sprung. Good+ (PLH164X) 50 - 100 | |
| | 6802-284 Lot of two bicycle wrenches. A WHITMAN & BARNES 4" Improved model, nickel plating 80%, and one with an English patent number 21226/08 but no name, 5", internal screw. Good & better. (PLH165X) 60 - 100 | |
| | *6802-285 Adjustable wrench. Unmarked and we don't recognize it but clearly manufactured. Flat stock, 7", worm gear engages square groove to adjust jaws, jaws a little dinged but not sprung. Good (VIN251) 30 - 60 | |
| | 6802-286 Lot of two wrenches. Combination wrench, hammer, and nail puller marketed by TOWER & LYON under Boardman's 1866 patent, nickel plating badly corroded, and an unmarked 5" bicycle wrench with center screw. Good (PLH298) 40 - 70 | |
| | 6802-287 Lot of two BILLINGS & SPENCER bicycle wrenches. Very uncommon example of Billings' 1/15/1895 patent with the adjusting worm gear mounted on the side of a thin shaft, 5-1/2", marked "Made Exclusively for Pope Mfg. Co.", nickel worn but works smoothly. Plus one that looks like a Type B although it's stamped "E", 7", jaw slightly sprung. Good (PLH720) 60 - 100 | |
| | 6802-288 Lot of automotive and bicycle wrenches. HARLEY DAVIDSON end wrench with 3/8", 1/2", 9/16 and 20 mm jaws in like new condition. Two MOSSBERG bicycle wrenches, a No. 100 and No. 110, the 110 has surface corrosion. Plus we are throwing in a lot of 12 ignition and spark plug wrenches with various sizes and makers. Good & better. (VIN267) 50 - 100 | |
| | 6802-289 ROBERT BENARD Encyclopedia engravings. Eleven engravings on technical subjects, including turning, potting wheels, etc. All are marked "Benard direxit", indicating that they were prepared under the direction of Robert Benard, the master engraver for Diderot's Systematic Dictionary of the Sciences, Arts, and Crafts, published in the 1700s. Each is 18" x 12-1/2", labelled in French, and in good clean condition with some wear to edges but no damage or foxing to the images. Good (PLH1001X) 50 - 100 | |
| | 6802-290 STEVAN DOHANOS commemorative Stanley print. Number 767 of a limited edition of 950 prints commissioned by Stanley in 1987 as part of its anniversary celebration. Dohanos was a renowned illustrator known for his Saturday Evening Post covers. Signed and numbered by the artist in pencil. Features a portrait of Augustus Stanley and numerous tools, catalog covers, and scenes. Unframed, rolled in a cardboard tube. Good (JCI8) 80 - 160 | |
| | *6802-291 Lot of two Stanley lever caps. Transitional plane lever caps with decent japanning and number 2 cast on backsides. One has small chip in corner. Good (PNG91) 20 - 40 | |
| | 6802-292 Axe labels. Seven miscellaneous labels from mostly Maine makers such as NORTH WAYNE TOOL CO., DUNN EDGE TOOL CO., WITHERELL, PENOBSCOTT AXE, M. SCHWARTZ CO., and a few others. Two mounted on photoboard, others loose. Good (JCI42) 40 - 80 | |
| | *6802-293 Box for SARGENT No. 409 smoothing plane. Just the box. Intact with good label. If you already have the plane this is for you. Good (VTO48) 20 - 40 | |
| | 6802-294 Honing stone in walnut box. The stone is marked "The Gem" and is 5-3/4" x 2"; the box is nicely carved from a solid piece and is 8" by 2-3/4" by 2-3/8" high, pegs to hold the lid in place and with the user initials decoratively carved into the lid. Well made and attractive. Good+(PLH725) 50 - 100 | |
| | 6802-295 Early flax comb. 6 inch wood handle with brass collar, 6 inch wide head with 14 teeth, look handforged. Surface rust. Good(WOL871) 40 - 80 | |
| | *6802-296 Set of letter and number stamps. In wood base without lid, has both the alphabet and numbers plus period and ampersand stamps. User name on bottom of wood. Good(MSV108) 25 - 50 | |
| | 6802-297 Lot of two leatherworker's knives. One looks like a skiving knife, shaped like a crooked knife with a brass blade holder and iron leaf spring, missing the blade, the other looks like a knife with the end missing but with an elaborate sliding brass and iron sheath, marked E. Brown. Good(DRN7,9) 40 - 80 | |
| | 6802-298 Lot of two buttonhole chisels. Both with blades made out of files, one with 1" blade, 4" long with knobbed handle, the other has 3/4" blade and T-handle. Good & better.(DRN8, 12) 80 - 150 | |
| | *6802-299 Metal forming tool. That's our best guess. It has an 8" handle and an ovoid lead head. Good(THF344) 20 - 40 | |
| | *6802-300 Patented screwdriver. Uncommon example of George Kolb's 1885 patent with a sliding clamp to hold the screw in place. Marked only with the patent date on the brass collar, handle stained but intact. Good(DRN13) 30 - 60 | |
| | 6802-301 Sugar nippers. Handforged, spring operated, 1-1/2 inch round jaws. Slight pitting but fairly clean. Good(DCR376) 30 - 60 | |
| | *6802-302 Lot of two small screwdrivers. Both have "perfect" handles with 1/8 inch flat ends, 4 inches long total. Light wear to wood. Good(THF341) 20 - 40 | |
| | 6802-303 Race knife. Head has scoop and pointed end, with another scoop end that folds into wooden handle. 4-1/2 inches long, wood worn. Good(VTD28) 30 - 60 | |
| | 6802-304 Folding multi-tool. These gizmos, advertised as "vest pocket" tool kits, became popular in the early 1900s and were made by several manufacturers. This one is unsigned and includes 9 tools that fold out from the D-ring that serves as the handle. Mild surface corrosion, 3" across. Good(PLH620) 50 - 100 | |
| | 6802-305 Lot of three STANLEY books. STANLEY TOOLS Catalog No.139 reprint with slight wear to cover and first few pages but overall pages are clean. Plus STANLEY FOLDING RULES and THE STANLEY PLANE, both hardcovers by Alvin Sellens. Dustjackets are slightly worn, pages and binding are clean, overall good used condition. Good (MAG134,203,204) 50 - 100 | |
| | 6802-306 Lot of axe books. EMBOSSED AXES by Grismer & Kendrick, GOOSE-WING AXES by John Caroline, BROAD AXES by Gamble, AXE MAKERS OF NORTH AMERICA by Klenman, AMERICAN AXES by Kauffman, and AMERICAN AXE & TOOL CO. 1894 Catalog reprint. Most in gently used condition or with a few dogeared pages but overall clean. Good (LDZ301) 100 - 200 | |
| | 6802-307 Lot of two Eric Sloane books. Set of first edition Eric Sloane books THE SPIRITS OF '76 and LEGACY, both in good shape with dust covers intact, clean pages. Includes "A Declaration of Self Dependence" by Sloane. Both books are signed by the author. Good + (MAG130,131) 100 - 200 | |
| | 6802-308 Reference books. Both volumes of the indispensable PTAMPIA by Roger Smith. Volume I is in Fine condition, complete with dust jacket has one small tear. Second volume has no dust jacket and cover is slightly worn but pages are clean. Both have personal endorsement by the author. Good (GST430) 75 - 150 | |
| | 6802-309 Lot of seven reference books. Five tool catalog reprints in good condition and includes AJ WILKINSON & CO. 1842 catalog, HAMMACHER, SCHLEMMER & CO. 1896 catalog, DISSTON'S "The Saw in History," BARNES CO. Catalog No. 67, and STRELINGER & CO. 1896 catalog, from clean to lightly worn condition. Plus original ARROW TOOL & REAMER CO. 1952 catalog and CLEVELAND TWIST DRILL CO. "The Use and Care of Twist Drills" both in gently used condition. Good (WNR101) 40 - 80 | |
| | 6802-310 Lot of three catalog reprints. A BROWN & SHARPE CATALOGUE COLLECTION with introduction by Kenneth L Cope, SARGENT TOOL CATALOG COLLECTION, and WOODWORKING MACHINERY: ITS RISE, PROGRESS, and CONSTRUCTION 1800-1880. All three are new wrapped in plastic, some scuffs on corners but overall clean. Fine (MAG133,135,136) 50 - 100 | |
| | 6802-311 STANLEY TOOLS book. 1996 paperback edition by John Walter. Gently used, small tear and slight wear to cover. Some creases on spine. Pages clean and intact. Good- (WNR102) 75 - 150 | |
| | 6802-312 Lot of two reference books. THE HAMMER paperback by Baird and Comerford. Some wear on cover and a few slightly dogeared, overall pages mainly clean. And WOODWORKING PLANES by author Alvin Sellens, signed. Some scuffs on cover but overall clean. Good (MAG201) 75 - 150 | |
| | 6802-313 Lot of seven tool catalog reprints. HENRY DISSTON & SONS 1876 price list and HANDBOOK ON SAWS. BUCK & HICKMAN 1902 catalog with small tear on cover, C.E. JENNINGS & CO Price List No.13, J.B. SHANNON 1873 price list, BARNES Catalog No. 59, and HOOLE MACHINE AND ENGRAVING WORKS Catalog No. 79. Some wear on covers but pages are overall clean. Good (WNR103) 40 - 80 | |
| | 6802-314 Dealer lot of block planes. Lot of 12 block planes plus STANLEY No. 78 missing nicker and depth stop. Block planes are mostly STANLEY including No. 60-1/2,Two No. 9-1/4, two No.110 (one with star lever cap), and No. 220. Some rusty and missing japanning or nickel, a few cleaner. As is, no returns. Good- & better (FNKVarious) 40 - 80 | |
| | 6802-315 Dealer's lot of ratchet braces. Eleven total, various makers, all working and at least good. As is, no returns. Good & better. (RRT various) 100 - 180 | |
| | 6802-316 Dealer lot of hatchets. 14 total, three are PLUMB, a KEEN KUTTER, a CRAFTSMAN, a TRUE TEMPER, a MERIT, SHAPLEIGH, CLARKS, and UNDERHILL. Mix of carpenter's hatchets, shingle hatchets, and broad hatchets. Variety of wear. As is, no returns. Good- & better (RUS347, 352, 353, 354, 356, 360-365, 367) 50 - 100 | |
| | 6802-317 Dealer lot of eggbeater hand drills. 8 total with 6 made by MILLERS FALLS, one by GOODELL-PRATT and one by NORTH BROS. Three have bits in handle, one missing its chuck. Japanning ranges from near complete to traces, most have three jaw chucks. As is, no returns. Good- & better (MHT62, 63) 50 - 100 | |