VIEW CART
To search this page for specific words type "Ctrl" + "F" on your keyboard (Command + "F" on a Mac). Then, type the word you are searching for in the search bar that pops up. In Firefox, the search bar will appear on the bottom of your screen. In Internet Explorer, it is at the top.
---
LOTS 1-50 | 51-100 | 101-150 | 151-200 | 201-250 | 251-300 | 301-350 | 351-400 | 401-450 | 451+
---
Kalamazoo Antique Trade Tools Auction 2016
Kalamazoo Antique Trade Tools Auction 2016 Absentee Bidding is Below.
Live auction takes place July 16th around 1:00PM at Tillers International Facility near Kalamazoo, MI. See our information page for details.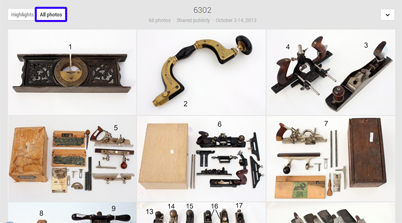 Auction Information:
Bids must be received on or before the end of the day Friday, July 15, 2016. If you would like to bid on a paper bid sheet, blank bid sheets can be printed out here. Mail, fax, or email your bids to the address provided on the form. You may also bid on the auction and submit an electronic bid sheet using the online auction listing below.
To view all auction items in our Web Albums, click here. To see all photos in order, select All Photos (in blue in the image above). Clicking on individual photos reveals full description and the ability to zoom in.
How to bid in our current auction below:
Enter bid in Maximum Bid box to the right of lot desired and click "Add to Cart" button.
Review bid on the next page.
If you would like to bid on more lots, click the "Continue Bidding" button to return to the current auction to place more bids. The number of bids in your cart will appear at top of current auction page.
Bid on next item(s) until completed bidding on all lots you wish to bid, hitting the "Continue Bidding" button after each bid is added to cart.
When placing your final bid, select the "Place Bid" button, then the "Confirm" button after reviewing all bids. Proceed with entering contact information to submit bid(s) to Fine Tool Journal.
To quickly and automatically process any auction wins, please call us a (800) 964-9036 to securely place your credit card on file.
Thanks for bidding!
To confirm we received your bids and to check on current High Bids please call (800) 964-9036. Bids may be increased by calling or by submitting increases online below.
Items marked with an asterisk (*) before the description allow a minimum bid of $1. All other items have a minimum $20 bid.
Because this is a live auction, there will be an absenee bidding fee of $3 per lot on any items won by absentee bid.
ITEMS MARKED LOCAL PICKUP ONLY WILL NEED TO BE PICKED UP IN PERSON EITHER AT THE LIVE AUCTION OR AT OUR LOCATION IN WATERVLIET, MI. PLEASE INDICATE ON YOUR ABSENTEE BID SUBMISSION HOW YOU WILL BE PICKING UP THESE ITEM(S). SHIPPING MAY BE ARRANGED AT COST FOR SOME LOCAL PICKUP ITEMS, PLEASE CONTACT US FOR DETAILS.
LOT
DESCRIPTION
CONDITION
SOURCE
LOW
HIGH
PHOTO (CLICK TO ENLARGE)
BID
2016-001
2016-001 DURO Sign Maker Letter and Number Decals tin box. Empty most of gold lettering intact.
Good plus
SGN579
100
200
>

2016-002
2016-002 STANLEY No. 62 low angle plane. Japanning 80 percent wood good.
Good plus
SGN440
200
400

2016-003
2016-003 Lot of two No. 40 and 40-one half scrub planes. Japanning ok light wear.
Good
SGN262
40
80

2016-004
2016-004 Two STANLEY No. 39 rabbeting planes. Three eighths inches and three quarter inches light rust.
Good
SGN267
30
60

2016-005
2016-005 STANLEY No. 10-one half rabbet plane. Light surface rust 80 percent japanning tote chipped.
Good-
SGN580
75
150

2016-006
2016-006 STANLEY No. 378 weather stripping rabbet plane. Repainted missing depth stop.
Good
SGN266
40
80

2016-007
2016-007 STANLEY No. 148 match plane. Seven eighths inches nickel plating 90 percent.
Good plus
SGN269
40
80

2016-008
2016-008 STANLEY No. 48 tongue and groove plane. Plating 75 percent light rust.
Good
SGN270
40
80

2016-009
*2016-009 SARGENT 5607 block plane. Japanning 90 percent adjustable throat.
Good
SGN411
20
40

2016-010
2016-010 CHAPLINS patent bench plane. 9 inch corrugated sole adjustable throat rubber tote. Light rust.
Good
SGN583
60
120

2016-011
2016-011 STANLEY No. 112 cabiner scraper. Japanning 60 percent pitted sole wood good.
Good-
BHR1000
60
120

2016-012
2016-012 STANLEY Bedrock 608 jointer plane. Vee mark on blade flat top sides japanning good light rust.
Good
SGN284
80
160

2016-013
2016-013 Lot of two STANLEY No. 7 jointer planes. Types 8 and 9 japanning 70 percent wood good.
Good
GAN336 339
40
80

2016-014
*2016-014 STANLEY No. 78 duplex rabbet and filletster. Clean example vee mark on the blade. Fence and nose are broken pieces are there if you want a repair job.
Fair
GNM306
15
30

2016-015
2016-015 STANLEY No. 113 flexible sole plane. Type 1 except for cutter adjustment wheel. Small chip from plate at base of body where it attaches to sole. Japanning 70 percent.
Good
DJS718
75
150

2016-016
2016-016 Lot of three carving tools. MATHIESON gooseneck mortise chisel. SORBY pig sticker and 1-three quarter inch gouge. Light rust.
Good
SGN584
40
80

2016-017
2016-017 Lot of two gouges. 1-three quarter inch BUCK BROTHERS 1-one half inch BUTCHER. Mostly clean.
Good plus
SGN585
30
60

2016-018
2016-018 Lot of 6 chisels and gouges. Various makers including WITHERBY and WARD and PAYNE. 1-three quarter inch to three quarter inch wide. Most clean.
Good
SGN586
40
80

2016-019
2016-019 Lot of 5 chisels. BARTON BUTCHER SWAN WHITE STANLEY makers. 2 inch to 1 inch width. Most clean.
Good
SGN587
40
80

2016-020
2016-020 Lot of 11 chisels. Various types most unmarked 1 inch or smaller. One has broken handle two no handles.
Good
SGN588
30
60

2016-021
*2016-021 Two NORTON sharpening oilstones. Both in original box one missing lid. Stones unused or light use.
Good plus
SGN589
20
40

2016-022
*2016-022 Lot of three oilstones. Light use in repurposed and tattered Yankee Drill box and good Crescent pincer box.
Good
SGN590
20
40

2016-023
2016-023 Lot of four oilstones. PIKE India No. 21 gouge slip IOB one unmarked and 3 NORTON pocket stones in original plastic sleeves.
Good
SGN591
30
60

2016-024
2016-024 Lot of two braces. One plated Slater other unmarked.
Good-
HAN286 288
30
60

2016-025
*2016-025 Lot of two braces. Unmarked. One primitive no head. One brass plated pushbutton chuck.
Good-
HAN287 292
20
40

2016-026
*2016-026 Lot of two STANLEY braces. Nos. 965 and 928 mostly clean.
Good
SGN235
20
40

2016-027
2016-027 18th century ball handle brace. Handfordged wingnut chuck iron body walnut grip and handle.
Good
BJL600
30
60

2016-028
2016-028 Patented brace. Nobles 1865 patent with slip ring 8 inch sweep brass and rosewood head with some dinging. B in Pearson.
Good plus
BJL602
50
100

2016-029
*2016-029 Lot of three braces. RICH-CON RC10 MILLERS FALLS No. 422 and MOUND CITY 110. All have wear and rust.
Good-
JPM1
25
50

2016-030
2016-030 Patented brace. Shephardsons 1870 patent with sliding jaw chuck steel head 8 inch chuck B in Pearson.
Good plus
BJL601
50
100

2016-031
2016-031 Lot of three Sheffield style braces. Two brass plated one not. One marked Hermitage Works. Dings and light wear
Good
GAN1000
30
60

2016-032
2016-032 Lot of four Sheffield style braces. Two brass plated others not. One MARPLES rest unmarked. All have mild wear and pushbutton chucks.
Good
GAN1002
40
80

2016-033
*2016-033 Lot of three braces. PS and W No. 102 PEXTO No. 7010 MILLERS FALLS No. 1410. All have moderate rust and two jaw chucks.
Good-
SGN293
15
30

2016-034
*2016-034 Bench plane. Looks Norwegian the letters INTF are carved into one cheek and a cloudberry etched near throat. Compassed sole and blade 7-one half inches long.
Good
KAS13
20
40

2016-035
2016-035 Carved wooden jointer. 17 inch elaborate carving on toe owner name carving on heel. J. Jowatt mark on blade.
Good
BJL605
30
60

2016-036
2016-036 Two horned planes. Unmarked 9 inch sole with TILLOTSON cutter and 8-one fourth inch soled- one with TROCKEN HOLZ mark and toothed BUSCH cutter.
Good
SGN503
30
60

2016-037
2016-037 E.C. EMMERICH Primus No. 711 horned plane. Lignum vitae sole light use. Left handed.
Good plus
JPM4
75
150

2016-038
*2016-038 KEEN KUTTER coffin plane. 2-one eigth inch blade marked KK body has light wear.
Good
GAN275G
25
50

2016-039
*2016-039 STANLEY No. 36 wood bottom smother. Type 12 surface rust on cutter japanning good.
Good-
JPM3
15
30

2016-040
2016-040 Lot of two STANLEY Liberty Bell planes. Type 1 and Type 3. Japanning 70 percent. Light wear.
Good
SGN591
40
80

2016-041
2016-041 Lot of two STANLEY wood bottom planes. A Liberty Bell No. 135 Type 1 and a No. 35 Type 3 with owner stamp. Light rust and wear.
Good
SGN592
35
70

2016-042
*2016-042 Lot of three wood bottom planes. A STANLEY Liberty Bell No. 127 Type 3 and a same size one by Union. And STANLEY No. 127 Type 9. All have light wear.
Good
SGN593
25
50

2016-043
2016-043 Lot of three STANLEY transitional planes. Type 6 prelateral No. 33 later type Nos. 30 and 31. Mild wear.
Good
SGN594
30
60

2016-044
2016-044 Handforged hatchet. Primitive loop eye with handle. Some rust on head.
Good
DCR246
30
60

2016-045
2016-045 Norwegian axe head. Primitive no handle tag with provenance. Some rust.
Good
DCR343
30
60

2016-046
2016-046 Double end hatchet and small adze. Both unmarked adze looks handforged and primitive.Clean.
Good
DCR326
30
60

2016-047
2016-047 Lot of three adze heads. Two handforged one looks manufactured but unmarked. Some rust and pitting on a couple.
Good-
DCR354
30
60

2016-048
2016-048 Lot of two pronghoes. Smaller and larger both look handforged. Used for tilling.
Good
DCR71
30
60

2016-049
*2016-049 Hand or nail rake. Handforged 17 inches long light rust.
Good
DCR357
20
40

2016-050
*2016-050 String winder. Handforged with nice wooden handle light rust.
Good
DCR351
20
40

2016-051
2016-051 Scorp and sickle. Primitive sickle and a hanforged scorp with long handle.
Good
DCR70
30
60

2016-052
2016-052 Primitive carving tools. Mainly gouges no handles look handforged and light rust.
Good
DCR
30
60

2016-053
2016-053 Handforged hay knife. No handle large flat blade 4 inches wide. Light rust.
Good
DCR352
30
60

2016-054
2016-054 Lot of two hay knives. The AMERICAN patented 1899 with serrated blade 70 percent of green paint handles good. Plus unmarked one with large serrated edge loose handle.
Good
DCR209 223
30
60

2016-055
2016-055 Hay knife. Marked Patented July 20 1875 by Russell Kellogg of Battle Creek MI who was known as the -Strawberry King-. Two handles attach in a triangular manner to a serrated blade.
Good
DCR210
30
60

2016-056
2016-056 Red Man tobacco framed advertisement. 18-one half inch x 9 inch frame with scalloped edge color advertising in good condition.
Good plus
GFR315
40
80

2016-057
2016-057 1981 Buckeye Harvesting Machinery calendar. Full color 6-one fourth inch x 7 inches some age and light wear.
Good
GFR338
40
80

2016-058
2016-058 Lot of 8 tobacco pouches. All empty and unused paper and cloth various makers.
Good plus
GFR313
30
60

2016-059
*2016-059 Lot of advertising items. Miniature screw jack inkwell in shape of suitcase and Ford Model T grease cap cover.
Good-
GFR329
10
20

2016-060
2016-060 Lot of two Victorian cased portraits. Popular from 1840-1870 small oval and square thermoplastic and velvet case with portraits inside each.
Good- and better
GFR324
40
80

2016-061
2016-061 Lot of three tobacco containers. Two Union Leader and one Picnic Twist.
Good
GFR351
40
80

2016-062
2016-062 Lot of oil and milk cans. Two by MARTIN WARE two unmarked. One 19 inches tall others roughly 9 inches tall. All have lids and light wear and rust spots.
Good
BSR
40
80

2016-063
2016-063 Lot of two oil cans. One marked Gasoline other for SUPERLA Cream Separator Oil with most of its label on four sides. Both have rust spots.
Good
BSR
30
60

2016-064
2016-064 Lot of three STANDARD OIL large oil cans. Two 24 inch tall one 18 inch tall. All galvanized with light age. This item is for local pickup only.
Good
BSR
100
200

2016-065
2016-065 Lot of two stoneware jugs. 27 inch blade 4 tpi in 30 inch x 34 inch wood frame. Blade has rust but overall ni.
Good
BSR
50
100

2016-066
2016-066 Frame saw. 27 inch blade 4 tpi in 30 inch x 34 inch wood frame. Blade has rust but overall nice.
Good
RDL1
40
80

2016-067
2016-067 Lot of five ATKINS saws. Four with carved design handles a few with partial etch a nice No. 65 with wear on handle a few spots of rust.
Good
SGN595
50
100

2016-068
2016-068 SPEAR and JACKSON rip saw. 30 inch blade 4 tpi top horn broken off partial stamp blade darkened.
Good
SGN341
50
100

2016-069
2016-069 Lot of four saws. Three ATKINS including a 26 inch No. 401 light etch and a 24 inch crosscut logging saw all have good horns. And a 26 inch DISSTON D-8 with thumbhole handle worn and top horn missing.
Good
SGN553
40
80

2016-070
2016-070 Lot of five DISSTON rip saws. Includes a D-12 20 inch D-8 skewback a Keystone Saw Works rest no visible etch. Good horns blades mostly clean.
Good plus
SGN329 331 335 339
50
100

2016-071
2016-071 Lot of four saws. A SANDVIK with dragon etch on handle and hang hole a KEEN KUTTER with chip in top horn a BELKNAP Crusader No. 13 with broken top horn a PENNSYLVANIA SAW WORKS with light Quaker man etch.
Good
SGN596
40
80

2016-072
*2016-072 Lot of H and C DISSTON meat hacksaw. Marked C. DISSTON and H. DISSTON and SONS. Handle decent blade has a few rust spots but good.
Good
SGN597
20
40

2016-073
*2016-073 CRAFTSMAN adjustable jewelers saw. 6-one half inch blade 12-one half inch tall body. Light rust but generally clean.
Good
DJS714
15
30

2016-074
*2016-074 Small drawknife. Unmarked 4-one half inch blade nice handles.
Good
SGN406
15
30

2016-075
2016-075 Lot of three drawknives. A SARGENT a GW BRADLEY and one unmarked. 8 inch edges some spots of rust handles worn.
Good
SSA216218 219
30
60

2016-076
2016-076 Lot of six drawknives. 6 inch to 9 inch blades most unmarked. One marked FULTON. Varying degrees of wear on handles.
Good
SGN598
40
80

2016-077
2016-077 STRATTON No. 1 level. 24 inch top of the line full sized brass-bound level mahogany has scratching and dinging looks polished brass is very good.
Good
NHN158
50
100

2016-078
2016-078 Lot of six wooden levels. Two DISSTON two GOODELL-PRATT one AKRON one unmarked thats missing two screws. 30 inches to 24 inches in length some wear.
Good- and better
SGN599
50
100

2016-079
2016-079 Lot of nine STANLEY levels. A few No. 0 a No. 3 a No. 50 and No. 104. Many worn some vials look replaced.
Good- and better
SGN600
40
80

2016-080
2016-080 Lot of five levels. A STANLEY 24 inch Defiance with most its red enamel 16 inches GOODELL-PRATT 12 inch KEEN KUTTER and DISSTON and MORSS and a 8 inch Dandy Level. All have some wear Dandy the worst.
Good- and better
SGN601
35
70

2016-081
2016-081 Lot of four small levels. Two 10 inch STANLEY No. 102 and one marked BEDORTHA BROS. Two 12 inch DISSTON and SONS and Dandy Level. All with light wear.
Good
SGN602
30
60

2016-082
*2016-082 Lot of four pocket levels. A STARRETT aluminum a German one marked LANX with wood and brass and two unmarked with wood body and brass top plates.
Good
SGN603
20
40

2016-083
2016-083 Lot of four pocket levels in original tins. STANLEY No. 87 sweetheart and two No. 187 and a FRANK B. HALL octagon line and surface level. Tins have some wear.
Good plus
SGN604
40
80

2016-084
*2016-084 STARRETT cast iron level. 12-one half inches long has some paint and rust spots japanning 60 percent vials wet.
Good-
MRA38
25
50

2016-085
2016-085 STANLEY No. 36G level. 12 inch version with eclipse vial covers straight sides. Some rust spots vials wet japanning 80 percent
Good
MRA37
30
60

2016-086
2016-086 STANLEY No. 36 level. 6 inch version in handmade protective box. Japanning nearly complete a few paint specks. Vials intact.
Good plus
JPR79
30
60

2016-087
2016-087 Lot of 11 yard sticks. Most LUFKIN a few advertising one metal. Various lengths most clean.
Good
SGN605
30
60

2016-088
*2016-088 8 foot sliding extension rule. Unmarked some wear and staining brass thumbscrew and joint.
Good
SGN606
25
50

2016-089
*2016-089 Lot of tailor rules. 5 curved including LUFKIN No 8152 and 8151. And two squares one marked Standard Square inch Tailor System other by W.A. WORKS St. Louis.
Good
SGN607
25
50

2016-090
*2016-090 Lot of tailor squares. A LUFKIN No. 8248 metric one by CUMNER JONES and CO two unmarked. Light wear on a few. 24 inches x 12 inches.
Good
SGN608
25
50

2016-091
2016-091 Brass trammel points on rule. 7-one half inch points one fixed one embedded into 24 inch rule. Unmarked unique.
Good plus
SG609
30
60

2016-092
2016-092 Lot of four metal squares. Two STANLEY a No. 1 and a No. 12. And two saw smith squares one unmarked and uncommon one by UNION SAW CO.
Good
SGN610
40
80

2016-093
*2016-093 Lot of three try squares. A STANLEY No. 20TS and an unmarked 6 inch and 8 inch with rosewood handles.
Good
SGN492
25
50

2016-094
2016-094 STANLEY No. 113 flexible sole plane. Type 2 japanning 80 percent some rust.
Good
DJS719
60
120

2016-095
2016-095 STANLEY No. 171 door router plane. One cutter proper fence and rods. Metal clean one tote has repaired crack at base.
Good
ASG204
100
200

2016-096
*2016-096 Lot of two jack planes. A SHELTON No. 14 super clean except for a few scratches on top of blade. And a STANLEY 5C Type 11 japanning 70 percent with some rust.
Good
EHN610
20
40

2016-097
2016-097 Lot of two No. 40 scrub planes. An OHIO japanning 90 percent and a STANLEY sweetheart mark japanning 80 percent.
Good
HAN526
40
80

2016-098
2016-098 STANLEY No. 78 rabbet and filletster plane. Sweetheart mark on cutter all parts there japanning 75 percent.
Good plus
SGN251
40
80

2016-099
*2016-099 WinchesTER bench plane. No. 3 size tote has a few dings and has been reglued knob has crack. Metal clean.
Good-
ASG200
20
40

2016-100
2016-100 STANLEY No. 4-one half C bench plane. Notched rectangle mark on cutter S casting on lever cap knob has dings tote has tip missing. A few spots of pitting user initials in cheek overall clean.
Good
FNK133
60
120

2016-101
2016-101 Lot of two jack planes. A SHELTON 05 clean japanning good wood slightly worn. And a STANLEY No. 5-one fourth sweetheart mark japanning touched up pitting tote has repaired break.
Good- and better
FNK127 130
30
60

2016-102
2016-102 Lot of two KEEN KUTTER jack planes. A K5 hang hole chips on lever cap japanning decent some wear and pitting. And a KK5 corrugated Stanley cutter some areas of rust paint on sole japanning ok.
Good
FNK282 283
40
80

2016-103
2016-103 Lot of four STANLEY rabbeting planes. No. 39 1 inches No. 78 No. 191 and No. 192. All but No. 78 have depth stop missing. No. 39 missing cutter. Japanning 50 percent-75 percent.
Good- and better
FNK152 153 188
40
80

2016-104
2016-104 STANLEY No. 8 jointer plane. Type 7 japanning 80 percent user name on one cheek.
Good
GAN359
40
80

2016-105
2016-105 STANLEY No. 8 jointer plane. Japanning touched up knob and wood ok. Remnants of original sticker on tote.
Good
JPM5
45
90

2016-106
2016-106 STANELY No. 5 jack plane. Notched rectangle mark on cutter and lever cap a few dings on knob. Japanning nearly complete.
Good plus
SGN252
30
60

2016-107
*2016-107 STANLEY No. 6 fore plane. Late model tote and knob look replaced and bed likely repainted hang hole near toe.
Good
EHN7
20
40

2016-108
2016-108 Lot of three No. 3 size smoothing planes. VAUGHN and BUSHNELL No. 903 CRAFTSMAN No. 3 and MILLERS FALLS No. 8. All in decent user condition.
Good
SSA414953
30
60

2016-109
2016-109 STANLEY No. 2 smoothing plane. Third sweetheart on cutter. Lever cap has orange rectangle and orange paint on frog loss of nickel on lever cap bed repainted wood near fine.
Good
DCR83
100
200

2016-110
2016-110 STANLEY No. 45 combination plane. Type 2. Missing the long depth stop on the fence and no auxiliary parts one cutter.
Good-
DUS47
30
60

2016-111
*2016-111 STANLEY No. 75 bullnose rabbet plane. Made in England japanning and throat good.
Good plus
SSA20
20
40

2016-112
2016-112 Lot of two STANLEY No. 100-one half block planes. Notched rectangle marks on both blades one has light surface rust japanning 90 percent.
Good plus
SGN437 455
50
100

2016-113
2016-113 Lot of two STANLEY block planes. A No. 100 and No. 100-one half. Both with red lever caps. Japanning 80 percent.
Good
SGN454
30
60

2016-114
2016-114 Large double jointed calipers. Marked H. A. Holland and 1891. 14 inch legs light rust.
Good
DCR76
30
60

2016-115
2016-115 Lot of 11 calipers. Friction and spring. STARRETT RITTER LEBUDA makers. Some rusty. Various sizes.
Various
SGN611
40
80

2016-116
2016-116 Lot of 12 calipers. Mostly spring one handwrought. BROWN and SHARPE STARRETT makers. One dancing leg kind.
Good
SGN612
50
100

2016-117
2016-117 Lot of two small drafting kits. Both German one case marked ALVIN. A few spots of rust.
Good
SGN613
30
60

2016-118
2016-118 Lot of three drafting kits. One by LIETZ two pieces missing and case tattered. One by IRWIN very clean with only fading to velvet. And German one marked Technical Supply Company clean.
Good and better
SGN614
50
100

2016-119
2016-119 Stanley No. 1 Odd-Jobs. No rule 70 percent nickel plating some rust spots.
Good
SGN382
40
80

2016-120
2016-120 STANLEY No. 73 and No. 77 broad carpenter rules. Two of Stanleys less common rules outsides soiled but fully readable some pins missing.
Good
PLH16X
50
100

2016-121
2016-121 Lot of eight boxwood rules. STANLEY Nos. 36-one half caliper 61 63 66-one half 68 84 four-fold. LUFKIN Nos. 3851 372R caliper. All have some wear and some staining.
Good-
SGN615
30
60

2016-122
2016-122 Lot of 12 rules. Makers STANLEY LUFKIN AMERICAN RULE CO WAIDAH. Includes Lufkin No. 42 shipmakers bevel and Stanley No. 27 slide rule in fair condition. Rest ok with some stains.
Fair and better
SGN616
30
60

2016-123
*2016-123 Lot of four triangular rules. DIETZGEN and BK ELLIOTT CO. clean in cardboard sleeves plus two by KEUFFEL and ESSER and POSTS with light wear.
Good plus
SGN617
20
40

2016-124
2016-124 Small tool chest. 36 inch x 20 inch x 11 inch. The outside of chest and inside of lid painted green - inside of chest is stained brown with a few divided compartments. Bronze handles on each side leather strap inside to hold lid at 45 degree angle. Some age wear and dinging. Top of lid has wood nameplate that says what looks like T. LeBankser Blue Mound in pencil. No key.
Good
DJS
50
100

2016-125
2016-125 Tool chest. 38 inch x 22 inch x 20 inch on wheels. 2 sliding compartments, outside and inside stained maroon. Some wear, scratching and cracking characteristic of age. One handle missing nice brass decorative latch lift. No key.

This item is for local pickup only.

Good
DJS328
75
150

2016-126
2016-126 ALTHOUSE WHEELER & CO well pump. The No. 30 well pump, 48 inches high including broken pump handle. Mounted on a board. Has modern spigot attached. Has wheels for Corn Belt Mfg Co. also mounted on board next to it and likely was a form of mechanical pumping using an old repurposed corn feed mill parts. This item is for local pickup only.
Good
PLH708
75
150

2016-127
2016-127 J MCDERMAID butter churn. 14 inch tall oak barrel partial paint stamp on each side some rust.
Good
DJS599A
75
150

2016-128
2016-128 WHITE MOUNTAIN patented ice cream maker. 12 inch green painted barrell model 4XG. Some rust spots and lowest metal ring on outside of barrell missing a few chips in wood.
Good-
DJS599B
50
100

2016-129
2016-129 Corn sheller. Unmarked other than parts each marked H100-H105. Painted red 18-one half inch wheel mounted on board. Crack in base of sheller.
Good-
DJS
40
80

2016-130
2016-130 BLACK HAWK sheller. Model 1903B red and black paint mostly there 8 inch wheel with long cast iron and wood handle.
Good
DJS
60
120

2016-131
2016-131 Planter. 3 feet long wood and iron construction. Top handle engages mechanism. Unmarked.
Good
SGN
35
70

2016-132
2016-132 Apple butter stirrer. Wooden 43î handle with 19î paddle. Steel tip attached.
Good
REW1965
40
80

2016-133
2016-133 Large apple butter stirrer. 8 ft 8î long handle 20-one halfî x 4î paddle. Long handles necessary to protect cooks when making apple butter in huge cauldron over open fire.
Good
REW1970
60
120

2016-134
2016-134 Wood grain shovel. Hand carved handle and blade all from single piece of wood. Inactive worm. 45î long 14î wide blade.
Good
REW1963
50
100

2016-135
2016-135 Four tined wooden hay fork. Looks naturally formed 5 feet long attractive.
Good
REW1956
45
90

2016-136
2016-136 Wooden hay fork. 58 inches long hand made by steaming and spreading the three tines between wooden pins.
Good
REW1957
40
80

2016-137
2016-137 Three tined wooden hay fork. Looks naturally formed 55 inches long. Some light wear.
Good
SGN619
40
80

2016-138
2016-138 Manure scoop. 3 ft wooden handle with 14 inch x 9 inch curved wire scoop. Surface rust.
Good
SGN620
30
60

2016-139
2016-139 Lot of four STANLEY spokeshaves. Two No. 60 double bladed one has semicircle marked cutters. And No. 64 with vee logo No. 151 adjustable. Japanning 50-80 percent. Some rust.
Good
SGN621
30
60

2016-140
*2016-140 Lot of two STANLEY spokeshaves. Nos. 51 and 52 japanning good on the 52 half there on the other.
Good
JPM2
15
30

2016-141
*2016-141 STANLEY No. 55 hollow face spoke shave. Sweetheart blade some rust japanning 90 percent.
Good
SGN449
25
50

2016-142
2016-142 Lot of four STANLEY No. 80 cabinet scrapers. Two more modern. And one with sweetheart logo one with vee logo both have patent dates. Surface rust on a couple japanning ok on most.
Good
SGN249
30
60

2016-143
*2016-143 Lot of four wooden spokeshaves. Unmarked all have brass guards one curved. Nice.
Good plus
SGN622
25
50

2016-144
*2016-144 Lot of four scrapers. A No. 82 Type 1 with no blade a No. 70 box scraper sweetheart mark a No. 282 sweetheart mark and one unmarked.
Good
SGN486
25
50

2016-145
2016-145 Lot of three scrapers. A STANLEY No. 80 and No. 82 Type 1 cabinet scrapers. And a STARRETT universal scraper mostly clean.
Good
GRN24 27
40
80

2016-146
2016-146 Lot of four STANLEY gauges. No. 164-one half and No. 74 marking gauges No. 77 and No. 76 mortise gauges. A couple have user initials.
Good
SGN377
30
60

2016-147
2016-147 SLITTING GAUGE. Stanley No. 70-one half. One of Stanleys rarer gauges beech marked used but undamaged.
Good plus
PLH13X
60
120

2016-148
2016-148 Lot of six marking gauges. STANLEY No. 65 No. 165 No. 61 Defiance No. 1281 No. 77 double gauge. And one by FULTON. Overall clean.
Good
SGN376
30
60

2016-149
2016-149 Lot of seven STANLEY gauges. Two No. 65 one triangular and one square head. A No. 64 No. 64-one half a No. 71 double gauge and two brass trimmed mortise gauges. One has a hang hole.
Good
SGN378
40
80

2016-150
2016-150 Wooden mallet. 6-one half inch rectangular head 8-one half inch handle. Light use.
Good plus
NHN245
30
60

2016-151
*2016-151 Round mallet. 5-one half inch circumference head 9 inch handle. Nice burl some chips.
Good
DJS453
20
40

2016-152
2016-152 Lot of two mallets. A round wooden with 6 inch head and a caulking mallet 13 inch x 1-one half inch head painted black 10 inch handle.
Good
SGN623
40
80

2016-153
2016-153 Leather maul. 5 inches x 2-one half inch round head wrapped in leather shows moderate use. 6 inch wrapped handle with bronze end.
Good
SGN624
60
120

2016-154
2016-154 Brewery bung hammers. Used to hammer the bung and seal the barrel. Wooden 5 inch and 6 inch heads with long handles. Some age and wear.
Good
SGN625
40
80

2016-155
*2016-155 Lot of two blacksmith riveting hammers. 1 inch and 1-one half inch square heads smaller one has angled flat edge.
Good
NW226 1620
25
50

2016-156
2016-156 Metalworking marking hammer. Circular 1-one fourth inch head has design including the number 6 other side is a point. Nickel plating on head 70 percent handle ok.
Good
NW742
30
60

2016-157
2016-157 Lot of three blacksmithing hammers. Different styled heads all with square faces.
Good
NW412 486 508
40
80

2016-158
*2016-158 Lot of three hammers. A double sided chisel riveting hammer a STANLEY bricklayer hammer and a meat hatchet hammer. Some wear on all.
Good-
NW5459761461
25
50

2016-159
2016-159 Lot of three hammers. An adze hammer with leather wrapped handle a hatchet hammer and a blacksmithing riveting hammer. All three have rust and general use.
Good-
NW1385421804
30
60

2016-160
2016-160 Lot of two primitive froes. One has end broken off other has some wear especially on handle and large hang hole in wood.
Good- and better
ESY46
40
80

2016-161
2016-161 Lot of two small adzes. A hand adze with 3-one fourth inch curved blade and 5-one half inch handle. And larger one square head with stamped letter T on underside and 49 USA on handle tin used as eye tightener
Good
NW10471281
30
60

2016-162
2016-162 Roughing broad axe. 7 inch face 21 inch wood handle. Unmarked.
Good
NW543
30
60

2016-163
*2016-163 ILTIS single bit axe. 5-one fourth inch blade 31 inch long handle worn some surface rust.
Good
NW1432
20
40

2016-164
*2016-164 Hollowing adze. 9 inch long blade and 8 inch poll 19 inch handle with some paint on it. Surface rust.
Good
ALV665
25
50

2016-165
2016-165 ISAIAH BLOOD broad axe. NY maker. 12 inch edge 35 inch wood handle with some chips and inactive worm blade has some light pitting and surface rust.
Good
NW1434
50
100

2016-166
*2016-166 Lot of five wrenches. Two pipe by HELLER BROS and USHCO and three bicycle by GENDRON and BILLINGS and SPENCER. Most clean.
Good
ASG201
20
40

2016-167
*2016-167 Lot of two tools. GUNDLACH tile nippers IOB new old stock. And a COES 6-one half inch wrench slightly dinged.
Good
DWH6878
15
30

2016-168
*2016-168 Lot of two alligator wrenches. A Suregrip 50 marked with patent date 7-26-98 7 inch . And a smaller WILLIAMS and CO. 5-one half inch . Light rust.
Good
SGN271
20
40

2016-169
2016-169 WIZARD ratcheting adjustable wrench. 1907 patent made by RICHARDS Mfg. Co. of Aurora IL. Double screw crescent ratcheting head. Some surface discoloration and light corrosion but works smoothly.
Good
SGN519
40
80

2016-170
*2016-170 Two large COES monkey wrenches. Both marked -Mfg Under Coes Patent-. 18 inch and 12 inch long solid steel. Surface rust and some paint.
Good
SGN275
20
40

2016-171
*2016-171 Lot of three wrenches. Two monkey - unmarked 12 inch Coes style with wood handle and 15 inch solid steel by BEMIS and CALL and a 15 inch pipe wrench by DIAMOND. Some rust on all heavy on Diamond.
Good- and better
SGN
25
50

2016-172
*2016-172 Lot of two monkey wrenches. 8-one half inch COES and 8 inch unmarked both with wood handles. Surface rust some wear to wood.
Good
SGN272
20
40

2016-173
2016-173 Lot of six wrenches. 2 auto one OVERLAND two FULTON double ended S shaped a HELLER Masterench a BILLINGS and SPENCER 8 inch adjustable monkey. Plus an OVERLAND tire iron.
Good
SGN274
30
60

2016-174
*2016-174 Lot of seven wrenches. A BERYLCO non-sparking crescent a PLANET JR No. 3 a 6 inch HENRY and ALLEN Stillson a 5 inch BARNES adjustable monkey two 4 inch FORD and a small machinists crescent
Good
SGN626
25
50

2016-175
2016-175 Lot of three brass plumb bobs. A 32 oz GENERAL HARDWARE in worn container light use. A 12 oz CRAFTSMAN and a 8 oz unmarked one.
Good
SGN627
30
60

2016-176
2016-176 Lot of four plumb bobs. 4-one half inch brass conical a 4 inch six-sided brass marked JAS. A. GAFFNEY CO. 4 inch brass conical and 2 inch e turnip steel with some rust. Rest clean.
Good
NW856 866 871 1171
40
80

2016-177
*2016-177 Lot of two plumb bobs. A GENERAL HARDWARE 32 oz brass in leather holder and a No. 20 alumnium internal reel patented to Joseph Prutch.
Good
SGN9
25
50

2016-178
2016-178 Lot of nine plumb bobs. A 32 oz steel conical three smaller brass and steel conical two cast iron turnip a STARRETT knurled torpedo a MILLERS FALLS No. 3 and one with knurling around the center. Mostly clean.
Good
SGN288628
40
80

2016-179
2016-179 Lot of six steel plumb bobs. Four hexagonal shaped two torpedo. Light use a few clean. 5 inch to 3-one half inch long.
Good and better
SGN629
35
70

2016-180
2016-180 WILEY and RUSSELL traveler. 7-three quarter inch wheel light rust but overall everything readable brass pointer open handle.
Good
SGN402
30
60

2016-181
*2016-181 Handforged traveler. 6 inch wheel no pointer 13 inch handle with loop at end. Some spots of rust.
Good
SGN404
25
50

2016-182
*2016-182 Lot of two steel tapes. A KEUFFEL and ESSER Wyteface some wear to tape. And a LUFKIN Leader in original box looks unused.
Good and better
SGN233
25
50

2016-183
*2016-183 Lot of four tape measures. Makers include DIETZGEN LUFKIN DEAN EVANS. Cloth and metal tapes have wear.
Good-
DST529-532
20
40

2016-184
2016-184 Lot of 8 cast iron bevels. Most are STANLEY No. 18 one is a UNIVERSAL BEVEL and one is a TWIX bevel square. A few have traces of nickel plating otherwise good.
Good
SGN628
30
60

2016-185
2016-185 Lot of 7 bevels. Most unmarked a couple marked STANLEY one DISSTON and SONS. Two Stanleys have no locking screw. Wear on a couple.
Good- and better
SGN629
30
60

2016-186
*2016-186 Lot of four squares. A 12 inch and 6 inch with wood and brass handles. And two 12 inch steel squares one by EAGLE SQUARE CO and one marked AETNA410. Surface rust on all blades.
Good- and better
SGN630
25
50

2016-187
2016-187 Lot of 5 masonry levels. One by J.SAND and SONS No. 1 two STANLEY two of LEONHARTS levels in handmade stock and one that looks like O.K. LEVEL WORKS. 6 feet to 38 inches in length. Some wear.
Good
SGN631
40
80

2016-188
2016-188 Lot of 5 masonry levels. Four by STANLEY and unmarked red painted one. A few have wear.
Good
SGN632
40
80

2016-189
2016-189 Cultivator. Seven 2 inch wide blades that curve down from 48 inch long metal frame. One wood handle broken rust and wood worn. This item is for local pickup only.
Good-
SCK37
80
160

2016-190
2016-190 Two hand plows. 24 inch x 12 inch angled blade on 55 inch long worn wood frame and handles. Front wheel wont turn. Rusty marked OLIVER. And one with 5 inch pointed blade 33 inch long metal frame warn wooden handles wheel works. Rusty. This item is for local pickup only.
Good-
SCK40 41
75
150

2016-191
2016-191 Hand plow. Two 7 inch wide pointed blades on a 46 inch long wooden frame and two wheels. Wooden handles. Weathered and rusty. This item is for local pickup only.
Good-
SCK38
50
100

2016-192
2016-192 Primitive cobblers bench. Looks like pine three legs with cast iron collar at one end to attach shoe. Some age wear and rust. This item is for local pickup only.
Good
GFR365
50
100

2016-193
2016-193 Root chopper. Unsigned three heavy cast iron blades with long handle 34 inches long overall. Clean. This item is for local pickup only.
Good plus
ASG202
30
60

2016-194
2016-194 Lot of two grain sickles. 20 inch and 28 inch blades with long curved handles and two grips. Blades have rust. This item is for local pickup only.
Good
SGN192 193
40
80

2016-195
2016-195 Frame saw. 34 inch x 36 inch frame with 31 inch long blade. Blade tightened by large figural handforged wingnut
Good
NW1425
50
100

2016-196
2016-196 Cobbler stand and tools. Approx 42 inch tall wood stand with 15 inch heavy circular metal base plus several wooden and metal lasts and 5 smaller stands. Various makers some rusty but most good. And throwing in a wooden shoemakers horned shave with curved blade. This item is for local pickup only.
Good- and better
DJS454
100
200

2016-197
2016-197 Set of cobbled wooden shoes. About 15 inches long some wear and age. Maybe a Mens size 8.
Good
ASG101
40
80

2016-198
2016-198 NEW ROGERS foot treadle jig saw. 33 inches tall cast iron with red and black paint mostly intact needs new blade and replaced belt some surface rust. If you like to tinker it wont take much to get this one working smoothly again.
Good
SGN62
75
150

2016-199
2016-199 Pedal operated vise. 25 inch tall wooden stand cast iron pedal mechanism and vise with 5 inch wide jaws. Unmarked.
Good
SGN563
50
100

2016-200
2016-200 book clamp. Two 30 inch x 2-one half inch jaws with 12 inch screws and large 8 inch wide figural wingnuts. Unmarked but nicely made.
Good plus
SGN
40
80

2016-201
2016-201 Patented letter copy press. Patented by Leonard Bailey designed to copy letters by pressing them against another sheet of paper. Does not have the wringer at the top that some had.19 inch x 12 inch and 11 inch very heavy. This item is for local pickup only.
Good plus
ASG
100
200

2016-202
2016-202 3 apple peelers. One by WHITTEMORE one by HUDSON PARER CO. and one unmarked. All three clamp to an edge all have rust but could be cleaned.
Good
PLH700
75
150

2016-203
2016-203 HOOD calf starter bucket. 11 inches tall 13 inches wide. Red white and black design with calf on front. Some wear to paint and rust. No lid. A few dings and age on both.
Good
PLH
40
80

2016-204
2016-204 Lot of two copper kettles. A tea kettle 12 inches tall including wood handle with 8 inch wide base and 6 inch curved spout. And a 8 inch tall coffee pot with wood handle.
Good
PLH
30
60

2016-205
2016-205 Lot of three copper kettles. A large tea kettle 12 inches tall including wood handle 8 inch wide grooved base 5 inch straight spout. And two coffee pots one 12 inches tall and one 8 inches tall marked ROME METAL WARE 3.
Good
PLH
50
100

2016-206
2016-206 O.P SHRIVER No. 1 Juicy Fruit press. 3 gallon on 16 inch wooden leg stand partial label on outer container. Some rust. Plus an extra base with spout.
Good
SCK31
75
100

2016-207
2016-207 Small HOBBIES treadle lathe.

Marked Made in England. 28" tall, aluminum, with replacement rubber belt. About 50% green paint remains. Comes with jigsaw attachment, also with green paint. Good pedal.

Good
PLH
125
250

2016-208
2016-208 Auger beam drill. Unmarked with some light surface rust good solid wood base and handles.
Good
SGN
75
150

2016-209
2016-209 A. W. MILLER patent mortising machine. Per the 1905 patent it can be attached directly to the article to be operated upon and may be arranged to cut mortises of different depths lengths and widths. Some rust spots one of the clamp wheels has a chip otherwise nice.
Good
MKJ242
75
150

2016-210
2016-210 J.A. BRANDON and CO. large mitre machine. Patented 9-12-1893 by the Akron OH maker 29 inch x 19 inch both stationary and moveable jaws. Traces of red paint. This item is for local pickup only.
Good
MKJ239
100
150

2016-211
2016-211 Brick hod carrier. Designed to carry bricks over the shoulders. 3 sided box consiting of two 16 inch x 12 inch wood sides with conical shaped base 21 inch cast iron and wooden handle. Traces of green paint wood worn.
Good
SGN
50
100

2016-212
*2016-212 STANLEY No. 150 mitre box. Frame and one clamp only traces of japaning and red paint needs a cleaning.
Good-
NW1991
20
40

2016-213
*2016-213 H. E. FULLER patented brick carrier. Patented 7-26-1921 red paint worn on wood handle wingnut needs lubrication but otherwise works smoothly.
Good
DJS717
20
40

2016-214
*2016-214 H. E. FULLER patented brick carrier. Marked with US and Canada patents traces of red paint some wear.
Good
SGN633
20
40

2016-215
2016-215 Lot of four pulleys. A pair of BOSTON and LOCKPORT BLOCK CO double wheel kind wood bodies with metal wheels. Some age and wear rust. And a pair of barn pulleys marked H221 and H222 on each wood wheels and cast iron frames. Rusty.
Good
SCK30
40
80

2016-216
2016-216 FAIRBANKS platform farm scale. 500 pound capacity doesnt appear to be marked Fairbanks but looks just like it. 24 inch x 16 inch wood and metal base with wheels 36 inch tall arm extends 21 inches with brass slider scale and five weights. Some rust and age wear. This item is for local pickup only.
Good
SCK13
150
300

2016-217
2016-217 Lot of four hand drills. A FULTON with what looks like a replaced decorative carved handle and long copper collar a MILLERS FALLS No. 77 with hang hole a MILLERS FALLS No. 85 and small jewelers drill.
Good
CDE2023 2026 2036 2124
50
100

2016-218
2016-218 Lot of three hand drills. A YANKEE No. 1530A a GOODELL-PRATT No. 4-one half and a MILLERS FALLS No. 2A no bits. All clean with light wear.
Good plus
VTD2
30
60

2016-219
*2016-219 Lot of three MILLERS FALLS hand drills. A No. 77 a No. 2AG with 7 bits and a No. 2500A all with 3 jaw chucks. Some wear of paint.
Good
CDE2025 2030 2033
25
50

2016-220
2016-220 Lot of 5 hand drills. Two MILLERS FALLS one GOODELL-PRATT one CONSOLIDATED TOOL WORKS one small one thats unmarked. Some wear and could use a cleaning.
Good-
SGN634
30
60

2016-221
2016-221 Lot of eight push drills. About half have bits in handle a couple are brass one aluminum various makers.
Good
SGN278
30
60

2016-222
2016-222 RUSBY patent extendible drill. Extendable neck to fit into tight locations. Breast pad missing as typical one handle looks like replacement but otherwise in good condition.
Good-
CDE291
40
80

2016-223
2016-223 GOODELL-PRATT No. 245 two speed breast drill. Gear paint looks original with traces of gold lettering but rest appears repainted black. Clean three jaw chuck handles light wear.
Good
NHN50
30
60

2016-224
2016-224 Lot of two breast drills. A GOODELL-PRATT No. 0477 with partial original label on gear drive and a MOHAWK-SHELBURN both with some surface rust and three jaw chucks.
Good-
SGN635
30
60

2016-225
2016-225 Lot of two MILLERS FALLS adjustable angle brace attachments. A clean James Anthoines 1875 patent and a No. 108 with some surface rust.
Good
CDE2678 2743
35
70

2016-226
2016-226 Lot of two corner braces. A FRAY No. 70 and one by MILLERS FALLS that is unlike one Ive seen before that has a LION chuck long handle has soldered repair has most of nickel plating on rest. Either someone made this one themselves with various parts or this is rare. Both have some rust.
Good- and better
SGN636
40
80

2016-227
2016-227 Lot of four wooden braces. Primitive carved braces two fixed bit two pod style. One pod is a spring release one brace has no head.
Good- and better
CDE954 1614 1622 1623
35
70

2016-228
2016-228 MOSELEY and SON Sheffield brace. Plated pushbutton chuck simple brass disc in ebony head with a few chips. Stamped with Moseleys London address on shoulder. User stamp.
Good
CDE1762
75
150

2016-229
2016-229 MOULSON BROTHERS plated Sheffield brace. bone ring with brass shield button in ebony head pushbutton chuck some dinging and chip in head. User stamp.
Good
CDE1609
100
200

2016-230
2016-230 HENRY BROWN Sheffield plated brace. Marked on brass medallion on ebony head. Body has dinging and brass discolored. Eagle pushbutton chuck.
Good-
CDE1764
50
100

2016-231
2016-231 Plated Sheffield brace. Solid brass head unmarked pushbutton chuck. A couple dings and small cracks otherwise clean.
Good-
CDE1739
50
100

2016-232
2016-232 Lot of two Scottish style hexagonal braces. One unmarked with rosewood head and other has partial illegible stamp with solid brass head. Push lever chucks. Rosewood head tight and hard to turn.
Good
CDE904 1976
50
100

2016-233
2016-233 FOX BROS No. 101 brace. Non-ratcheting partial Sheffield stamp on chuck pad and chuck lightwear a few spots of staining. 10 inch sweep.
Good
CDE323
30
60

2016-234
2016-234 Lot of three STANLEY braces. A No. 945 Victor ratchet 10 inch sweep nickel and wood good. A No. 966 Victor 8 inch sweep light wear and pitting. And a No. 965 10 inch ratchet clean and possibly revarnished.
Good
CDE331 332 337
40
80

2016-235
2016-235 Lot of two KEEN KUTTER KP10 non-ratcheting braces. Both marked KP10 on body chucks ok light use and wear. 10 inch sweeps.
Good
CDE330 334
30
60

2016-236
2016-236 KEEN KUTTER No. 120 brace. Probably manufactured by Peck Stowe and Wilcox. Marked with Keen Kutter -Blue Brand- on chuck. 12 inch sweep non-ratcheting. Light pitting.
Good
CDE333
30
60

2016-237
2016-237 Lot of four braces. A STANLEY No. 410 a VAUGHAN and BUSHNELL NO. 444 and one marked ATKINS on chuck likely made by PEXTO all with about half nickel plating. Plus a NORVELL Sure Grip some wear.
Good-
CDE445 534 535 545
30
60

2016-238
2016-238 RUMBOLD butt mortising plane. Japanning 80 percent one knob a little loose light wear and chip in throat.
Good
SGN408
50
100

2016-239
2016-239 STANLEY No. 4-one half smoothing plane. Vee mark on cutter japanning 70 percent blade discolored wear and dings on wood.
Good
SGN574
50
100

2016-240
2016-240 STANLEY No. 10-one half bench rabbet plane. Adjustable throat faint patent date mark on cutter some scratching on sole but throat ok S casting mark behind throat. Japanning 90 percent wood has a few small chips.
Good
SGN432
100
200

2016-241
2016-241 STANLEY No. 2 bench plane. Type 7 missing one frog screw reglued crack in tote looks repainted. Knob has cracks at base chip in cheek at toe. Light surface rust on blade.
Good-
DOR40
90
180

2016-242
2016-242 STANLEY No. 3 smoothing plane. Early Type 11 wood ok toolbox dinging and light rust.
Good
DOR59
30
60

2016-243
2016-243 STANLEY No. 12-one fourth veneer scraper. Type 2 sweetheart mark on blade japanning 70 percent wood good light pitting on sole and a few rust spots.
Good plus
FNK188
125
250

2016-244
2016-244 STANLEY No. 147 double ended match plane. Cuts tongue and groove in five eighths inch stock. Sweetheart mark on cutter. Traces of nickel plating suface rust throughout body but would clean up well.
Good
SGN637
40
80

2016-245
2016-245 STANLEY No. 171 door trim and router plane. Designed to cut mortise pockets for door hinges and locks. Japanning 80 percent crack in one tote missing fence and rods one cutter.
Good-
SGN638
35
70

2016-246
2016-246 STANLEY No. 113 flexible sole plane. Type 2one plate where sole attacheds to cheek missing. Japanning 60 percent some rust. Light wear on sole.
Good-
SGN639
50
100

2016-247
2016-247 Lot of five No. 5 sized planes. Two later type STANLEYs a KEEN KUTTER K5 a SHELTON and a STANLEY No. 5-one fourth. Japanning mostly complete on all some surface rust. K5 has cracked tote.
Good
SGN640
50
100

2016-248
2016-248 Brass and steel soled plane smoothing plane. Someone went to the trouble of making this smoother with a D.R. BARTON cutter STANLEY frog decorative cheeks are made of brass and sole is steel with some pitting. Tote has smoothed over chips knob some dinging surface disoloration
Good
SGN407
40
80

2016-249
*2016-249 BIRMINGHAM transitional B-plane. 10 inch razee body marked -B Plane- and patent date on toe and cutter.Japanning ok wood looks repolished.
Good plus
NHN236
20
40

2016-250
2016-250 Lot of three STANLEY Gage wood bottom smoothing planes. 9-one fourth inches 18 inch soles all marked GageTool Co Vineland NJ on toe surface rust and some age wear checks in sole of largest. Knobs have some dings.
Good
SGN641
40
80

2016-251
2016-251 Lot of 2 wooden tobaggan sleds. A CHAMPION chrome and wood with wood aged with no paint and one end of a board broken. And what looks like another CHAMPION made one but faded wood and no paint. Both have rust. Champion was a line of sleds made by the KALAMAZOO SLED COMPANY. This item is for local pickup only.
Good
SCK16
40
80

2016-252
2016-252 Lot of 2 wooden tobaggan sleds. Both CHAMPION though only one has mark remaining. Wear on wood and rust one with mark has split in one board. Champion was a line of sleds made by the KALAMAZOO SLED COMPANY. This item is for local pickup only.
Good
SCK17
35
70

2016-253
2016-253 Lot of 2 washboards. A DUBL HANDI 18 inch x 8-one half inch with light wear. And a larger 24 inch x 12 inch one with farmstead scene with house wagon and tree painted on the top section
Good
SGN
30
60

2016-254
*2016-254 Pie tins. 9 total made by TABLE TALK PIES. All but two have holes. Surface rust and discoloration on all.
Good
PLH709
25
50

2016-255
2016-255 PATENT PACKAGE CO. nesting spice containers. 9 inch x 3 inch round bentwood and tin container with matching four 2-one half inch x 2-three quarter inch bentwood and tin spice containers inside for Mustard Nutmeg Mace and Clove. All empty except clove. All marked with the NJ maker and 8-31-58 patent date on bottom.
Good
PLH708
60
120

2016-256
2016-256 Coffee grinder. Dovetailed wooden and cast iron grinder with remants of label but no discernable maker. Knob has chip still works smoothly despite age.
Good
PLH707
30
60

2016-257
2016-257 CENTURY RURAL MAILBOX. Detroit maker patented 3-5-1901 consists of tube made of galvanized steel with worn star shaped flag that rotates to open and close no longer has mounting plate. Some holes in body and wear. Remnants of owners name scratched into it. Somewhat rare.
Good-
SCK12
100
200

2016-258
2016-258 No. 2 mail box. Cast iron with a few different colored layers of paint from the years of use. Has peep hole and double top slot with bottom slot able to be secured with lock.
Good
PLH705
75
150

2016-259
2016-259 DIETZ Buckeye Dash railroad and carriage lantern. Has red lamp and wind shield with clip on spring 13 inch tall. Has several patent dates stamped in a vertical row from May 1887 to March 1893. Some rust lamp with magnifying lens has a few small chips
Good
PLH
35
70

2016-260
2016-260 Lot of two lamps. A railroad signal lamp with curved red and green grooved glass panels 9 inch tall and 4 inch wide design looks similar to those of ADAMS and WESTLAKE. And a policemans dark lantern roughly 7 inch tall with large fisheye lens able to be shut off with internal sliding lens shield wire handles and a belt clip. Unmarked with dirt and grime on it.
Good
PLH
60
120

2016-261
*2016-261 Miners headlamp and lighter. UNIVERSAL LAMP CO. carbide lantern and a small brass lighter. Plus a 1948 Pennsylvania Department of Forests and Waters license plate weve thrown in.
Good
SGN289
20
40

2016-262
2016-262 Lot of three tools. 11 inch wide tin grain scoop with wood handle some wear. An AMERICAN PRUNER Williamsburg OH brand pruner 38 inch long with cast iron jaws and engaging handle. And a wooden rake with 16-one half inch head and 10 peg teeth age wear.
Good
SCK11 34
30
60

2016-263
2016-263 Lot of two cast iron items. A COCKSHUTT SEEDER tool holder that screws into the wall 16 inch x 3 inch some surface rust. And an uncommon -Dont Dump- drain grate that states it drains to Boston Harbor. Slight rust 17 inch x 8 inch about 20 pounds. Most of these are still on the drains in Boston so heres your shot to have one at your house.
Good
PLH713
100
200

2016-264
2016-264 Seed sower and planters. A planter by AMERICAN STANDARD Sheffield MI some of original red paint and stamping on it. Rusty and damage at top. And one by ACMELINE MFG CO Traverse City MI good red paint with age wear rusty both handles ok. Plus a hand crank seed sower by CYCLONE red painted wood frame and cast iron wheel with handle canvas bag has several holes and fraying but most of original painted label.
Good- and better
SCK15
30
60

2016-265
*2016-265 4 bale hooks. 8-one half inch to 17 inch longest looks more modern otherw have metal and wood handles with varying degrees of wear
Good
SCK
20
40

2016-266
2016-266 Horse hames. 27 inch long. Brass cast iron and leather. A few spots of rust and one end missing clip otherwise nice.
Good
DJS620
30
60

2016-267
2016-267 Two-man tong carriers. Used to carry logs ice blocks hay and such. 48 inch wood handle 18 inch long curved cast iron tongs with gripping spikes at the ends. Worn with age and rust. This item is for local pickup only.
Good
SCK25
30
60

2016-268
2016-268 Two man tong carriers. Used to carry logs ice blocks hay and such. 53 inch wood handle 14 inch long curved cast iron tongs. Worn with age and rust. This item is for local pickup only.
Good
SCK4
30
60

2016-269
2016-269 Lot of two sickles. Both with 26 inch blades long wood handles. Worn rusty. This item is for local pickup only.
Good
SCK2
30
60

2016-270
2016-270 Sickle. Long 48 inch blade rusty with wooden handle. This item is for local pickup only.
Good
SCK3
30
60

2016-271
2016-271 Lot of two hay cradle scythes. One with a 42 inch long blade on a 41 inch x 25 inch wood frame with tines - one missing. And one with a 46 inch blade 44 inch x 24 inch wood frame with four tines. Both with large curved handles. This item is for local pickup only.
Good
SCK1 2
50
100

2016-272
2016-272 Horse collar with hames. 21 inch x 18 inch collar with 30 inch long hanes with brass ends.
Good
SCK20
75
150

2016-273
2016-273 Double yoke horse hitch. 37 inch long main wood frame with two 25 inch long wood and cast iron hitches. Wood aged and some rust.
Good
SCK6
30
60

2016-274
2016-274 Double yoke horse hitch. 42 inch long main wood frame with two 33 inch long wood and cast iron hitches. Wood aged and some rust.
Good
SCK7
30
60

2016-275
2016-275 Lot of seven horse hitches. Lengths range from 30 inch to 41 inch wood with cast iron rings some painted red. Most aged and worn.
Good
SCK5
50
100

2016-276
2016-276 Lot of two hand truck dollies. One 38 inch tall with locking rotating frame in the middle that allows for a horizontal shelf. And a 40 inch tall one withwood frame and 12 inch x 5 inch metal base. Both have aged wood and some rust. This item is for local pickup only.
Good
SCK26 28
30
60

2016-277
2016-277 Large hand truck dolly. 49 inch tall slightly slanted wood frame with 3 horizontal cast iron bars between the frame. 14 inch x 9 inch base. Wood worn and rust on metal. This item is for local pickup only.
Good-
SCK27
30
60

2016-278
2016-278 Barn hay trolley. Marked LEADER 20 inch x 17 inch 3 pulleys on cast iron frame with rope rusty.
Good-
PLH714
75
150

2016-279
2016-279 LOUDEN SENIOR barn hay trolley. Cast iron 18 inch x 16 inch wide frame two pulleys marked Adjustable some rust.
Good
SCK8
100
200

2016-280
2016-280 Iron claw grappling hay forks. Likely made by LOUDEN four 32 inch long hooks and one 4-one half inch wide pulley with chains. Rusty. This item is for local pickup only.
Good
SCK18
40
80

2016-281
2016-281 Lot of four harpoon hay lift forks with pulley. 20 inch x 36 inch rectangular cast iron frames and hooks with different style pulleys on each. Rusty. This item is for local pickup only.
Good
SCK19
60
120

2016-282
2016-282 A. W. MILLER patent mortising machine. Per the 1905 patent it can be attached directly to the article to be operated upon and may be arranged to cut mortises of different depths lengths and widths. Overall rust and handle comes loose otherwise good.
Good
COL168
75
150

2016-283
2016-283 DOSCH universal mitre trimmer No. 4. 24 inches wide with 6 inch blade. Marked with July 1900 patent date - cast iron with long handle. Parts are painted gold and some are red to match the red wooden stand it has been attached to. Blades clean and works smoothly. This item is for local pickup only.
Good
SCK28
100
200

2016-284
2016-284 Lot of three logging saws. A 51 inch long blade with only one handle 56 inch and 60 inch long blades with two handles each. Handles worn blades rusty. This item is for local pickup only.
Good
SCK35 36 37
75
150

2016-285
2016-285 Lot of 3 ice and logging tongs. One with two looped handles two with connected bar handles. All 12 inch tongs rusty.
Good
SCK
30
60

2016-286
2016-286 Coal mining drill. 35 inch long handle with 75 inch bit. Rusty. This item is for local pickup only.
Good
SCK29
50
100

2016-287
2016-287 Lot of two logging rules. A LUFKIN No. 8 with light wear and a CLEVELAND RULE CO No. 200N with moderate wear. Lufkin has a hanghole. Various logging scales on each.
Good
SGN
40
80

2016-288
2016-288 Large sawmill blade. 4 inch teeth roughly 32 inch wide surface rust. Massive. This item is for local pickup only.
Good
DCR201
100
200

2016-289
2016-289 Coal mining drill. Roughly 36 inch auger bit with 34 inch handle and 55 inch shaft with legs that allow drilling horizontally into the coal seam to place dynamite. Some surface rust but overall good. This item is for local pickup only.
Good
MKJ241
100
200

2016-290
2016-290 Wet stone grinder. Unmarked 8 inch white stone with light use red handle. Mounted to 14 inch board. Works smoothly.
Good
DJS580A
30
60

2016-291
*2016-291 FISHER jewelers anvil. 8 inch x 5 inch about 13 pounds with hardy hole. Some white paint and chipping along face edges.
Good
PLH
25
50

2016-292
2016-292 Jewelers anvil. 11-one half inch x 4-one half inch mostly clean hardy hole. About 15 pounds. Unmarked.
Good plus
PLH
35
70

2016-293
2016-293 Cast iron kettlebell. Marked 2-one half 12 inch high and 6 inch diameter. Surface rust and light pitting in a couple areas. Very heavy for those who want to enter the Strongman competition this was likely used for. This item is for local pickup only.
Good
PLH
50
100

2016-294
2016-294 Anvil vise No. 380A. No maker but likely by Carl Shields and patented 8-20-1912. About 20-25 pounds 3 inch vise jaws. Rusty with white paint yellowed. Jaws work smoothly.
Good
MKJ246
35
70

2016-295
2016-295 Blacksmith post leg vise. 4 inch wide jaws some rust throughout. This item is for local pickup only.
Good
SGN195
100
200

2016-296
2016-296 Foundry tools. Look like foundry ramming tools. 5 total. 1-one fourth inch wide metal edge with long wood handles 27 inch long total. Some rust.
Good
SGN
30
60

2016-297
2016-297 Lot of blacksmithing tools. Four tongs one marked ATHA and one with 38 inch handles. Plus two smelting ladles one marked LAKE CITY MALLEABLE CO.
Good
SCK
50
100

2016-298
2016-298 CLAYTON and LAMBERT blow torch. Marked with 11-17-08 date has nice wooden handle on the control knob. 10 inch tall.
Good
DCR
30
60

2016-299
2016-299 Lot of two blow torches. A KLEIN and SONS 10 inch tall and a smaller one with partial label on front but illegible other than the word Blowtorch. 8 inch tall with coiled metal handle.
Good
SGN
40
80

2016-300
*2016-300 GEM No. 2 riveter. Cast iron with gold colored medallion and 3-9-09 patent date on one side.
Good plus
DCR310
20
40

2016-301
*2016-301 VULCAN ELECTRIC HEAT CO soldering iron No. 400. 2-one half pounds 14 inch long marked Patent Pending. Nicely carved handle with copper collar and removable copper slug inside cast iron frame.
Good plus
DCR287
20
40

2016-302
*2016-302 DRAKE soldering iron IOB. 100 watts three eigths inch copper tip looks unused and cord looks good but cant guarantee it works. Box dirty but all there.
Good plus
DJS713
20
40

2016-303
2016-303 Lot of sand casting tools. Used by patternmakers to shape the sand mold. 20 or so tools in different shapes some double-ended cast iron.
Good
SGN141
40
80

2016-304
*2016-304 BRIDGEPORT HARDWARE crate hammer. Marked with 9-29-1908 patent date. Wear to wood light rust.
Good
DCR47
20
40

2016-305
*2016-305 Turnscrew. 23 inch long very decoratively carved handle. Clean blade marked Warranted Cast Steel. Handle has narrow 1 inch long chunk out of it but still very nice.
Good
DJS448
20
40

2016-306
2016-306 Timber framing slick. 15 inch long by 3-one fourth inch wide blade with 13 inch handle. Blade etched F 1 with keystone between them and a few small pitting spots. Handle good.
Good plus
DJS166
50
100

2016-307
2016-307 Timber framing slick. 15 inch long by 3 inch wide blade 15 inch handle. Marked PSandW No. 1EX. Very light pitting in a few spots. Clean.
Good plus
DJS
50
100

2016-308
*2016-308 Coopers howell. Used to cut the groove around the inside of a barrel to fit the head. 17 inch x 5 inch JAMES CAM blade handle has repair wedge worn.
Good
BKF12
20
40

2016-309
2016-309 Coopers stave. 5-one half inch blade 10 inch wood handle 5-one half inch metal handle. Partial stamp looks like BARTON.
Good
DCR
30
60

2016-310
2016-310 Cloggers knife. 32 inch long with loop at one end 4-one half inch wood handle on other end. 13 inch blade. Used to make wooden clog shoes.
Good
DCR
30
60

2016-311
*2016-311 Large shipbuilders t-handle auger. 3 inch wide spur auger that is 20 inch long 23 inch wide wood handle. Light rust but overall nice.
Good
NW
20
40

2016-312
2016-312 UNION tool box. Galvanized steel with powder blue paint good logo on front right corner has miscellaneous tools inside including archaemedian drills blades etc. Has top try and bottom compartment. Some outside wear and rust but overall decent. 22 inch x 9 inch x 8 inch .
Good plus
SGN
40
80

2016-313
2016-313 KENNEDY tool chest. Looks like the 520 metal marked Kennedy on lock -no key- and in script lettering inside lid. 7 drawers. Rusty and dirt. Has numerous machinists tools inside. 20 inch x 13 inch x 9 inch . Heavy.
Good
SGN
50
100

2016-314
*2016-314 GEM folding mitre box IOB. Made by ALASKA FREEZER CO. Light wear on box wood mitre box looks unused or lightly used.
Good plus
DJS
20
40

2016-315
*2016-315 KRISS KROSS razor stropper. Looks new with original instructions. Sharpens razor blades.
Good plus
SGN362
20
40

2016-316
*2016-316 STANLEY No. 59 doweling jig. In handmade wood box with 6 guides and a couple of bits.
Good plus
SGN255
25
50

2016-317
*2016-317 RIDGELEY wallpaper trimmer IOB. Tool mint original instructions box has slight wear.
Fine
SGN352
20
40

2016-318
*2016-318 STANLEY No. 1 level sights IOB. Type 6B box with split seams sights near mint.
Good plus
SGN353
15
30

2016-319
*2016-319 STANLEY No. 78 rabbet and fillester IOB. Canada version only has depth stop chip on corner.
Good-
JPM1
20
40

2016-320
2016-320 STANLEY No. 220 block plane IOB. Plane has light wear japanning good. Box dirty with a couple split seams.
Good
BHR322
30
60

2016-321
*2016-321 One fourth inch number stamps. 0-8 inside wood block.
Good
SGN550
15
30

2016-322
*2016-322 Lot of two STANLEY tools IOB. A No. 95 butt gauge and No. 49 bit gauge.
Good plus
DJS720
20
40

2016-323
*2016-323 Lot of two IRWIN expansive auger bits IOB. No. 21 like new with replacement cutter and a used No. 22.
Good and better
BSR659
20
40

2016-324
*2016-324 STANLEY No. 75 bullnose rabbet plane IOB. Made in England. Japanning nearly complete. A few rust spots throat good.
Good plus
LKY10
25
50

2016-325
2016-325 STANLEY No. 45 combination plane. In handmade wood box Type 11 with only short rods and 1 blade. Clean.
Good-
SGN
30
60

2016-326
2016-326 Dealers lot of wood planes. At least 25 most are molding and rabbeting planes one horn plane most have blades but a couple dont. Makers include DENISON OHIO TOOL OWASCO GREENFIELD PARRISH PRATT and CO W. BUSH AUBURN. Age and wear on some.
Various
SGN
50
100

2016-327
2016-327 Dealers lot of 10 braces. Various STANLEY FRAY No. 105 AMERICAN BIT BRACE CO. KEEN KUTTER MILLERS FALLS. Most have rust wear need cleaning.
Good- and better
CDEVarious
50
100

2016-328
2016-328 Dealers lot of levels. 10 total 24 inch -30 inch in lengths makers include STANLEY DISSTON and MORSS DISSTON and SONS OAK LEAF AKRON C.S. CO. Mostly Stanley. A couple have hang holes. Light wear on a few.
Good
SGN
50
100

2016-329
2016-329 Dealers lot of block planes. At least 25 planes most STANLEY but a few SARGENT MILLERS FALLS WINCHSTER etc. A few finger planes one double ended. Some rust most ok.
Various
SGN
30
60

2016-330
2016-330 Dealers lot of rules. A grab bag of at least 40 boxwood rules some brassbound some caliper a triangular or two a few ruler stick types. Most Stanley but a few other makers. Staining on several.
Various
SGN
75
150

2016-331
2016-331 Dealers lot of DISSTON saws. Most are D-23 with etch a D-8 or two a D-7 and a No. 7 among the lot. One highly sharpened one missing top horn others have light to moderate wear or dinging surface rust. 13 total.
Good- and better
SGN291 297 552
50
100