VIEW CART
To search this page for specific words type "Ctrl" + "F" on your keyboard (Command + "F" on a Mac). Then, type the word you are searching for in the search bar that pops up. In Firefox, the search bar will appear on the bottom of your screen. In Internet Explorer, it is at the top.
Auction 6304 - June 7 2014
The 2014 Spring 6304 FTJ absentee auction is now open.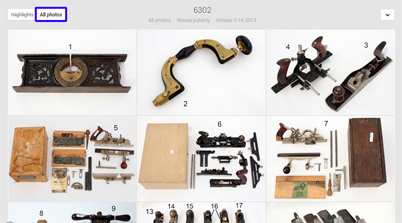 Initial bids will be accepted until the end of the day Saturday June 7, 2014. All bidding ends Sunday night, June 8, 2014 at 10:00 pm (EDT) or whenever 15 minutes passes without a bid.
The current auction, Spring 2014 Auction (6304), can be viewed on our Picasa albums here. Please select "All Photos" (indicated in blue box below) to view entire album. Clicking on individual photos reveals full description and the ability to zoom in.
Bids must be received on or before the end of the day Saturday, June 7, 2014. If you would like to bid, blank bid sheets can be printed out here. Mail, fax or email your bids to the address provided on the form.
To view all auction items in our Web Albums, click here. To see all photos in order, select All Photos (in blue in the image above)
Items marked with an asterisk (*) before the description allow a minimum bid of $1. All other items have a minimum $20 bid. See Auction Rules for more information.
High Bidders as of 6/6/2014 at 12:30 p.m (EST) click here to see the High Bids.
LOT
DESCRIPTION
CONDITION
SOURCE
LOW
HIGH
PHOTO
BID
6304-001
6304-001 Solid brass wheel traveler. Unsigned and probably craftsman made unusually large 12in diameter brass wheel good turned handle few patches of surface corrosion but all markings clear.
Good plus
JRI254
150
300
PHOTO

6304-002
6304-002 STANLEY No. 12 veneer scraper. Type 2 with graceful slope to body a few small chips in the japanning but overall as nice an early No. 12 as youre likely to find.
Good plus
GNM287
75
150
PHOTO

6304-003
6304-003 STANLEY No. 12 3-4 veneer scraper. Rarest of the scrapers manufactured only for a short period during the sweetheart era with extra-thick rosewood sole on a 12 1-2 body nice and clean with slight loss to japanning sweetheart mark on lever cap.
Good plus
GNM290
1000
2000
PHOTO

6304-004
6304-004 STANLEY No. 346 miter box. A little dirty and grooves in base but complete and ready to use includes a 30 x 6in Stanley backsaw.
Good plus
GNM20
55
110
PHOTO

6304-005
6304-005 STANLEY No. 5 1-4 junior jack plane. Later model with notched rectangle on cutter and orange rectangle on lever cap some scratches on knob and tote but no major chips japanning 99prcnt.
Good plus
PMG7
35
70
PHOTO

6304-006
6304-006 STANLEY No. 3C corrugated smoothing plane. Later model with notched rectangle on cutter and orange rectangle on lever cap some scratches on knob and tote but no major chips japanning 99prcnt.
Good plus
PMG13
35
70
PHOTO

6304-007
6304-007 STANLEY No. 3C corrugated smoothing plane. Later model with notched rectangle on cutter and orange rectangle on lever cap some scratches on knob and tote but no major chips japanning 99prcnt.
Good plus
PMG11
35
70
PHOTO

6304-008
* 6304-008 STANLEY late model No. 3 smoothing plane. With yellow notched rectangle on cap and No. 312-003 on cutter brown japanning and lacquered tote very good condition with surface rust on lever cap user name scratched on cheek.
Good
FRN54
20
40
PHOTO

6304-009
6304-009 STANLEY No. 4 bench plane. Later model with orange notched rectangle on lever cap very light surface rust that would clean right up and otherwise very clean.
Good plus
CDE1527
50
100
PHOTO

6304-010
6304-010 STANLEY No. 4C corrugated sole smoothing plane. Notched rectangle mark on cutter and lever cap very good rosewood tote and knob some light surface corrosion that would clean up easily.
Good plus
CP68
35
70
PHOTO

6304-011
6304-011 STANLEY No. 3 bench plane. Late model with notched rectangle on cutter black painted tote and knob super clean.
Fine
CP67
40
80
PHOTO

6304-012
6304-012 STANLEY No. 4 1-2 C corrugated sole bench plane. Sweetheart mark light rust on cutter and lever cap some dings to tote and knob but no chips.
Good plus
LEE915
60
120
PHOTO

6304-013
6304-013 STANLEY No.105 Liberty Bell jack plane. Steel parts have surface rust and some shallow pitting cutter has 1907-09 type mark blade adjustment needs lubricating good knob and tote.
Good minus
RSI134
70
140
PHOTO

6304-014
6304-014 Lot of 2 STANLEY jack planes. No. 5 1-4 junior jack type 19 or 20 with blue japanning. Handmade replacement cutter plane itself is in good condition with some dinging on knob and tote and minor flaking on nickel. A bargain if you have the proper cutter. And Type 13 No. 5C surface rust and small paint flecks that could be cleaned up reglued break in tote.
Good minus
MLD53.59
40
80
PHOTO

6304-015
6304-015 SARGENT No. 414 jack plane. Part of Sargents VBM line of adjustable planes super clean condition end of cutter slightly spalled.
Good plus
CDE1485
40
80
PHOTO

6304-016
6304-016 STANLEY No. 5 jack plane. Late model with notched rectangle lever cap no mark on cutter tote has been broken and reglued and has a couple of chips out of the top rest of the plane is in very clean condition. Good user.
Good
CDE1486
35
70
PHOTO

6304-017
6304-017 STANLEY Victor jack plane. Part of the Victor line manufactured by Stanley in the 1940s. Good clean condition with a little surface rust.
Good plus
CRT148
30
60
PHOTO

6304-018
6304-018 STANLEY No. 104 Liberty Bell bench plane. The shorter of the two metallic liberty bell planes vee mark on cutter cutter has surface rust and nickel plating flaked on lever cap screw otherwise nice clean condition.
Good
COL21
60
120
PHOTO

6304-019
6304-019 MARSH No. M6 corrugated sole fore plane. Manufactured by H.C. Marsh of Rockford IL before it was acquired by Stanley very heavy duty plane in super clean condition end of cutter slightly spalled.
Good plus
COL143
60
120
PHOTO

6304-020
6304-020 VICTOR 18in fore plane. One of the line of planes manufactured by Leonard Bailey after he left Stanley has a good front knob proper steel tote good blade knob on the lever cap is missing also there is no cutter adjustment doesnt look like there ever was one Im not sure if this is proper for one of these.
Good
CDE1922
75
150
PHOTO

6304-021
6304-021 STANLEY No. 6 fore plane. Notched rectangle mark on cap rusted overall and needs cleaning but no real damage knob and tote both very good nice user when you clean it up
Good
JAR193
40
80
PHOTO

6304-022
6304-022 STANLEY No. 6 fore plane. Early Type 12 with high front knob but vee mark on cutter some rust pitting on sole otherwise good condtion.
Good
FRN48
40
80
PHOTO

6304-023
6304-023 STANLEY No. 6 fore plane. Later model with notched rectangle on cutter and orange rectangle on lever cap some scratches on knob and tote but no major chips japanning 90plusprcnt.
Good plus
PMG10
35
70
PHOTO

6304-024
6304-024 STANLEY No. 6 fore plane. 1920s era with sweetheart mark on cutter notched orange rectangle on lever cap couple of minor scrapes on knob otherwise immaculate condition.
Fine
PMG9
40
80
PHOTO

6304-025
6304-025 OHIO TOOL CO. No. 06 corrugated sole fore plane. Japanning about 60prcnt throat opened up metal stained but no pitting or rust good tote and knob.
Good
CDE2638
30
60
PHOTO

6304-026
6304-026 STANLEY No. 6C fore plane. Later model with notched rectangle on lever cap partially obscured either by casting flaw or someone spilled hot metal on it trace of decal on tote otherwise decent shape.
Good
CDE1388
40
60
PHOTO

6304-027
6304-027 STANLEY No. 6C fore plane. Later model with notched rectangle mark on lever cap and cutter some light surface rust but good japanning tote knob and cutter.
Good plus
CDE1255
50
100
PHOTO

6304-028
6304-028 STANLEY No. 6 fore plane. Later model with notched rectangle mark japanning 75prcnt overall nice and clean.
Good
CDE2636
50
100
PHOTO

6304-029
6304-029 STANLEY No. 40 1-2 scrub plane. Sweetheart mark. Tote has been broken and reglued and doesnt fit quite squarely needs work also a chunk broken out of the lever cap.
Good minus
GNM46A
50
100
PHOTO

6304-030
* 6304-030 STANLEY No. 101 miniature block plane. Good condition grey and red paint intact notched rectangle mark on cutter.
Good plus
LEE920C
15
30
PHOTO

6304-031
6304-031 Lot of 2 STANLEY No. 9 1-4 block planes. Notched rectangle mark on cutter nice and clean good user. Plus one with notched rectangle mark on cutter some surface rust but nothing serious good user.
Good plus
DT12.8
30
60
PHOTO

6304-032
* 6304-032 STANLEY No.118 block plane. Made of stamped steel and advertised as unbreakable surface rust and light pitting sweetheart mark on cutter.
Good
RSI204
20
40
PHOTO

6304-033
6304-033 Lot of two STANLEY prelateral block plane. Both have Baileys 1867 patent marked on cutters No. 15 Type 6 with hole in sole over throat adjustment screw and chip out of throat. And a 9 1-2 Type 7. Both have worn japanning and overall surface discoloration.
Good minus
LEE920A
40
80
PHOTO

6304-034
6304-034 Lot of four STANLEY block planes. Two No. 9 1-2s one with handee-grooves throat adjusment lever missing and wooden knob substituted a No. 102 early type with hole in lever cap above blade adjustment and a No. 103. All well worn but otherwise intact.
Good minus
LEE920B
35
70
PHOTO

6304-035
6304-035 WORTH jack plane. Worth planes were manufactured by PECK STOW and WILCOX and sold under the brand name of Bigelow and Dowes hardware of Boston. 13in sole surface corrosion but no pitting tote and knob worn with some chips on tote.
Good
GNM352
50
100
PHOTO

6304-036
6304-036 STANLEY No. 112 cabinet scraper plane. Earlier type metal in decent shape with japanning almost complete some dinging to knob and tote but no major chip cutter is an improper replacement and not toothed.
Good minus
LEE919
80
120
PHOTO

6304-037
6304-037 STANLEY No. 4C corrugated sole bench plane. 1907-09 mark on cutter couple of small dents in top of one cheek metal parts oxidized but no rust or pitting.
Good
LEE916
40
80
PHOTO

6304-038
6304-038 STANLEY No. 603 Bed Rock bench plane. Flat sided model 1907-09 mark on cutter good overall condition noting a chip from the tote and some dinging on the sole nice figure in the rosewood knob.
Good
LEE890
80
160
PHOTO

6304-039
6304-039 A.C. BARTLETT screw arm handled plow. Well above average condition screw arms have only very minor chipping light overall toolbox dinging only very light rust on skate and cutter.
Good
JRI584
55
110
PHOTO

6304-040
6304-040 E. CARTER screw arm plow. Body in decent condition dirty and with some dinging some wear to wedge good threads with only minor chipping boxwood nuts in good condition skate rusty. Above-average plow by an uncommon Troy NY maker.
Good
JRI510
60
120
PHOTO

6304-041
6304-041 A. HOWLAND screw arm handled plow plane. Very nice overall condition some minor dinging on body and wedge a little chewed up screw arms are in very good shape with only two minor chips and nicely turned decorative ends good boxwood nuts skate clean.
Good plus
JRI586
80
160
PHOTO

6304-042
6304-042 Z.J. M-MASTER screw arm plow. Very nice plow from the youngest of the three M-Master brothers who made planes with convict labor at Auburn NY. Body is immaculate wedge a little rough wooden depth stop with wooden locking screw that has some roughness threads and nuts are very clean. Only apology is a significant chip out of the edge of the fence.
Good plus
JRI528
60
120
PHOTO

6304-043
6304-043 Lot of two plow planes. GREENFIELD TOOL CO. No. 546 screw arm plow. Arms have been shortened looks like one broke and the other was cut to fit big crack in one nut large chip out of wedge overall dinging on body. Plus J. DENISON screw arm plow plane good overall condition with minor dinging screw threads have only a couple of minor chips skate rusty with some pitting needs a cutter.
Fair
JRI512.530
50
100
PHOTO

6304-044
6304-044 Massive W.H. POND lying reverse ogee. Cuts 5in wide profile two Baldwin cutters one with some pitting very good overall condition with some inactive worm and small chips from edge of tote hole through body for additional handles.
Good plus
JRI1248
140
220
PHOTO

6304-045
6304-045 European adjustable fence tongue cutting plane. Early center wheel adjustable fence good threads and handles decorative punchwork owner initials. Missing wedge and cutter but worth restoring.
Good minus
JRI1220
55
110
PHOTO

6304-046
6304-046 OAKLEY and SON tongue cutting plane. Mark is very faint but I think its Oakley and Son which was a Fort Waynd IN hardware dealer. Not rated in AWP. Plane is in very nice condition with attractive wood noting a couple of small chips at the toe and old loss of tip of tote boxed good Ohio Tool Co. cutter spalled at edge.
Good plus
JRI1031
40
80
PHOTO

6304-047
6304-047 Panel raiser with fittetster fence. 16 1-2in long 3 1-2in sole. W. BUTCHER iron but plane unsigned Good clean overall condition.
Good plus
JRI1245
70
140
PHOTO

6304-048
6304-048 NEW BEDFORD TOOL rosewood sole jack plane. 16in long. Body is of common yellow birch and well worn but with an unusual rosewood sole wedge is worn at end but intact Peugeot Freres iron good tote. New Bedford Tool was the employer of the Lamb brothers no example of mark in AWP.
Good
JRI1098
80
160
PHOTO

6304-049
* 6304-049 MOSELY wooden jointer. 22in long wood well worn with some tight cracks toe and wedge very worn BUCK BROTHERS cutter.
Fair
DWH93
20
40
PHOTO

6304-050
6304-050 Lot of two planes. STANLEY No. 28 wood bottom fore plane early type with 1892 mark on cutter tip of tote sheared off tight cracks in sole and japanning about 60prcnt body otherwise good. Plus SCIOTO WORKS wooden jack plane body tote and wedge all dinged but intact tote needs to be glued in cutter rusty and spalled on end.
Good minus
RSI101.245
45
90
PHOTO

6304-051
6304-051 Lot of two planes. STANLEY No. 33 wood bottom jointer plane. End of tote sheared off body dirty but in decent shape rusty cutter with no mark discernable. And STANLEY No. 129 Liberty Bell fore plane tote has end missing and cracked in half body is in poor condition with deep scratches and cracks good lever cap cutter has 1907-09 mark and some light pitting but generally clean.
Good minus
RSI105.80
45
90
PHOTO

6304-052
6304-052 FAIRCLOUGH badger plane. 15in panel raising plane with a skewed cutter that extends from one edge of the sole but only partly across Doesnt have an escapement like a rabbet nice condition noting an old chip from the end of the tote and some charring on one edge good clean Ibbotson cutter.
Good
PMG5
55
110
PHOTO

6304-053
6304-053 E. SMITH razee body fore plane. 16in long old repair to throat reglued chip in end of tote wood has overall dinging and some chips around the toe and cracks in front of tote the rare Worcester mark - 3 stars in AWP.
Good
LEE834
50
100
PHOTO

6304-054
6304-054 Lot of two planes. Coffin shaped smoothing plane. Unsigned body and wedge worn but no major damage 7 1-4in sole. Rusty HEARNSHAW BROS. cutter with cap iron handled plow plane body unmarked body in good shape but wedge a little chewed up surface rust on skate and cutter.
Good
JRI1120.1108
25
50
PHOTO

6304-055
6304-055 Adjustable wooden compass plane. Rare wooden compass plane with sliding adjustment at toe to change radius of sole precursor to the Stanley 113 sole badly worn around throat wood otherwise dirty but okay good wedge cutter is pitted but mark looks like Shields Nottingham.
Good
PMG4
40
80
PHOTO

6304-056
* 6304-056 HEGNY and BOLLERMAN coffin toothing plane. Good body but looks like a later coat of varnish one spur broken off end of wedge Buck Bros. toothed iron.
Good
MP6
20
40
PHOTO

6304-057
* 6304-057 Coffin-shaped smoothing plane. Unsigned 7 1-2in sole Sheffield marked iron with surface rust body has dinging and one closed split.
Good minus
JRI1119
10
20
PHOTO

6304-058
6304-058 A.M. SEAMAN coffin smoother. 8in long wood has some small dings and paint spots but well patinated and attractive Seaman worked in Ithaca 1872-1891 Type A mark.
Good plus
DWH29
40
80
PHOTO

6304-059
6304-059 Coffin-shaped smoothing plane. Very dense shiny wood - could be lignum vitae nice chip carving on one side wedge is softer wood and could be replacement good Buck Bros. cutter 8 1-2in long 1 3-4in throat.
Good
PMG1
40
80
PHOTO

6304-060
6304-060 STANLEY No. 21 wood bottom bench. Rarest and most collectible of the wood bottom transitionals this one is in well above average condition with good body decent sole japanning good on lever cap but with some wear on body 1892 logo on cutter with some light pitting.
Good plus
RSI89
45
90
PHOTO

6304-061
* 6304-061 STANLEY No. 22 smooth plane with SIEGLEY iron. Good clean example of the No. 22 with a Siegley SSS cutter some light surface corrosion.
Good
GNM349
20
40
PHOTO

6304-062
6304-062 ELSKITUNA Swedish bench plane. Good two-piece beech body held together by two brass screws with horn shaped tote 9 1-2in sole with some grooving on it strike button on heel rotted out good Erik Anton Berg iron with shark logo.
Good
CDE1795
30
60
PHOTO

6304-063
6304-063 Eastern European smoothing plane. Cutter is by Joh. Weiss Sohne of Vienna but mark on body and partial deal looks eastern cutter has unusual screw activated adjusting mechanism overall good condition but previous owner reglued the horn and was sloppy about it.
Good
DWH9
30
60
PHOTO

6304-064
6304-064 Lot of two european bench planes. Primitve european bench plane. Looks like hand carved from dark heavy wood but with boxwood sole with break at throat 9in long with 2in cutter well used and some dinging heel is well worn still a graphic and attractive plane. Plus European bench plane 9in long with 1in throat missing wedge and cutter.
Good
JRI1035.1033
50
100
PHOTO

6304-065
6304-065 European bench plane. 9 1-2in long with 1 1-4in cutter cutter marked Carl Aug. Tillmanns with three bells nice clean condition.
Good plus
JRI1029
35
70
PHOTO

6304-066
6304-066 Moving filletster plane. Looks user made with unusual rear projecting tote scallop on side of fence and wooden depth stop. 10in long not counting tote GOLDENBERG cutter with the eye mark that dates to early 19th century good clean condition with minimal dinging.
Good plus
JRI1030
50
100
PHOTO

6304-067
6304-067 Decorative compass soled European plane. Dated 1866 bow shaped throat decorative front handle a little loose Goldenhersh cutter 7in long. Old and graphic.
Good
JRI1034
80
160
PHOTO

6304-068
6304-068 COPLEY adjustable sole compass plane. Coffin shaped plane with compassed sole but an adjustment in front of the throat lowers a metal bar to change the radius of the sole a wooden precursor to the Stanley flexible sole plane ingenius and Ive never seen another. Made by COPLEY of London in immaculate condition.
Fine
JRI777
150
300
PHOTO

6304-069
6304-069 OGONTZ TOOL CO. handled coffin smoother. 10 1-2in sole and 2 1-4in cutter dinging and slight paint spots edge of wedge worn.
Good
JRI1037
40
80
PHOTO

6304-070
6304-070 CURRIE complex molder Two beads joined by lying ogee. Quirk between bead and ogee is boxed. Two cutters. Razee body with tote attached to rear. Some wear to wedges but otherwise very nice condition beautifully patinated wood. Currie worked in Glasgow.
Good plus
JRI1036
70
140
PHOTO

6304-071
6304-071 NOYES Detroit tongue cutting plane. Cuts a 3-8in tongue marked BB and WR NOYES JR. DETROIT. AWP lists BB and WR Noyes without the Jr. as Detroit hardware dealers from 1846-1859 but without enough information to rate its rarity plane itself is in very nice condition with some minor scratching on the body and very sharp clean cutter.
Good plus
JRI1114
40
80
PHOTO

6304-072
6304-072 H.L. JAMES shallow hollow. Cuts a 1in shallow profile good condition Type A Williamsburgh mark.
Good plus
DWH6
20
40
PHOTO

6304-073
6304-073 Lot of hollows and rounds from same set. Made by ALBANY TOOL CO. Type 1 mafk No. 24 and 6 hollows and No. 8 round all in nice condition.
Good plus

DWH4.10.

11.13

45
90
PHOTO

6304-074
6304-074 C. P. WOODRUFF Detroit standing filletster. Body and cutters in very good condition wedges appear original. Depth stop with brass adjusting screw but also a wood screw in the side to lock it Woodruff was a Detroit making considered too uncommon to rate in AWP.
Good plus
JRI1110
40
80
PHOTO

6304-075
6304-075 W. SARJENT dado plane. One wedge replaced good wood and cutters mark on toe is W. Sarjent West Street Reading which appear to be English.
Good
JRI547
40
80
PHOTO

6304-076
6304-076 AUBURN TOOL CO. astragal. Cuts a 1in full round with fillets on each end double cutter good condition Type A Auburn mark.
Good plus
DWH19
25
50
PHOTO

6304-077
6304-077 CURRIE complex molder. 3 1-2in wide complex profile consisting of quirk astragal lying ogee and bead two cutters marked Currie Glasgow. Very atractive piece of red beech some overall dinging particularly to smaller wedge deeply cut owner initials in side top of tote is flattened but looks more like how it was designed.
Good plus
JRI1113
80
160
PHOTO

6304-078
6304-078 A HOWLAND and CO side bead. 1in diameter Type A2 mark good overall condition.
Good
DWH16
20
40
PHOTO

6304-079
6304-079 E. SAFFORD tongue cutting plane. Cuts a 1-4in tongue body and wedge have wear but intact Safford was an Albany planemaker uncommon mark.
Good
DWH5
25
50
PHOTO

6304-080
* 6304-080 N. SPAULDING boxed quirked bead. Cuts a 3-16in bead fully boxed but part of boxing worn away and cracked type B Ithaca mark.
Good minus
DWH18
20
40
PHOTO

6304-081
6304-081 D.R. BARTON large diameter round. 1 3-4in diameter very clean condition type D mark.
Good plus
DWH17
25
50
PHOTO

6304-082
6304-082 DETROIT tongue cutting plane. Cuts a 1-4in tongue toe marked only DETROIT with no maker shown C.P. Blackwood owner mark. Very good condition sharp cutter.
Good plus
JRI1111
35
70
PHOTO

6304-083
6304-083 Lot of three molding planes. Unmarked boxed 3-8in side bead CASEY and CO. 3-8in round GREENFIELD TOOL CO. 1in hollow. All have wear but no major damage.
Good and better
DWH1.3.22
45
90
PHOTO

6304-084
6304-084 SANDUSKY handled tongue cutter. Marked 101 on toe body tote and cutter in very nice condition chip out of the end of the wedge.
Good
JRI487
30
60
PHOTO

6304-085
6304-085 A. HOWLAND standing filletster. Body and wedges in very good condition but missing the nicker blade depth stop with brass adjusting knob and locking wood screw cuts 1-4in groove. But for missing nicker would rate fine.
Good
JRI1109
30
60
PHOTO

6304-086
6304-086 AUBURN TOOL CO. table hollow and round set. 1 1-4in diameter marked 16 and 180 on heel very good condition Type A mark.
Good plus
DWH14.15
50
100
PHOTO

6304-087
6304-087 AUBURN TOOL CO. boxed astragal. Cuts a 5-16in round with bevels on both sides double boxed a couple of small chips out of boxing and stains on body otherwise very good condition.
Good
DWH12
25
50
PHOTO

6304-088
6304-088 CASEY and CO. grooving plane. The grooving part of what was once a plank match set cuts a 1-4in groove. Body wedge and cutter are all in way above average condition super clean noting one chip from the front of the sole and a hole bored through the body that looks like it was intended for a handle.
Good
JRI1112
50
100
PHOTO

6304-089
6304-089 EASTBURN sash molding plane. Fixed sash molding type with two separate cutter Robert Eastburn made planes in New Brunswick in the first quarter of the nineteenth century in very good condition noting some slight dinging to the wedges.
Good
JRI540
35
70
PHOTO

6304-090
6304-090 Unusual casemakers plane. Thats my best guess. Cuts a 1 1-4in shallow tongue with a 1-4in wide next to it iron fence and sole has an iron bed in front of the throat unsigned but looks like English birch and the plane has a European look different and very nice condition.
Good plus
JRI1193
50
100
PHOTO

6304-091
6304-091 Lot of three molding plane. Stepped bead by BENTON and EVANS 2 stars in AWP unsigned side bead and lying ogee by DABBS which isnt listed in AWP all with some wear to soles unsigned one has big chip out of wedge.
Good

BB108.

238.248

25
50
PHOTO

6304-092
6304-092 EATON rounding plane with dropped depth stop. Cuts a 3-4in round with a 1-4in depth stop. Mark looks like I or J EATON which isnt in AWP so either English or a user mark nice and clean with a few minor dings nice sharp cutter.
Good plus
LEE885
35
70
PHOTO

6304-093
* 6304-093 Lot of four molding planes. Three hollows one by C.S.SEE rare mark but in rough shape and one by D.O. CRANE in nice condition one side bead with part of boxing missing.
Good minus

BB84.219.

236.245

20
40
PHOTO

6304-094
6304-094 SHIVERICK and MALCOLM skew rabbet. 7-8in sole wood very good with some darkening wedge a little rough type C mark - three stars in AWP.
Good plus
UNK111
50
100
PHOTO

6304-095
6304-095 Lot of tongue and groove cutting planes. Tongue cutter by R.M. TILBURN of Newbury MA a rare maker in decent conditon with some damage to toe and inactive worm. Second tongue cutter by D.R. BARTON in very clean condition. And a groover by GERE - not sure which Gere because first initial obscured but theyre all rare.
Good

BB111.

240.241

40
80
PHOTO

6304-096
6304-096 E. and J. EVANS skew rabbet plane. 1 1-2in wide sole some staining on body but no major damage good wedge. Nice example by an uncommon Rochester maker.
Good
BB237
35
70
PHOTO

6304-097
6304-097 Lot of three New York molding planes. Snipe bill by Oren Edgerton of Buffalo with good boxing side bead by Edward Carter of Troy boxing partly missing and some small tar spots and a table round by Lorenzo Case of Watertown.
Good minus

BB225.

230.242

25
50
PHOTO

6304-098
6304-098 Lot of two wooden planes. OHIO TOOL CO. No. 36 coffin shaped toothing plane 7in long wood good proper toothed cutter spalled on end. Plus an unsigned molder that cuts a 3-4in astragal profile couple of chips but good overall condition.
Good
UNK104
60
120
PHOTO

6304-099
* 6304-099 STANLEY No. 35 smoothing plane. Type 13 rusty cutter looks like body has been relaquered and toe mark faint.
Good minus
UNK105
20
40
PHOTO

6304-100
6304-100 W. SARJENT old womans tooth router. Nicely formed red beech boyd with some cracks and old repairs ward iron.
Good
JRI414
40
80
PHOTO

6304-101
6304-101 STANLEY No. 95 edge trimming plane. Japanning slightly worn and some rust on cutter and adjustment lever but sole is clean notched rectangle mark good example of this rare and useful plane.
Good plus
RSI186
60
120
PHOTO

6304-102
6304-102 STANLEY No. 181 rabbet plane. Unfortunately the screw that holds the depth stop on is AWOL and needs to be replaced but the stop is included japanning about 60prcnt patent date stamped on cutter.
Good minus
CP19
40
80
PHOTO

6304-103
6304-103 Incomplete STANLEY No. 50 light plow. Early model with decorative metal tote and patent date stamped on tote. Missing cutter depth stop and nicker but whats there is in good condition.
Fair
UNK106
50
100
PHOTO

6304-104
6304-104 Lot of two STANLEY planes. STANLEY-type fore plane. Stanley design but unmarked 14in sole stained fruitwood tote and pressed steel lateral adjustment indicate fairly late manufacture some light surface rust and loss of japanning but overall a good plane for the budget-minded. Plus STANLEY No. 4 smoothing plane. Later model with orange notched rectangle on lever cap very light surface rust that would clean right up and otherwise very clean.
Good

CDE2070.

1539

45
90
PHOTO

6304-105
6304-105 STANLEY No. 98 side rabbet plane. Significant surface corrosion and some loss of nickel no depth stop on rear.
Good
RSI195
30
60
PHOTO

6304-106
6304-106 STANLEY No. 190 rabbet plane. Japanning worn and few paint speckles but overall good condition 1907-09 mark on cutter.
Good
MLD11
25
50
PHOTO

6304-107
6304-107 STANLEY No. 191 rabbet plane. Early type with 1884 patent date on cutter very clean condition with minimal wear to japanning.
Good
GNM312
35
70
PHOTO

6304-108
6304-108 STANLEY No. 248 weatherstripping plane. Clean and complete with 1-8in cutter with rectangle mark japanning close to 100prcnt.
Good plus
GNM316
60
120
PHOTO

6304-109
6304-109 STANLEY No. 113 circular sole plane. Vee logo some wear to japanning on handle and light surface corrosion otherwise very nice example.
Good plus
CDE1547
125
250
PHOTO

6304-110
6304-110 STANLEY No. 45 combination plane. Sweetheart era model has the two part fence but without the trade mark casting has one box of cutters missing the short rods cam stop rear depth stop and slitter whats there is in good condition with only minor nickel loss and corrosion notched rectangle mark on tote in sliding lid wooden box.
Good
LEE733
50
100
PHOTO

6304-111
6304-111 4-WAY smoothing plane. Has a four sided cutter that can be turned to use a fresh cutting edge this thing was patented in 1961 and assigned to SARGENT. Presumably manufactured by them but Ive never seen one marked so apparently there were limits to what Sargent was willing to claim. 9in sole in nice condition a genuine gizmo.
Good plus
CDE1544
40
80
PHOTO

6304-112
6304-112 STANLEY No. 39 1-2in dado plane. Vee mark a little surface rust but otherwise clean and complete both nickers.
Good plus
GNM297
65
130
PHOTO

6304-113
6304-113 STANLEY No. 192 rabbet plane. Early type with 1884 patent date on cutter very clean condition.
Good plus
GNM313
30
60
PHOTO

6304-114
6304-114 STANLEY No. 71 1-2 router plane. Type 4 one cutter some wear but good overall condition.
Good plus
GNM275
35
70
PHOTO

6304-115
6304-115 MAYOs improved plow plane. Mayos improvement of the Phillips patent. Only traces of the elaborate red and gold paint remain crack in tote and chip from end missing rear depth stop.
Good minus
JRI20
300
600
PHOTO

6304-116
* 6304-116 STANLEY No. 46 skew cutter parts only. Body from a type 2 with the short rods but nothing else tote has a crack. And a nickel-plated fence from a later type.
Fair
FES779
20
40
PHOTO

6304-117
6304-117 STANLEY No. 55 combination plane IOB. Sweetheart era. Almost all original cutters in four wooden boxes with good decals looks like a couple missing a few minor scrapes and dings but in overall excellent condition and looks like its all there as near as you can ever tell with a 55 tall pasteboard box is tattered and top of the lid has come loose but its all there.
Good plus
JW139
300
600
PHOTO

6304-118
6304-118 Lot of two STANLEY No. 46 skew planes. Early japanned type missing one fence locking screw and of course wraparound depth stop but it has the locking plate depth gauge slightly bent. Plus a later nickeled model with serious corrosion and also missing one fence screw. Both just have one cutter.
Good minus
LEE888
50
100
PHOTO

6304-119
6304-119 STANLEY No. 239 1-8in special dado plane. Later type with the fence sweet heart mark on cutter very clean with only a few traces of rust and japanning 95prcnt.
Good plus
GNM315
100
200
PHOTO

6304-120
* 6304-120 STANLEY No. 220 block plane IOB. Late version with blue japanning. Immaculate condition and box is complete perfect user. Also includes a miniature spokeshave - came in the box so its yours.
Fine
CP72
20
40
PHOTO

6304-121
6304-121 STANLEY No. 120 block plane. Sweetheart mark a little schmutz on the sole but otherwise immaculate.
Good plus
GNM248
30
60
PHOTO

6304-122
6304-122 Lof of two STANLEY block planes. Later No. 110 with notched rectangle mark surface rust on cutter and a paint spot but othrwise good. And a No. 103 with semi-circular mark on cutter japanning worn.
Good minus
GNM46C
30
60
PHOTO

6304-123
6304-123 STANLEY No. 118P block plane. Later version of the unbreakable pressed-steel block plane japanning worn off on knob otherwise nice and clean and good worker notched rectangle mark on cutter.
Good
LEE893
30
60
PHOTO

6304-124
* 6304-124 STANLEY No. 220 block plane - English version. Notched rectangle mark on cutter yellow decal nice and clean.
Good plus
CGN148
15
40
PHOTO

6304-125
* 6304-125 STANLEY No. 75 bullnose plane - English version. Nice and clean with good sharp cutter and japanning very nice example.
Good plus
CP29
20
40
PHOTO

6304-126
6304-126 STANLEY No. A18 aluminum block planes. Sweetheart mark some minor wear and flaking to nickel on lever cap but otherwise very good.
Good plus
GNM230
120
240
PHOTO

6304-127
6304-127 STANLEY No. 130 reversible block plane. Cutter can be reversed for bullnose work immaculate near mint condition with vee mark on cutter.
Fine
GNM249
45
90
PHOTO

6304-128
* 6304-128 STANLEY No. 18 block plane. Post-1913 with improved snap-lock lever cap missing the fine adjustment level for the throat.
Good
RSI223
20
40
PHOTO

6304-129
6304-129 STANLEY No. 140 skew rabbet plane. Semi-circular mark on cutter. Nickel a little worn on lever cap and some japanning missing but generally a clean complete example.
Good plus
GNM251
100
200
PHOTO

6304-130
6304-130 Lot of three STANLEY miniature block planes. STANLEY No. 101P miniature block plane. 3 1-2in long ideal for modeling and other light work later version with concentric circles on cheeks some rust on cutter but body is immaculate. Plus STANLEY No. 101 block plane. It has a nickel plating and is labeled a rare No.201 but has 101 cast into bed with S foundry mark so I think its a 101 nickel about 50prcnt. And STANLEY NO. 102 block plane IOB. Later model with notched rectangle mark on cutter some surface pitting box lid is falling apart but its all there with the label.
Good plus

RSI176.

177.211

50
100
PHOTO

6304-131
6304-131 Lot of two miniature block planes. One looks like a STANLEY 101 except that its aluminum cutter has 153 stamped on it but no name. The other is the CRAFTSMAN stamped metal version.
Good plus
CP66.72
40
80
PHOTO

6304-132
6304-132 ANTHONY patent joist drill. Patented 1896 by Elliot Anthony of Detroit not listed in Pearson. Dirty nickel plating flaked and rusty one handle cracked but a very rare drill worthy of restoration.
Good minus
UNK103
60
120
PHOTO

6304-133
6304-133 STRATTON BROS. No. 1 brassbound rosewood level. One of the most attractive levels ever made this one is 28in some toolbox dinging and scratches to both wood and brass including a couple deep gouges on one side both vials wet Strattons patent vial markers.
Good
JRI1143
50
100
PHOTO

6304-134
6304-134 STANLEY No. 96 brass bound level. Early type with three-piece laminated rosewood stock vee mark very minor scratching brass very good vials wet. One of Stanleys most attractive levels.
Good plus
JRI1142
60
120
PHOTO

6304-135
6304-135 STANLEY No. 96 brass bound level. 28in long three piece laminated rosewood stock wood is absolutely immaculate brass very good with slightly bumped ends plumb vial missing but this ones so pretty its worth replacing or just ignoring.
Good plus
JRI1141
50
100
PHOTO

6304-136
6304-136 STANLEY No. 30 adjustable level. 28in long minor scratching but good clean overall condition with very crisp edges outline of old decal on top rail all vials wet hang hole.
Good
JRI1146
30
60
PHOTO

6304-137
6304-137 Lot of two STANLEY wooden levels. No. 0 with sweetheart mark some tight cracks in stock and chips from edges. And a No. 3 unusually has both vial adjustment covers intact.
Good and better
GNM32.33
50
100
PHOTO

6304-138
* 6304-138 Lot of two STANLEY cherry levels. No. 0 24in with notched rectangle mark and No.00 22in with wedge mark. Both dirty and No. 00 is missing bottom vial cover but all vials wet and suitable for restoration.
Good
COL129.130
20
40
PHOTO

6304-139
* 6304-139 DREIER BROS. adjustable pitch level. Very worn and dirty decent instruction label.
Fair
BB182
5
10
PHOTO

6304-140
6304-140 STANLEY Victor No. 111 level. Rosewood brass tipped dirty and significant scratching with rounded edges but no major gouges or damage an uncommon level and would clean up nicely one plumb vial dry but present 28in hang hole.
Good
JRI1145
40
80
PHOTO

6304-141
* 6304-141 Sheet steel inclinometer. Unmarked with one plumb and one adjusable inclinometer vial 14in long good overall condition.
Good
DCR159
20
40
PHOTO

6304-142
6304-142 Lot of two STANLEY No. 36 machinist levels. Older versions without vial covers but all vials wet 12in and 24in Good clean condition with no broken corners.
Good plus
FNK245.247
45
90
PHOTO

6304-143
6304-143 User made mortise gauge. Fruitwood stem head is laminated with outer layer of boxwood separating slightly from central part fixed width mortise pins hand cut brass locking nut different and attractive.
Good plus
CDE1841
60
120
PHOTO

6304-144
6304-144 DISSTON and MORSS mortise gauge. Rosewood end adjusting mortise light dinging points worn.
Good
CDE1822
25
50
PHOTO

6304-145
6304-145 English style mortise gauge. Sliding motise strip with knob two brass wear strips inset into head locking screw looks handmade.
Good
CDE1842
40
80
PHOTO

6304-146
* 6304-146 Lot of two STANLEY marking gauges. No. 0 with chip out of screw and hanging screw eye in end. And a No. 62 wood worn and dirty but complete.
Good
RSI26.28
10
20
PHOTO

6304-147
6304-147 Lot of two Marking gauges. Marking gauge brass screw unsigned inactive worm in head. Plus G. W. HOPPLE Sheffield marking gauge ebony head with notched boxwood locking screw unusually large 1-2in on side brass marking blade.
Good minus

CDE1816.

1819

40
80
PHOTO

6304-148
6304-148 Wedge locking marking gauge. Unusual design with wedge running through head rather than along stem head carved from piece of burl 9in stem pin worn but still there.
Good
CDE2367
30
60
PHOTO

6304-149
6304-149 English rosewood marking gauge. Two brass strips in head end screw mortise adjustment good wood and pins.
Good plus
CDE1814
25
50
PHOTO

6304-150
6304-150 Mortise gauge. Rosewood brass strips in head worn two concentric circle brass markings in stem.
Good
CDE1846
20
40
PHOTO

6304-151
6304-151 User made mortise gauge. Six independent sets of points one single marking point and five sets of mortise points in different widths. Dont know they used it without sticking points into your hand. Unusual design some dings and a couple of closed splits different.
Good
CDE1839
60
120
PHOTO

6304-152
* 6304-152 Marking gauge. Carved boxwood locking screw stem is handruled some dinging.
Good
CDE1849
10
20
PHOTO

6304-153
6304-153 ISAAC GREAVES ebony mortise gauge. Very elaborate brass trim internal screw for mortise adjustment wood in very nice condition with one chip in stem.
Good plus
CDE1850
40
80
PHOTO

6304-154
6304-154 Rosewood mortise gauge. Clearly manufactured but unmarked sliding mortise bar adjusted by end screw four brass disks in head. Wood is in immaculate condition some minor scratches on brass.
Good plus
CDE1861
60
120
PHOTO

6304-155
* 6304-155 Marking gauge. Unsigned nice wooden locking screw ungraduated.
Good plus
CDE1830
10
20
PHOTO

6304-156
6304-156 T.C. CROUCH mortise gauge. Crouch gauges are rare and most have screw adjustment on the mortise this has a thumbslide like E.W. Carpenter gauges but in brass. Rosewood in very good condition a very rare and desirable gage.
Fine
CDE1829
75
150
PHOTO

6304-157
* 6304-157 BROADHEAD patent twist-locking mortise gauge. Rosewood model with mortise pin adjusted by end screw closed crack in stem and the STAR TOOL logo in the middle of the patent date is worn out.
Good minus
CDE2212
20
40
PHOTO

6304-158
6304-158 Lot of two STANLEY boxwood double gauges. Marked No. 71 with some minor staining and dinging but no damage and an unmarked No. 72 super clean.
Good and better

CDE1826.

1851

35
70
PHOTO

6304-159
6304-159 MARPLE mortise gauge. English beech two brass strips in head screw adjustment for mortise point ponts good wood and brass immacualte
Fine
CDE1862
60
120
PHOTO

6304-160
6304-160 Lot of three gauges. Mortise gauge unsigned two brass strips in head one a little loose. Plus two unmarked marking gauges both have two brass strips in head and cast iron set screws one oval and one square head square one has faint ruling and in decent shape oval one appears unruled and kind of beat up.
Good minus

CDE1844.

1811.1817

25
50
PHOTO

6304-161
6304-161 Lot of two mortise gauges. THOS. IBBOTSON ultimatum style mortise gauge dark rosewood stem and head brass plating on stem points worn down but still there very attractive. Plus STANLEY No. 91 double bar mortise gauge some minor nickel loss on head but otherwise nice and clean.
Good

CDE1837.

2558

45
90
PHOTO

6304-162
6304-162 Lot of two English mortise gauges. Rosewood both have thumb-controlled slides for the mortise point one has solid brass face plate and one has two brass stripes one has mark that looks like HAYWOOD and COOKE other looks like PEASGOOD. Some overall dinging but in nice condition.
Good

CDE1810.

1818

35
70
PHOTO

6304-163
6304-163 Lot of two gauges. STANLEY No. 77 mortise gauge marked version decent points good rosewood with minor scratching. Plus marking gauge boxwood thumbscrew unsigned.
Good plus

CDE1831.

1815

25
50
PHOTO

6304-164
6304-164 Lot of two wooden marking gauges. An unmarked STANLEY No. 65 rosewood oval head in super clean condition. And an unmarked beech example with a square head and boxwood screw worn and with a couple of tightening dents but plenty of point and nice and straight.
Good and better

CDE1834.

1845

40
80
PHOTO

6304-165
6304-165 English style mortise gauge. Ebony or dark rosewood brass ring around stem on head internal screw adjustment Sheffield maker but cant read the name some dinging but good overall condition nice points.
Good
CDE1808
30
60
PHOTO

6304-166
6304-166 Unmarked slitting gauge. Boxwood two brass strips in head chip out of the wood between the strips unruled still has good sharp blade.
Good
CDE1843
25
50
PHOTO

6304-167
* 6304-167 Wedge locking rosewood panel gauge. Unmarked missing the pin and I think there was a piece of wood that held the pin and has gone missing.
Good minus
BB69
20
40
PHOTO

6304-168
6304-168 Lot of three gouges. One Buck Brothers other makers hard to read two have good hexagonal handles third looks like a replacement handle.
Good

BB137.

139.148

25
50
PHOTO

6304-169
6304-169 Lot of four small turning tools. Gouge BUCK BROS. riffler two parting tools all blades are decent mixed lot of handles but all solid.
Good

BB138.141.

144.146

30
60
PHOTO

6304-170
6304-170 Lot of three hammers. All unmarked one with triangular profile could be a glaziers with a screwdriver blade on the end plus a small claw hammer and one that looks like a metalworking hammer. All have old handles two are a little loose.
Good
BB8.28.138
35
70
PHOTO

6304-171
6304-171 SELSOR patent combination hammer. Unmarked but the pattern is unmistakeable head has some dinging but no rust good solid handle looks original.
Good
BB126
60
120
PHOTO

6304-172
* 6304-172 Combing tool. Not sure what this was for - combing wool or cotton maybe. Made of a cow horn probably by hand.
Good
BB80
20
40
PHOTO

6304-173
6304-173 TRIMBLE and FINK patented screwdriver. Patented in 1928 by Charles Fink of Baltimore and manufactured by Trimble and Fink features a split shaft that is spread to hold the screw in place while being inserted 4 1-2in long if you collect patented screwdrivers you probably dont have this one.
Good
BB175
50
100
PHOTO

6304-174
6304-174 H.D. SMITH Perfect Handle wrench. 1 1-8in open end wrench clearly marked with HD Smith name good handle.
Good
BB176
20
40
PHOTO

6304-175
6304-175 Lot of three internal screw mortise gauges. STANLEY No. 93 brass stem head dinged up and scribe missing. GEO. WHEATCROFT with solid brass plate on head dirty but complete with good points and a DISSTON and MORSS rosewood gauge kind of dinged up with a whole through the head.
Good
BB88.121.167
30
60
PHOTO

6304-176
6304-176 Lot of three STANLEY miniature hobby block planes. A No. 12-101 No. H-101B and No. 101P. All variations on the lightweight finger planes made by Stanley for hobbyists all bright and clean with a little rust on one blade.
Good plus

FNK388.

389.390

30
60
PHOTO

6304-177
6304-177 Lot of two miniature block planes. STANLEY H-101P with good clean blue and red paint. And a less common MILLERS FALLS model with some wear to japanning.
Good and better
FNK387.398
30
60
PHOTO

6304-178
6304-178 Lot of two miniature block planes. STANLEY No. 101 grey paint worn on cheeks but otherwise good. And a CRAFTSMAN No. 619-3705 some wear to paint.
Good
FNK397.400
40
80
PHOTO

6304-179
6304-179 STANLEY No. 100 squirrel tail block plane. Japanning about 50prcnt good clean cutter no damage.
Good
FNK399
35
70
PHOTO

6304-180
6304-180 Lot of two STANLEY block planes. No. 102 early type with semi-circular mark on cutter. And a No. 103 with notched rectangle mark japanning worn on both but otherwise good.
Good plus
FNK338.339
55
110
PHOTO

6304-181
6304-181 Lot of three block planes. WINCHESTER No. 3093 STANLEY Handyman No. H1248 and STANLEY No. 103 early type with semi-circular logo. All with worn japanning but otherwise good.
Good
FNK333.335
45
90
PHOTO

6304-182
6304-182 Lot of three STANLEY block planes. A No. 102 with vee trademark and two No. 103s one with semi-circular mark and one with sweetheart. All have worn japanning but good cutters the two No. 103s have small nicks to soles.
Good

FNK334.

336.337

60
120
PHOTO

6304-183
6304-183 Lot of three STANLEY No. 25 locking bevels. Two modern 8in models 6in with sweetheart mark and bent lever all good users.
Good

FNK470.

472.479

25
50
PHOTO

6304-184
* 6304-184 Lot of two STANLEY No. 25 locking bevels. One 8in one 10in. Late models with notched rectangle marks good users.
Good
FNK466.467
20
40
PHOTO

6304-185
6304-185 Lot of two STANLEY bevels. No. 25 with 10in blade and sweetheart mark and immaculately clean 8in No. 18 butt-locking.
Good plus
FNK471.473
35
70
PHOTO

6304-186
6304-186 STANLEY No. 30 angle divider. Close to mint with a few minor minor blemishes only notched rectangle mark.
Fine
FNK474
80
160
PHOTO

6304-187
6304-187 STANLEY No. 30 angle divider. Good clean condition with a little loss of nickel and minor surface corrosion notched rectangle mark.
Good plus
FNK475
60
120
PHOTO

6304-188
* 6304-188 Lot of two hollow augers. One with integral cutters and 3-4in diameter one with removable cutters and 5-8in diameter. Both unmarked with surface corrosion but intact and usable.
Good
RSI264.266
15
30
PHOTO

6304-189
6304-189 Lot of two measuring tools. STANLEY No. 41 pocket and square level cast iron type with decorative cover plate vial wet. Plus an unmarked try square with 3 3-4in blade good cast iron handle.
Good
LEE923
40
80
PHOTO

6304-190
* 6304-190 Lot of two STANLEY measuring tools. A No. 53 1-2 architects rule dirty slightly sprung pins missing but no major chips. And a No. 1 ODD-JOBS first type but missing its scribe and point.
Fair
LEE317.872
20
40
PHOTO

6304-191
6304-191 STANLEY No. 24 combination try and bevel square. Uncommon 9in size very slight pitting on blade tight crack in handle good patent date and neatly stamped owner name.
Good plus
FNK9
35
70
PHOTO

6304-192
6304-192 Lot of four rules. STANLEY 66 1-2 three foot fourfold STEPHENS and CO. No. 42 two foot fourfold and an English PEC7312 twofold caliper rule the two American rules are dirty and worn but complete with good joints English rule is nice and clean. Plus Manufactured by the MASTER RULE company of New York this ingenius device uses a sliding rather than folding mechanism. Most are found broken this one is complete and reasonable clean noting surface rust on the joints.
Good minus

DT39.42.

44.31

50
100
PHOTO

6304-193
* 6304-193 STEARNS patent hollow auger. The version with the ring of bushings based on his 11-23-80 patent has the depth stop and cutter japanning about 50prcnt.
Good
CGN198
20
40
PHOTO

6304-194
6304-194 PHOENIX brand hollow auger. Clearly based on the Stearns patent I dont know if this was a Stears trademark or a knockoff after his patents expired. Has the depth stop japaning about 60prcnt.
Good
MLD23
25
50
PHOTO

6304-195
6304-195 Lot of four rules. Four fold 12in Craftsman version of the No. 32 in immaculate near mint condition with tight joints and all pins present. Plus 24in folding rule marked Made in Germany and two 6in advertising rules one in a leather sheath.
Fine and Good
CGN284.271
40
80
PHOTO

6304-196
6304-196 STRATTON BROS. No. 10 level. 10in version rosewood and brass end plates have a lot of dinging but no major damages. For you level restorers this one will clean up nicely.
Good
LEE883
50
100
PHOTO

6304-197
6304-197 Lot of two STANLEY No. 24 combination try and bevel squares. 5in and 7in sizes 7in size has one wing broken off wingnut and crudely scratched owner initials light pitting on both blades.
Good
FNK7.8
40
80
PHOTO

6304-198
6304-198 Lot of two plumb bobs. 7in steel conical with knurling and internal thread and a 3 1-2in model with unusual grooves cast into the surface.
Good plus

CDE2209.

2567

35
70
PHOTO

6304-199
6304-199 Copper lead filled plumb bob. Looks like someone took a piece of copper pipe smoothed it to a point and filled with lead to make this unusual carrot-shaped bob 7 1-2in long different.
Good plus
CDE2235
25
50
PHOTO

6304-200
6304-200 STARRETT No. 465 caliper rule. 12in brass rule with two sliding caliper jaws - like trammel points but no points an unusual Starrett tool nice and clean with owner initials. Plus two small rules in one leather pouch a 12in rule by American Nickeloid Co. of Peru IL and a 15in unsigned stainless with english and metric markings and a conversion table on the back.
Good plus
CGN233.301
25
50
PHOTO

6304-201
6304-201 Lot of two measuring tools. L.S. STARRETT surface gauge may be missing a part but whats there is in immaculate condition. Plus a STANLEY No. 125 combination square and protractor early version with Pat. Pending some loss of blue japanning but an uncommon tool.
Good
BB124.19
45
90
PHOTO

6304-202
* 6304-202 STANLEY combination square. A 12in combination square some surface rust on both rules but otherwise clean and complete both have their scribes.
Good
CGN228
15
30
PHOTO

6304-203
6304-203 AMERICAN SWAGE swaging tool. Manufactured at the Ranchett Swage Works in Big Rapids MI. Covered in surface rust and I dont know enough about swaging to tell if it works but looks complete.
Good
BB193
20
40
PHOTO

6304-204
6304-204 TOPPs framing square. Early type charred spot on back of body surface corrosion on blade but readable.
Good minus
OTR202
40
80
PHOTO

6304-205
6304-205 ACKERMAN and HALSTEAD try square and bevel. The earliest patented combination square and bevel patented in 1855 with a fold-out bevel blade in the handle unmarked as most are some surface corrosion on blade but otherwise clean and sound.
Good
OTR203
35
70
PHOTO

6304-206
* 6304-206 Ungraduated try square. 12in blade rosewood handle well worn with small split by rivets and brass edge quatrefoil rivet plate user initials carved into handle.
Good
CDE2228
10
20
PHOTO

6304-207
6304-207 VAN AMRINGE patent bevel combination tool. One of the most gimmicky and attractive of patented bevels as well as an uncommon California patent this one is unfortunately missing one of the two bevel blades and part of the brass trim on the back but it has the saw blade and the other parts whats there is in nice shape.
Good minus
OTR201
55
110
PHOTO

6304-208
6304-208 STANLEY No. 85 1-2 panel gauge. Later type marked with Stanley name a few dings but no major damage and still straight pin slightly bent has brass shoe hang hole.
Good
GNM203
40
80
PHOTO

6304-209
6304-209 Lot of four STANLEY carpenter rules. Nos. 62687284 all fourfold two footers. No. 68 is very clean 72 pretty worn the other two in between all straight with good hinges couple of pins missing.
Good and better

GNM87.98.

99.101

30
60
PHOTO

6304-210
6304-210 Lot of two STANLEY narrow carpenter rules. No. 69 unmarked nice and clean. And a No. 62 1-2 with sweetheart mark a little worn and missing pins but nice and straight.
Good
GNM93.100
25
50
PHOTO

6304-211
6304-211 Lot of four STANLEY caliper rules. Nos. 32 32 1-2 36 1-2 R 136. The 32 1-2 is pretty worn and dirty and missing one pin rest are clean.
Good and better

GNM89.91.

92.94

30
60
PHOTO

6304-212
6304-212 Lot of four STANLEY try squares. Two later model 8in No. 20s one blued one older 6in with 12-29-96 patent date and one 6in No. 12 with red cast iron handle and sweetheart mark.
Good
LEE925
35
70
PHOTO

6304-213
* 6304-213 STANLEY shrinkage rule. Looks like a No. 30 but it isnt marked with number. 3-16in per foot shrinkage nice clean condition noting a closed interior crack and neatly stamped 4 times owner initials.
Good
LEE927
20
40
PHOTO

6304-214
6304-214 User-modified STANLEY No. 12 veneer scraper. No. 12 that some cheapskate bolted two pieces of rosewood to in order to create a 12 1-2. Rosewood has the grain running vertically and one piece has cracked also it doesnt have a blade. Other than that
Fair
LEE913
35
70
PHOTO

6304-215
6304-215 STANLEY No. 81 rosewood sole scraper. Nickel plating is immaculate rosewood sole has some scratches but in very good condition notched rectangle mark.
Fine
GNM282
75
150
PHOTO

6304-216
6304-216 WITHERSBY drawnknife. Nice sharp 12in blade with mild pitting good boxwood handles.
Good
CDE2019
30
60
PHOTO

6304-217
* 6304-217 Drawknife. Unsigned 9in blade probably made from file crack in one handle and loose collar on the other but perfectly usable.
Good plus
CGN272
20
40
PHOTO

6304-218
6304-218 MARPLES drawknife. Nice sharp 12in blade good boxwood handles.
Good plus
CDE2389
40
80
PHOTO

6304-219
6304-219 STANLEY No. 66 beader. One fence and one cutter japanning is worn and the mouth looks a little ragged.
Good minus
GNM46B
45
90
PHOTO

6304-220
6304-220 STANLEY No. 62 reversible spoke shave. Early version not marked with model number and with semi-circular Stanley mark on both cutters wear to the japanning on the handles but otherwise very clean and complete one of Stanleys less common shaves.
Good plus
GNM156
80
160
PHOTO

6304-221
6304-221 STANLEY No. 63-X light convex bottom spoke shave. Has the model number under the cap sweetheart mark on cutter japanning has missing patches touched up with black paint.
Good
GNM158
55
110
PHOTO

6304-222
6304-222 STANLEY No. 60 double spoke shave. Vee marks on both cutters slight wear to japanning and a couple of paint spots.
Good
GNM155
25
50
PHOTO

6304-223
6304-223 STANLEY No. 53 spokeshave. Body marked only with Leonard Baileys 1858 patent cutter marked with early semi-circular trademark. Japanning about 50prcnt.
Good
GNM153
40
80
PHOTO

6304-224
6304-224 STANLEY No. 152 adjustable spoke shave. Super clean with only a few traces of surface rust sweetheart mark.
Good plus
RSI284
30
60
PHOTO

6304-225
6304-225 STANLEY No. 66 beader. Looks like Type 1 with tall brass fence screw and japanned finish but has Stanley cast into body along with patent date which the book says is wrong so maybe Type 1A. One fence and one double-ended cutter.
Good
RSI272
50
100
PHOTO

6304-226
6304-226 English STANLEY No.151R adjustable spoke shave. Round bottomed but not marked with model number Made in England cast into arm and has mostly complete yellow decal super clean with sweetheart mark.
Good plus
RSI282
30
60
PHOTO

6304-227
6304-227 STANLEY No. 68 router shave. Very good overall condition with a few flaws in japanning good clean sweetheart mark.
Good plus
RSI275
50
100
PHOTO

6304-228
6304-228 STANLEY No. 151 adjustable spoke shave. Surface rust and some wear to japanning but overall nice and clean with sweetheart mark.
Good plus
RSI283
25
50
PHOTO

6304-229
6304-229 STANLEY No. 67 universal spokeshave. Missing the fence as so many are and one handle has a chip but otherwise good example.
Good
RSI274
35
70
PHOTO

6304-230
6304-230 File holder I dont recognize this tool. Shaped like a spokeshave with looped metal handles and a fence but instead of a cutter it has a small square file that looks original clamped into place a whatsit but in nice clean condition.
Good plus
RSI152
25
50
PHOTO

6304-231
6304-231 JAMES SWAN drawknife. Nice sharp 12in blade some surface discoloration that obscures the mark but its just legible and no rust handles have some dinging but are solid.
Good
CP53
35
70
PHOTO

6304-232
6304-232 A.J. WILKINSON folding handle draw knife. Nice sharp 8in blade one side of the slot that the blade fits into when the handles are folded has chipped away on one handle otherwise very nice.
Good
CP52
35
70
PHOTO

6304-233
6304-233 Lot of three STANLEY spokeshaves. No. 60 double cutter early version with semi-circular mark on both cutters japanning worn on handles and screwheads chewed. No. 64 with sweetheart mark good condition. Third looks like a No. 52 but unmarked cutter probably replacement.
Good

CGN90.91.

239

40
80
PHOTO

6304-234
6304-234 C.E. JENNING small spokeshaves. 4in razor sharp blade clear mark handles dont match and one is probably replacement.
Good
CGN66
30
60
PHOTO

6304-235
6304-235 MILLERS FALLS round bodied spokeshave. Patented in 1884 by Albert Goodell and manufactured by MF the cylindrical body and semi-circular blade were intended to allow use on a broader variety of surface than the normal flat blade 10in long with nice boxwood handles and some surface rust. You cant be a serious MF collector without one of these.
Good
CRT99
30
60
PHOTO

6304-236
6304-236 Rare early MARTINS spokeshave. Most Martin shaves have the name in plain lettering this is an elaborate casting with decorative border and may be earlier version brass adjusting screw 10 1-2in long with 2 1-4in wide cutter japanning a little worn on handles but very good overall condition unusual.
Good
LEE922
50
100
PHOTO

6304-237
6304-237 STANLEY No. 80 scraper. Cutter sole and adjusting screws all well covered with surface rust and body has some paint flecks but complete and would clean up nicely.
Good
DT19
25
50
PHOTO

6304-238
6304-238 Lot of two STANLEY spokeshaves. No. 68 with surface rust but would clean up nicely notched rectangle mark cutter. Plus a rare No. 67 universal shave missing the fence and the threading on one arm is stripped so would need to be retapped to use. Good rating is for the 68.
Good
LEE841.921
40
80
PHOTO

6304-239
6304-239 STANLEY spokeshave. No number and doesnt seem to match anything in the books cutter has old semi-circular trademark 9 1-2in long doesnt look like it was ever japanned rounded bottom cutter bolts directly to frame with no holder.
Good plus
CPK22
50
100
PHOTO

6304-240
* 6304-240 STANLEY No. 58 spokeshave. Semi-circular mark on cutter with some surface pitting japanning worn.
Good minus
CPK59
15
30
PHOTO

6304-241
6304-241 Lot of four spokeshaves and STANLEY No. 80 scraper. Three wooden one has badly rusted cutter but complete one with concave sole and cutter wedged with old nails other has no cutter or holder and modern replaced screws wood has dings and scratches. Plus a user made iron shave with a 14in blade surface rusty but blade still sharp needs handles. Plus STANLEY No. 80 scraper. Adjusting screw is an improper replacement otherwise good with sweetheart mark.
Fair

RSI148.149.

154.247.60

40
80
PHOTO

6304-242
6304-242 Lot of two beading routers. Complete model with two beading cutters and wooden fence 15in long wood is well worn but intact with a closed crack in one arm. And a single blade model missing the cutter and fence.
Good
LEE844
40
80
PHOTO

6304-243
6304-243 Coopers drawknife. 10in diameter rounded blade blade is rusty and has a number of small chips along edge handles worn but solid.
Good
LEE907
25
50
PHOTO

6304-244
6304-244 STANLEY No. 80 scraper IOB. Type 1 with patent date and vee mark on tensioning bar blade may be a replacement box is complete label partial.
Good plus
FNK40
35
70
PHOTO

6304-245
6304-245 STANLEY No. 88 clapboard marker. Patented in 1886 and used to mark a line against clapboards so they could be cut to fit exactly proof that Stanley truly did have a tool for every occasion and one of the less common gauges missing central screw but you dont really need it and many users threw it away.
Good
RSI45
25
50
PHOTO

6304-246
6304-246 STANLEY No. 81 cabinet scraper. Nickel finish in good overall condition rosewood sole has some scratches and two holes but screws not protruding.
Good
CDE2122
30
60
PHOTO

6304-247
* 6304-247 STANLEY No. 51 raised handle spoke shave. Notched rectangle mark on cutter surface rust but no deep pitting good user.
Good
MLD24
10
20
PHOTO

6304-248
* 6304-248 Lot of two spokeshaves. A MILLERS FALLS No. 1 cigar round spokeshave with pitting and nickel flaking screws corroded. And a STANLEY No. 51 body only missing cutter and keeper.
Good minus
CGN92.235
20
40
PHOTO

6304-249
6304-249 Lot of two saws. Unmarked rip saw plain handle 5 1-2 tpi excellent user. And an older keyhole sale etching on blade looks like V.B. SEA.
Good
TKY3.30
25
50
PHOTO

6304-250
6304-250 Lot of two saws. DISSTON D-8 rip saw good clean overall condition blade discolored but etching legible handle intact 5 1-2 tpi. Plus a HARVEY W. PEACE crosscut well worn but intact chips from handle and intials deeply carved 9 tpi.
Good and better
COL135.136
40
80
PHOTO

6304-251
6304-251 E. C. ATKINS rip saw. Good clean blade with etching just barely discernable handle has some wear but intact with elaborate decoration good medallion 6 tpi.
Good plus
TKY6
40
80
PHOTO

6304-252
6304-252 CLEAN CUT cross cut saw. Blade has some surface rust but etching clearly readable nice clean handle with four leaf clover medallion 9 tpi. An unusual maker.
Good plus
GRN2
45
90
PHOTO

6304-253
6304-253 E. C. ATKINS rip saw. Good clean blade with etching just barely discernable handle has some wear but intact with elaborate decoration good medallion 5 tpi.
Good plus
TKY2
40
80
PHOTO

6304-254
6304-254 JACKSON Steel back saw. Blade is discolored but sound hadle worn but intact.
Good
CRT20
25
50
PHOTO

6304-255
6304-255 ATKINS Excelsior No. 2 saw tool IOB. Made by Atkins in various configurations for sharpening and setting crosscut saws this one has a sheet metal gage and a cast setting block tool is in very good condition box is missing ends.
Good plus
BFS280
30
60
PHOTO

6304-256
6304-256 Lot of two backsaws. GEO. H. BISHOP brass dovetail saw good clear etching but has been sharpened so much that half of etching is gone good handle. And a W.B. SEARS steel backsaw good blade no etching big chip out of handle user made wooden blade protector.
Good
BFS73.84
40
80
PHOTO

6304-257
6304-257 BAY STATE No. 98 steel backsaw. 12in blade surface corrosion so that etching barely visible handle worn with one chip. Bay State was a small sawmaker acquired by SIMONDS and used to mark Simonds second-tier saws.
Good minus
BFS76
25
50
PHOTO

6304-258
6304-258 BAY STATE No. 98 steel backsaw. 12in blade very faint etching handle worn but undamaged. Bay State was a small sawmaker acquired by SIMONDS and used to mark Simonds second-tier saws.
Good
BFS77
40
80
PHOTO

6304-259
6304-259 ATKINS No. 13 interchangeable blade keyhole saw. Blade locks into the handle with a thumbscrew comes with two blades both with surface rust but one has good etching good handle.
Good
BFS29
30
60
PHOTO

6304-260
6304-260 DISSTON metal handle keyhole saw. Handle was patented in 1877 by Henry Disston and John Vandegrift an uncommon Disston saw teeth worn down and japanning about 50prcnt patent date cast into handle.
Good
BFS255
40
80
PHOTO

6304-261
6304-261 Lot of two DISSTON backsaws. 10in No. 4 a little surface rust but nice clear etching and clean handle. And an 8in blade with no etching handle worn but intact.
Good and better
BFS72.81
30
60
PHOTO

6304-262
6304-262 SIMONDS open handle steel backsaw. I think this is the No. 170 good applewood handle 10in blade has some minor pitting but clear etching partially removed by sharpening still lots of life in it.
Good
BFS83
40
80
PHOTO

6304-263
6304-263 DISSTON-SHATTUCK Steel back saw. 10in backsaw manufactured by Disston for Lowell MA hardward dealer Horace B. Shattuck blade clearly etched with Shattuck name owner W.D. Pratt etched his name into the blade and stamped the handle twice handle worn but undamaged blade has been sharpened a few times.
Good
BFS74
30
60
PHOTO

6304-264
6304-264 SIMONDS No. 138 hacksaw. Unusual metal handle design marked Patent Applied For. Very clean condition.
Good plus
BFS30
40
80
PHOTO

6304-265
6304-265 Unmarked STANLEY No. 37 machinists level. 18in Type 1 with B casting mark but no model number these unmarked 37s are rare see Rosebrook p. 159. Some surface rust on top rail but nickel otherwise good corners intact and vials wet.
Good
GNM130
40
80
PHOTO

6304-266
6304-266 RABONE level vial assembly IOB. The box says its a No. 1070 but its just the vial assembly to be inserted into a level stock the tool is mint box is pretty tattered.
Fine
GNM124
35
70
PHOTO

6304-267
6304-267 STANLEY No. 36G machinists level IOB. The workhorse of the Stanley machinist level line for almost 100 years it went through a number of designs and is common as dirt but not in this condition. This is the 12in model and has the bright shiny finish of post-WWII models. Absolutely dead mint and even the box is pretty good. If you have just one late-model 36G it should be this one but wear your sunglasses to look at it.
Mint
GNM129
60
120
PHOTO

6304-268
6304-268 STANLEY No. 34 bench level. 8in version with notched rectangle mark very clean with minimal damage to nickel vial wet.
Good plus
GNM127
30
60
PHOTO

6304-269
6304-269 Lot of four saws. DISSTON Keystone backsaw. Good clean blade with visible etching small dings in handle but no major chips. Plus CRAFTSMAN backsaw. 16in blade 11 tpi a little surface rust on the back but blade and handle are immaculate not old but a perfect user. Plus two unmarked fretsaws. One with red wooden handle light surface rust but perfectly usable.
Good
GNM16.19.18
60
120
PHOTO

6304-270
6304-270 DISSTON steel backsaw. 21in blade no etching visible surface rust but no pitting handle has paint spots but no major chips or damage 10 tpi.
Good
GNM17
30
60
PHOTO

6304-271
6304-271 L.L. DAVIS mantle clock level. The original L.L. DAVIS version prior to Davis Level Co.. Locking screw sheared off some pitting only traces of gold paint
Good minus
JRI?
35
70
PHOTO

6304-272
6304-272 BUCK and HICKMAN Sheffield brace. Good pushbutton chuck body has light dinging and some staining good solid lignum head with unmarked medallion tight and needs lubrication 3 1-2in throw.
Good
JRI174
45
90
PHOTO

6304-273
6304-273 Lot of two Sheffield trade braces. One is in nice overall condition with good smooth working head the other is rougher with head about half missing and push button unusually on right side 3 1-2in throw.
Good
JRI196.197
50
100
PHOTO

6304-274
6304-274 WM BOWER plated Sheffield brace. Red beech body in good overall conditon with one tight crack head has one crack and a little tight but works 3 1-2in throw.
Good
JRI170
45
90
PHOTO

6304-275
6304-275 JAMES HOWARTH plated Sheffield brace. With Howarths lever action chuck good lignum head with Howart medallion red beech body thoroughly scratched but intact 3 1-2in throw.
Good minus
JRI171
30
60
PHOTO

6304-276
6304-276 JAMES BEE plated Sheffield brace. With Bees large locking screw chuck and HENRY BROWN patented head medallion wood is very dirty and worn head has a couple of small chips 3 1-2in throw.
Good minus
JRI172
30
60
PHOTO

6304-277
6304-277 Primitive pod brace. Wood looks like walnut very good condition one pod with spring lock and countersinking bit old metal reinforcement-repair Scandinavian shape 3 3-4in throw.
Good
JRI188
45
90
PHOTO

6304-278
6304-278 BROWN and WELLS plated Sheffield brace. Body has some dinging but in good overall shape nice smoothly working lignum head 3 1-2in throw.
Good plus
JRI176
50
100
PHOTO

6304-279
6304-279 BROWN and FLATHER plated Sheffield brace. Good overall condition some corrosion around screws nice working head with ivory plug pushbutton mechanism stuck 3 1-2in throw.
Good
JRI179
60
120
PHOTO

6304-280
6304-280 Lot of two primitive pod braces. One has spoon bit old metal repair and head half gone other is in good shape with one pod no bit both have 3 1-2in throw.
Good minus
JRI201
50
100
PHOTO

6304-281
6304-281 Lot of two Sheffield trade braces. Both with bodies and heads in nice clean condition with some dinging. Looks like the chuck on one may have been retrofitted later 3 1-2in throw.
Good
JR193.198
50
100
PHOTO

6304-282
6304-282 Lot of two Sheffield trade braces. Unsigned push button chucks. One is nice and clean with a 5 stamped on chuck and owner initials head a little loose but works well. Other is dirtier with a crack in the head. 3in throw on both.
Good
JRI191.194
50
100
PHOTO

6304-283
6304-283 MATHIESEN scottish style steel brace. Good hexagonal body locking mechanism in chuck works well. Head is marked with Mathiesen name and Warranted Not to Turn Off but medallion protrudes from head and has a big crack 4in throw.
Good minus
JRI175
40
80
PHOTO

6304-284
* 6304-284 Patented ratchet brace. Unmarked and not sure who patented it has two spring strips with a thumb screw to determine which strips engages the ratchet well rusted and missing chuck jaws.
Fair
LEE929
10
20
PHOTO

6304-285
6304-285 NOBLES patent brace. Patent in 1865 by Milton Nobles of Rochester with sliding ring chuck. Excellent condition with good rosewood head and 5in throw patent date and manufacturer clearly visible.
Good plus
JRI190
70
140
PHOTO

6304-286
6304-286 Lot of three hand drills. Lot of two hand drills. A STANLEY No. 624G with steel handle no bits. And an unmarked smaller model. Both dirty but good users no bits in either handle. Plus STANLEY No. 1220 hand drill notched rectangle mark only a couple of small scratches stand between it and mint set of 8 bits in handle.
Good and Fine
GNM175.176
35
70
PHOTO

6304-287
6304-287 Lot of two STANLEY drills. A No. 743 two speed breast drill in good overall condition teeth good and works smoothly but orange paint flaking. And a No. 623 bit brace in the rare 3in sweep size nickel flaking and pad a little loose ratchet needs lube.
Good and better
GNM172.173
50
100
PHOTO

6304-288
* 6304-288 STANLEY No. 624A hand drill. Later model with notched rectangle mark a few small scrapes on handle otherwise immaculate no bits.
Good plus
GNM174
20
40
PHOTO

6304-289
6304-289 A.H. REID Lightning Brace. A nice example with a few chips in the rosewood knobs but no damage to shaft and works smoothly spring that holds bit in is present Reids 1882 patent date marked on shaft.
Good
CDE2104
30
60
PHOTO

6304-290
6304-290 A.H. REID Lightning Brace. Good clean condition missing bit.
Good
JRI1170
30
60
PHOTO

6304-291
6304-291 Grab bag of plane cutters and miscellaneous. 15 cutters single and double mostly for STANLEY metal planes one lever cap in good condition miscellaneous spokeshave parts including one shave with broken end other blades.
Good and better
CP73
30
60
PHOTO

6304-292
6304-292 Lot of two nail removers. One sliding sleeve type one prying type marked Pat. Sep. 5 but I cant read the year or locate the patent. Both covered with surface rust but solid and intact.
Good
LEE898
25
50
PHOTO

6304-293
* 6304-293 Auger handle. Unmarked but clearly manufactured holes for 1-4in and 3-8in tangs locked by wingnut closed split in one handle but otherwise good.
Good
RSI256
20
40
PHOTO

6304-294
6304-294 Large reamer. 2 1-2in diameter and 15in long overall red painted turned handle with one chip cutter has surface corrosion but no damage.
Good
LEE887
40
80
PHOTO

6304-295
6304-295 Slaters stake and two forged smiths tools. Slaters stake right is 22in long with a 9in spike made of heavy flat stock and unmarked. Plus two forged smiths tools. I assume these are smiths tools due to size 20in long jaws curve inward and are rounded one handle has a square wrench-type hole the other is tapped to hold something actually nicely made and works smoothly. Second is a set of caliper with the ends bent.
Good

LEE906.

903.932

60
120
PHOTO

6304-296
6304-296 Farriers tooth rasp. 2in x 1-2in head 18in overall with turned handle with prominent grain. An unusual and attractive tool.
Good plus
DCR333
75
150
PHOTO

6304-297
6304-297 Spanish training bridle. Purchased in Spain these wooden blocks have iron spikes and were mounted as part of the bridle when training draft animals to reinforce the trainers commands. Nasty looking but very unusual.
Good plus
DCR331
75
150
PHOTO

6304-298
6304-298 PUTNAMS improved cloth chart. You see a few of these things around because they have a wonderful gizmoish quality to them they were patented in 1907 and manufactured in Washington IA. This one is in the original box with complete instructions and explains that it is used to measure the amount of cloth on a bolt without unwinding it in very clean condition original box iwith tie-down straps is tattered but complete.
Good plus
BB39
40
80
PHOTO

6304-299
6304-299 SENG COMPANY multi-tool. A pocket knife and a set of eight other tools that can be attached to the knife handle including hammer file saw auger etc. All in the original leather folding carrier seng was founded in 1874 in Chicago and manufactured metal products through WWII this has a 1930s or 1940s look to it some surface rust but in overall good condition.
Good
BB172
50
100
PHOTO

6304-300
6304-300 STANLEY NO. 49 bit gauge IOB. Later nickel plated model good overall condition with a couple of missing patches of nickel box is complete but ragged with one split seam.
Good plus
BB173
25
50
PHOTO

6304-301
6304-301 Hoof leveller. Made of solid brass and used by farriers to ensure that hoofs were cut evenly and to the proper angle this one is marked Made in England.
Good
DCR332
25
50
PHOTO

6304-302
* 6304-302 STANLEY NO. 49 bit gauge IOB. Earlier japanned model with some dirt and minor rust but complete box is complete but ragged label present but inside box.
Good
BB174
20
40
PHOTO

6304-303
* 6304-303 Engraved miniature plumb bob. Looks like german silver nice decorative engraving the bob is too small to be of any practical use this looks like it may have been a watch fob or key ring needs cleaning.
Good
NW1976
20
40
PHOTO

6304-304
6304-304 EFB and CO watchmakers calipers. Used to true up the balance wheel. EFB was Ezra F. Bowman of Lancaster PA. Needs cleaning but no rust or damage an unusual watchmakers tool. Plus a master set of clock winding keys mounted on a circular plate with one missing.
Good plus

NW1907.

1920

40
80
PHOTO

6304-305
6304-305 Lot of two jewelers tools. F.E. ALLEN patented ring gauge 2-3-1874 wood has chips and gouges but complete. And a complex watchmakers main spring measure marked DENNISON. Aaron Dennison was a Maine watchmaker who was active from 1830-1895 some surface corrosion and schmutz that needs cleaning.
Good

NW1912.

1929

40
80
PHOTO

6304-306
6304-306 Lot of jewelers tools. A small jewelers lathe headstock plating worn not sure about the other two but they came with a bunch of jewelers tools.
Good

NW1892.

1893.1923

25
50
PHOTO

6304-307
6304-307 Patented jewelers drill press. Marked with two patent dates -3-8-81 and 7-14-85 - but I couldnt locate either patent 10in high overall well designed and works smoothly surface corrosion but no pitting and wooden knob worn.
Good
NW2000
80
160
PHOTO

6304-308
6304-308 Combination tool. Hammer saw set and some type of adjustable gauge has a patent date but hard to read either 1865 or 1885 good shape whatever it is.
Good
NW1949
20
40
PHOTO

6304-309
6304-309 ABBOTTS American Watchmaker and Jeweler Encyclopedia. The 12th edition published in 1898. Hundreds of definitions with 288 engravings an indispensable reference work for collectors of jewelers tools covers and binding are worn and need to be handled with care but still intact first two pages covered with penciled notes the rest are clean with minor foxing.
Good
NW1999
50
100
PHOTO

6304-310
6304-310 Miniature jewelers blowtorch. Very attractive miniature just 2 1-2in high and 3in long tank is missing the bottom and has a couple of small holes in it but its not like you would actually use it.
Good
NW1861
35
70
PHOTO

6304-311
6304-311 Jewelers anvil. Unsigned 4in long x 2in tall solid brass needs cleaning but no damage.
Good plus
NW1910
30
60
PHOTO

6304-312
6304-312 MILLERS FALLS No. 240 grinding jig. Designed to hold a plane iron at the correct angle for honing comes complete with a KEEN KUTTER plane iron. Minor surface rust but japanning is almost complete works smoothly.
Good plus
NW1865
30
60
PHOTO

6304-313
6304-313 Rosewood handled race knife. Unusual thumbscrew adjustment. Mark looks like KRISH N.Y. Some light surface pitting and thumbscrew is frozen but a very attractive tool
Good
NW1885
30
60
PHOTO

6304-314
* 6304-314 Leatherworkers tool. Or it could be a glass cutter two wheels of different sizes mounted on the end of a wood handle small wheel can be turned to different angles with a locking screw.
Good
NW1918
20
40
PHOTO

6304-315
6304-315 Massive steel plumb bob. 4 3-4 lbs 8in long three decorative rings at top unmarked. Some minor surface pitting.
Good
NW1241
40
80
PHOTO

6304-316
6304-316 Stabilite Aquagel plumb bob. Marked Baroco and Compliments of Baroid Sales Department National Lead Company. The Aquagel seems to imply a liquid center but I couldnt hear any sloshing it could be lead although it doesnt seem soft its definitely not steel or brass. 4in long and different.
Good plus
NW1261
40
80
PHOTO

6304-317
6304-317 Dealers lot of twelve plumb bobs. Ranging in length from 2 1-2in to 14in. Both steel and brass the long one is steel and various shapes the one with the painted tip second from bottom on right is labelled Kennan Metal and Pat. Applied For the hexagonal one immediately above it is labelled Exact rest are unmarked.
Good and better

NW1214.1223.

1226.1232.

1238.1240.

1243.1250.

1258.1260.

1264.1269

100
200
PHOTO

6304-318
6304-318 Dealers lot of twelve plumb bobs. Ranging in length from 2 1-2in to 7 1-2in. Steel cast iron and brass and various shapes all unmarked.
Good and better

NW1217.1218.

1222.1224.

1231.1235.

1236.1242.

1249.1252.

1256.1263

100
200
PHOTO

6304-319
6304-319 Dealers lot of thirteen plumb bobs. A bakers dozen of smaller plumb bobs largest is the egg-shaped cast iron bob 4in long and 3 lbs one is marked PandS 1602 2 1-2 0z others are unmarked mix of iron steel and brass.
Good and better

NW1215.1216.

1220.1225.

1229.1230.

1233.1246.

1251.1259.

1265.1267.

1268

100
200
PHOTO

6304-320
6304-320 JAMES SWAN slick. 2in wide blade 12in long overall socket design but handle is missing good sharp blade with traces of surface rust swan mark just barely readable in old canvas sheath.
Good
MLD28
30
60
PHOTO

6304-321
* 6304-321 Lot of two tools. Modern dovetail saw made by Crown Tools of Sheffield a little surface corosion but ready to use and a D. R. BARTON hollow 1 1-2in gouge no handle and surface rust but good edge.
Good and better
CP24.39
20
40
PHOTO

6304-322
6304-322 Lot of two tool handles. One by J.S. FRAY with rosewood handle and nine toolscrack in collar and chip from handle thread one unsigned with fruitwood handle and five tools.
Good
CGN44.196
25
50
PHOTO

6304-323
* 6304-323 Unmarked push drill. 10ft long not reversible no bits.
Good
LEE921
10
20
PHOTO

6304-324
6304-324 Lot of two tool handles. One by BUELL BROS. with good rosewood handle and six tools other is unsigned with crack in collar softwood handle with loose end and six tools.
Good
CGN37.62
25
50
PHOTO

6304-325
6304-325 Lot of three beading-parting tools. Beveled on both sides and cut at an angle a 3-8in marked W. BUTCHER CAST STEEL and two unmarked 1-2in and 1in from the same set one has a crack in the handle other is missing the brass collar all have nice sharp blades.
Good

CGN6.263.

266

30
60
PHOTO

6304-326
6304-326 Lot of two turnscrews. Perfect handle type marked IMPROVED 660 PAT. APLD FOR 11in long And an unmarked cabinetmakers type with good boxwood handle 14 1-2.in
Good
LEE896
30
60
PHOTO

6304-327
* 6304-327 Lot of two miniature gimlets. 4in and 4 1-2in A little rusty but solid.
Good
RSI23.254
5
10
PHOTO

6304-328
6304-328 Lot of two screwboxes and tap. Both unsigned one 3-4in marked with size and 35 handles one unhandled coffin-shaped that looks user made unmarked 5-8in diameter. Plus a 5-8in unmarked tap.
Good

CGN55.56.

202

45
90
PHOTO

6304-329
6304-329 BUCK BROS. firmer chisel. 1 1-4in wide handle has obviously been used but still solid iron ring a few chips on the edge that can be honed out nice solid user.
Good
BFS20
35
70
PHOTO

6304-330
6304-330 Lot of two spiral ratcheting screwdrivers. Older model NORTH BROS. Yankee driver without model number no automatic return. And a MILLERS FALLS No. 610B. Both have some wear to handles but work smoothly no bits.
Good
BFS9.15
40
80
PHOTO

6304-331
6304-331 NORTH BROS. Yankee No. 130A driver. Nice example very clean handle minor corrosion spots works smoothly no bit.
Good
BFS11
30
60
PHOTO

6304-332
6304-332 NORTH BROS. Yankee No. 44 metal handled push drill. Nice clean overall condition both work smoothly includes 3 bits perfect users.
Good
BFS10.12
30
60
PHOTO

6304-333
6304-333 NORTH BROS. No. 100 tool set. Includes the No. 11 long screwdriver and No. 30 short driver and the No. 30A drill tools are virtually unused with just a trace of wear on the handles all bits and accessories present original wooden box has a few minor dingings and is missing interior label but otherwise fine. Youll look a long time for a nicer set.
Fine
BFS46
130
260
PHOTO

6304-334
6304-334 SARGENT gouge. 1in diameter very clean blade handle looks like replacement but solid.
Good
BFS22
35
70
PHOTO

6304-335
6304-335 SARGENT VBM bevel edge chisel. 1in blade handle has KEEN KUTTER mark dont know if its original has been used but not badly spalled blade is very good.
Good plus
BFS19
40
80
PHOTO

6304-336
6304-336 BUCK BROS. gouge. 1 1-4in wide handle has obviously been used but still solid iron ring a few chips on the edge that can be honed out some minor corrosion and a few paint flecks youll need to put a handle on it but then will have a solid worker.
Good
BFS21
25
50
PHOTO

6304-337
6304-337 BILLINGS patented retractable blade screwdriver. The small 4in model marked with both patent dates. Missing one of the four blades but otherwise nice and clean works smoothly.
Good minus
BFS25
25
50
PHOTO

6304-338
6304-338 STANLEY No. 2 Excelsior tool handle. Contains 11 out of the original 12 tools japanning a little worn and light surface rust.
Good
BFS23
40
80
PHOTO

6304-339
6304-339 MILLERS FALLS rosewood tool handle with AMIDON chuck. Chuck is marked with Amidons 1-14-88 patent for chuck jaws unusual to find this design on a tool handle. Metal and wood both very clean noting a JK owners stamp on the metal includes 8 bits an unusual tool handle.
Good plus
BFS26
45
90
PHOTO

6304-340
6304-340 SARGENT and CO. tool handle. Good clean condition with a few spots of minor corrosion includes 7 of the original 11 bits. An unusual Sarget tool.
Good
BFS24
40
80
PHOTO

6304-341
6304-341 MILLERS FALLS No. 59 ratcheting screwdriver. An unusual MF tool with a stubby screwdriver bit handle has wear but no damage ratchet works smoothly.
Good plus
BFS27
25
50
PHOTO

6304-342
6304-342 NORTH BROS. Yankee No. 10 ratcheting screwdriver. Nice example very clean handle no rust on blade works smoothly.
Good plus
BFS28
35
70
PHOTO

6304-343
6304-343 Lot of two STANLEY scraper tools. STANLEY No. 185 scraper burnisher. Just the thing to touch up the edge of your scraper notched rectangle mark. Plus STANLEY No. 204 one handed scraper. Red stained handle a few missing spots on japanning otherwise clean and complete.
Good plus
GNM112.204
35
70
PHOTO

6304-344
* 6304-344 Lot of miscellaneus tools. 4 1-2in unsigned turnscrew 1-2in plug cutter STANLEY No. 7 scratch awl and four miniature wrenches one broken.
Good

CGN74.

106.283

15
30
PHOTO

6304-345
6304-345 Lot of five STANLEY scratch awls STANLEY No. 70 box scraper. No. 287 which isnt in the book but looks identical to No. 286 three Hurwood No. 7s of different lengths and a DEFIANCE No. 1202. Plus STANLEY No. 70 box scraper. Sweetheart mark some minor loss to japanning but otherwise clean and complete good handle.
Good and better
GNM117.208
50
100
PHOTO

6304-346
6304-346 Set of nine STANLEY plastic handle wood chisels. 4 No. 60s and others from different sets 2in 1 1-2in 1 1-4in 1in 5-8in 1-2in 2 5-16in and 1-4in. All sharp rust free and well tended.
Fine
GNM107
65
130
PHOTO

6304-347
6304-347 Gooseneck mortice chisel. Unsigned but in good condition handle has a couple of cracks but is solid 22in overall metal is clean and edge sharp.
Good
NW1051
30
60
PHOTO

6304-348
6304-348 Lot of four STANLEY hammers. No. 291 midget ball pein No. 780 3 lb stonecutter No. 602 upholsterers and No. No. 461 tinners hammer. All have good clean heads and original handles with partial orange Stanley decals.
Good plus

GNM188.189.

191.196

60
120
PHOTO

6304-349
6304-349 STANLEY No. 4 improved tack hammer. Marked with 1867 patent date slight surface rust good walnut grips.
Good plus
GNM190
35
70
PHOTO

6304-350
6304-350 Caulking mallet. Four metal bands around head sliding handle with peg on the end to keep it in 15 1-2in head and 14 1-2in handle unusually nice.
Good plus
NW737
30
60
PHOTO

6304-351
6304-351 Lot of three hammers. Old strapped hand forged claw hammer short handled metal bumping hammer and an usual design with a square head and hexagonal peen marked PETIT. All have old good solid handles.
Good
LEE891
40
80
PHOTO

6304-352
6304-352 Lot of two striking tools. AXE BRAND short handled sledge 4 1-2in head with traces of red paint marked on bottom of head also marked 33 LBS which is clearly wrong - maybe they meant 3 lbs 10in original handle is a little loose. Plus Wooden mallet big chip out of the top of the head nice original handle.
Good
NW502.747
30
60
PHOTO

6304-353
6304-353 WARREN hatchet. Hatchet head is marked WARREN OLD FASHIONED AXE. Replaced handle with 14in MOHAWK label leather belt sheath is worn but stillworks.
Good
LEE899
30
60
PHOTO

6304-354
6304-354 Lot of two STANLEY hammers. 100 Plus hammer. Advertised as The Aristocrat of Hammers in the 16 oz size some dinging to head good solid original handle. Plus a No. 312B ball peen hammer with a damaged handle.
Good
GNM192.193
25
50
PHOTO

6304-355
6304-355 Lot of three striking tools. Log marking hammer marked NOA. 3in long head with some pitting 9 1-2in original handle. Plus Snow knocker hammer hand forged rusty with major pitting. Plus solid iron coopers hoop splitter three cutting edges set at 120 degree angles with spike in the middle.
Good

JRI934.

935.327

35
70
PHOTO

6304-356
6304-356 Coopers adze. Mark looks like H. Raptor but too worn to make out 7in handle leather wrap around blade has kept it razor sharp.
Fine
JRI702
40
80
PHOTO

6304-357
6304-357 Coopers adze. Unmarked 7in handle. Leather wrap around blade has kept it razor sharp.
Fine
JRI701
40
80
PHOTO

6304-358
* 6304-358 User made bit box. Nicely made wooden box with hinged lid and 13 holes for a set of long auger bits 10in long dirty and some dinging but solid.
Good
JO067
10
20
PHOTO

6304-359
6304-359 Clapboard gauge. User made 16in long very good condition.
Good plus
JRI925
30
60
PHOTO

6304-360
6304-360 Massive panel gauge. Owner made looks like oak head is 8in x 3 1-2in stem 1 1-2in x 1 1-4in. Wedge locked very well made and in excellent condition.
Fine
JRI924
30
60
PHOTO

6304-361
6304-361 Lot of two coopers tools. Primitive wooden hoop splitter with three blades set at 120 degrees 16in long worn with some inactive worm. Plus Coopers hoop driver. Unsigned 8 1-2in long x 4in wide iron ring good condition.
Good minus
JRI928.917
30
60
PHOTO

6304-362
6304-362 Carving mallet. Nice burl head thats hit a lot of chisels very worn nicely turned handle with chip at narrow part.
Good minus
JRI704
30
60
PHOTO

6304-363
6304-363 Carving mallet. Burl head smaller than most some chipping on one edge user name and initials stamped into head good solid 15in original hickory handle.
Good
JRI705
30
60
PHOTO

6304-364
6304-364 Whetstone. Mounted in user made holder hardwood with nicely turned handle well made and attractive.
Fine
JRI930
30
60
PHOTO

6304-365
6304-365 Miscellaneous screw arm plow parts. Two rosewood cylinder blanks 1 1-8inx 7 3-4in 7 boxwood screw arms with threads mostly good miscellaneous boxwood and rosewood nuts.
Good
JRI1115
35
70
PHOTO

6304-366
6304-366 Lot of miscellaneous tools. Five small turnscrews one by KNAPP and COWLES MFG. of Bridgeport CT with 4 1-4in blade others unsigned all in good condition with minor rustm one planemakers stamp in thistle pattern and two unsined race knives. Good and better.
Good
JRI884-892
150
300
PHOTO

6304-367
6304-367 Lot of ten Pod bits. 5in auger bit inactive worm plus two rust 2 1-2 spoon bits and two screwdriver bits plus 6in spoon bit and auger bit plus two pod bits with no bit in pod inactive worm and heavy screwdriver bit chip from end of pod.
Good
JRI874-883
50
100
PHOTO

6304-368
6304-368 BROWN and SHARPE No. 59 micrometer caliper IOB. Tool is in very good condition with some slight wear to the paint includes original instruction book BandS catalog and handy metric conversion reference card sliding lid wooden box is battered but complete label barely visible.
Good plus
DT34
35
70
PHOTO

6304-369
6304-369 STANLEY No. 79 side rabbet plane IOB. Immaculate condition with original depth stop cutters have notched rectangle but sweetheart mark on box label box tattered but complete.
Fine
CP76
60
120
PHOTO

6304-370
6304-370 Boys tool set. Completely unmarked and has a homemade look to it one wrench is marked Poland. Tool racks pivot out from doors on dowels nicely made even though none of the tools are anything special.
Good plus
CGN31
25
50
PHOTO

6304-371
6304-371 Set of CLIFTON multiplane cutters. Made for the Clifton 450 Multiplane Englands answer to the Stanley 45 missing two plough cutters and both ovolos otherwise complete in original plastic case a little surface rust particularly on the 3-8in plough but nothing serious and all cutters sharp and virtually unused.
Good plus
DT100
35
70
PHOTO

6304-372
6304-372 Six 2in STANLEY plane irons IOB. Five of the cutters are immaculate in their original waxed paper sleeves the sleeve on the sixth has torn and it has a little rust According to box these fit the Nos. 4 4C 5 5C go4 go4C 605 605C 24 26 and 35 box is complete with loose ends.
Fine
CP77
50
100
PHOTO

6304-373
6304-373 MILLERS FALLS No. 240 chisel and plane iron sharpener IOB. Roller has a lot of rust that could be cleaned up japanned body is good Box is complete and intact with original label and instruction sheet.
Good
LEE908
25
50
PHOTO

6304-374
6304-374 Lot of miscellanious tools. STARRETT No. 56-A surface gauge IIOB clean and complete with original detachable guide box a little tattered but complete. Plus STAR HACK SAW blades in original steel box 10 blades of different lengths and pitches probably not the ones that originally came in the box but steel flip-top box is nice with a few scratches and some corrosion on the bottom.
Good plus
CGN259.180
45
90
PHOTO

6304-375
6304-375 KEBABIAN and WITNEY American Woodworking Tools. First published in 1978 with text by former EAIA President Paul Kebabian and photographs by Dudley Witney 213 pages with 31 full color illustrations plus halftones and drawings text very clean with minor bumping good dust jacket with a couple of small tears.
Good plus
BFS171
30
60
PHOTO

6304-376
6304-376 W.L.GOODMAN History of Woodworking Tools. Illustrated history first published in London. This is the New York edition one of the earliest study of hand tools dust jacket has some tears and wear but book itself is very clean prior owners bookplate.
Good plus
BFS172
45
90
PHOTO

6304-377
* 6304-377 CHRISTIES Collectors Guide to Woodworking Tools. Published in 1984 as part of Christies Collectors Guide series. 160 pages color plates and BandW illustrations text is very clean with a few notes very good dust jacket prior owners bookplate.
Good plus
BFS164
20
40
PHOTO

6304-378
6304-378 AUDELs Carpenters and Builders Guide 1947 Edition. Theo. Audel was a New York publisher that issued a series of how-to books on the building trades sort of the Dummys books of its time. This four-volume set was originally published in 1923 the 1947 reprint has flexible hardcovers and is in immaculate condition with all bindings tight pages slightly yellowed.
Fine
BFS153
60
120
PHOTO

6304-379
6304-379 ALEXANDER FARNHAM Early Tools of New Jersey - signed copy. The definitive study of New Jersey toolmakers by longtime EAIA member Farnham in like new unread condition 190 pages with numerous illustrations. Issued without dustjacket signed by the author.
Fine
BFS159
40
80
PHOTO

6304-380
6304-380 ALEXANDER FARNHAM Search for Early New Jersey Toolmakers - signed copy. The companion volume to longtime EAIA member Farnhams definitive study of New Jersey toolmakers focusing on mystery makers that he was unable to clearly identify in like new unread condition 148 pages with numerous illustrations. Issued without dustjacket signed by the author.
Fine
BFS160
40
80
PHOTO

6304-381
6304-381 STANLEY TOOL COLLECTOR NEWS 1993-94. Six issues Nos. 8-13 of legendary Stanley expert JOHN WALTERs periodical published in the 1990s an invaluable source of information on Stanley tools and almost impossible to find these copies are clean complete and almost unread.
Fine

BFS123.

125-29

40
80
PHOTO

6304-382
6304-382 STANLEY TOOL COLLECTOR NEWS 1995-96. Six issues Nos. 14-19 of legendary Stanley expert JOHN WALTERs periodical published in the 1990s an invaluable source of information on Stanley tools and almost impossible to find these copies are clean complete and almost unread.
Fine

BFS118-122.

124

40
80
PHOTO

6304-383
6304-383 Lot of six educational charts and four safety charts. Lot of STANLEY educational and safety charts. 4 out of 18 double-sided safety charts distributed by Stanley for shop classes etc included are No. 3 lathe tools- 4 carrying tools No. 9 screwdrivers- 10 slippery floors No. 15 metal burrs- 16 using right tool and No. 25 Revolving saw blades- 26 soft-faced hammers. Plus four out of the series of double-sided instructional wall Stanley educational wall charts distributed by Stanley for shop classes ect. The smaller 14in x 18in size. Included are No. C51 ball peen hammers-C52 hammers No. C101 try square-C111 marking gauge No. C120 horizontal chiseling-C121 vertical chiseling and C125 butt gauge-C126 bevel. Plus two STANLEY large size 18inx24in double sided instructional wall charts for shop classes etc. Included are No. C15 block planes-C16 spoke shave and No. C27 doweling jig-C28 hand scraper. Printed on heavy card stock with metal grommets for hanging all have damage around edges but images are clear and complete On C101-111 it goes into the images and C51 was used as a coaster but the general images are clear and complete No. C27-28 is missing one corner and the grommet.
Good
RSI227-236
90
180
PHOTO

6304-384
6304-384 Patented washer cutter. Unmarked but closely resembles Coopers patent of 4-25-82. Ive seen a few of these but theyre not common.
Good plus
GNM179
30
60
PHOTO

6304-385
6304-385 Pair of STANLEY No. 4 trammel points IOB. The book says these should be nickel plated but these are japanned a little surface rust but nothing bad box is complete label missing one patch includes what looks like original wood keeper.
Good plus
GNM122
35
70
PHOTO

6304-386
6304-386 Lot of three STANLEY butt gauges. Nos. 94 95 and 95 1-2. 94 has sweetheart mark 95 1-2 has vee all nice and clean with all parts and sharp points a nice set.
Good and better
GNM58.60.61
40
80
PHOTO

6304-387
6304-387 Lot of two STANLEY marking gauges. No. 97 with the single rod and the corresponding No. 98 with the double rods both have point on one end and pie wheel on the other. No. 98 is sweetheart era 97 is later both clean and complete with sharp points and nickel almost complete.
Good plus
GNM62.63
50
100
PHOTO

6304-388
6304-388 Lot of two STANLEY butt gauges. Late model No. 95 and sweetheart era No. 93 both clean and complete with nickel plating complete.
Good plus
GNM57.59
35
70
PHOTO

6304-389
6304-389 YANKEE No. 41Y automatic drill IOB. Tool is in immaculate condition. Includes 11 drill bits box says 8 which may not all be original but work box is complete but ragged middle part of label missing.
Fine
GNM199
50
100
PHOTO

6304-390
* 6304-390 Yankee screwdriver bit bonanza. Three slotted bits for the 31-131 size 18 mixed slotted and phillips bits in the 35-135 size and a NOS card of screwdriver and drill bits in the 133-233 size.
Good

GNM132.

134.136

15
30
PHOTO

6304-391
* 6304-391 Lot of square shank bits. A group of six assorted STANLEY and HANDYMAN screwdriver bits in various sizes five slotted and one phillips.
Good
GNM185
10
20
PHOTO

6304-392
* 6304-392 Lot of five STANLEY offset screwdrivers. One. No. 669 4in three No. 670s 4 1.2-5in and one No. 671 6in. A few minor surface rust spots.
Good plus
GNM13
20
40
PHOTO

6304-393
* 6304-393 Assortment of yankee drill bits. A complete set in the original wooden box for the 30A-130A size a No. 9 set in original plastic vial cap missing and 9 miscellaneous bits.
Good
GNM135
10
20
PHOTO

6304-394
* 6304-394 Lot of three small tape measures. Six foot model by WALSCO of Milford CT miniature Little Pal 3ft model with clean body but rusty tape and and an unmarked 6ft model very clean with orange button for rapid return.
Good and better
DT45.46.50
15
30
PHOTO

6304-395
* 6304-395 Lot of spare cutters. Three STANLEY cutters marked for a No. 1 No. 62 and No. 85 two sweetheart one vee. And a two part cutter assembly marked HUMPHREYSVILLE MFG. Stanleys are all nice and clean Humphresville a little rusty and spalled end. Plus a small scraper with a sweetheart mark and an unmarked skew cutter.
Good and better

GNM142.

143.207

20
40
PHOTO

6304-396
* 6304-396 Lot of 5 IRWIN screw tip auger bits. Nos. 8 10 12 14 and 16. No. 16 has the very type of the auger broken off but still usable.
Good
CGN132
20
40
PHOTO

6304-397
6304-397 STANLEY No. 214 doweling jig IOB. Tool is immaculate with all 9 sleeves and nickel plating intact box is ragged but complete with taped edges but 90prcnt label includes original instruction booklet.
Good plus
GNM214
30
60
PHOTO

6304-398
6304-398 Lot of three YALE and TOWNE padlocks. Largest is 3in x 2 1-4in smallest 1 7-8in x 1 1-5in. All brass and clearly marked two larger have chains attached all locked and no keys included so unless you can pick locks these are decorative.
Good

CGN207.

291.292

30
60
PHOTO

6304-399
* 6304-399 Two-part fishing weight mold. Marked PENN SPORT NO. 3 and Pat. Applied For. Molds eight 1in teardrop shaped forms with loop at end from the fact that its a sports company Im guessing fishing weights different.
Good
CGN190.200
15
30
PHOTO

6304-400
6304-400 Lot of spare bench plane parts. Three tall knobs one definitely rosewood and nice and I think the others are too one low with wood screw. Plus a lever cap with notched rectangle mark 6 stamped on back surface corrosion.
Various
RSI171-175
25
50
PHOTO

6304-401
6304-401 LUFKIN No. 589 plumb bob IOB. Unusual cone shape with three legs metal is gilded and isnt iron. Box has one split seam but in well above average condition original packing slip 2 1-2in tall.
Fine
PMG35
45
90
PHOTO

6304-402
6304-402 Lot of eight spare bench plane totes. One nice rosewood others have various degrees of wear two reglued one badly plus a couple of bolts to hold them on.
Various
RSI163-170
25
50
PHOTO

6304-403
* 6304-403 H. BOKER spring calipers. Very clean with good wing locking nut.
Good
JAR135
10
20
PHOTO

6304-404
* 6304-404 Surface gauge. Unmarked but clean and rust-free owners initials and 1928 date stamped into underside.
Good plus
CGN247
15
30
PHOTO

6304-405
6304-405 LOWENTRAUT washer cutter. Unusual tool by Peter Lowentraut of Newark best known for his combination brace-wrench. Clearly marked and in immaculate condition.
Fine
CDE2147
40
80
PHOTO

6304-406
6304-406 KEUFFEL and ESSER Locke-type hand level. First patented in 1850 by John Locke and used by surveyors in the field to get a roughly level line of sight. This one is way above average condition with only a small patch of black paint rubbed off original leather case good optics.
Fine
CGN177
35
70
PHOTO

6304-407
* 6304-407 Set of STANLEY cornering tools. No. 28 1-16 and 1-8 and No. 29 1-4 and 3-8 sweetheart marks a few rust spots.
Good plus
RSI285.286
10
20
PHOTO

6304-408
* 6304-408 STANLEY No. 59 dowelling jig. The books says these were nickel-plated cast iron but this is aluminum so must be a later model. Includes all six original guides and close to mint.
Fine
RSI279
20
40
PHOTO

6304-409
6304-409 Trammel points. Pierced brass bodies with steel points 7 1-2in long on a rosewood keeper bar.
Fine
CDE2143
50
100
PHOTO

6304-410
6304-410 Lot of six straight razors. Various makers mostly German two tortoiseshell handles two look like bone others plastic most have minimal rust and all would still cut a throat should you be so inclined.
Good
DUP172
40
80
PHOTO

6304-411
6304-411 OTTO BERNZ CO. plumbers grease box. Three divisions to hold resin paste and grease. The two ends pull off and the middle compartment has a rotating door still some old resin in one comparment 6in long and nicely made of brass by Bernz which was a Newark manufacturer of torches and plumbing tools different and cool.
Good plus
CGN30
30
60
PHOTO

6304-412
6304-412 Jewelers anvil. 5 1-2in long overall unsigned nice clean condition.
Good plus
LEE901
25
50
PHOTO

6304-413
* 6304-413 STARRETT specialized micrometer. Marked CMG-8935 and G-37 according to label it was used to measure can seams in immaculate condition for the Starrett collector who has everything else.
Fine
FES776
20
40
PHOTO

6304-414
6304-414 Lot of two STANLEY No. 1 trammel points. Type 1 with floral pattern one beam protector missing not marked on points.
Good
CGN100.101
40
80
PHOTO

6304-415
6304-415 L.S. STARRETT No. 231 micrometer. Tiny amount of surface corrosion but works smoothly 4 3-4in long.
Good plus
CGN305
30
60
PHOTO

6304-416
6304-416 Lot of two drilling tools. Drill bit caddynicely turned wooden body with rotating aluminum top room for 9 bits 3 included 5in long. Plus Pump drill unsigned 12in long brass flywheel nice example.
Good plus

CDE2218.

1828

45
90
PHOTO

6304-417
6304-417 Lot of two STANLEY layout tools. 8in No. 18 butt-locking bevel and a No. 94 butt marking gauge with sweetheart mark some surface corrosion and nickel flaking on both.
Good
CP64
25
50
PHOTO

6304-418
* 6304-418 SALTERS spring balance scale. Richard Salter invented the spring balance scale in 1770 and his firm was the leading manufacturer for the next century. This one is 8in long and works well good brass face plate on an iron body with worn japaninng.
Good
AED10
15
30
PHOTO

6304-419
6304-419 1940 STANLEY No. 34 catalog. Intact with some staining on interior pages but nothing loose and good binding plus the 1940 46 page pocket catalog included with new tools in very good condition.
Good
LEE864
20
40
PHOTO

6304-420
6304-420 RUSSELL JENNINGS No. 71 expandable auger bit. Invented by Jennings and marketed by STANLEY after it acquired Jennings. In immaculate condition in original plastic sleeve perfect user or to round out your collection of expandable bits.
Fine
CDE2150
25
50
PHOTO

6304-421
6304-421 Lot of two glass cutters. One by DIAMOND TOOL CO. with good hardwood handle and breaker slots in head the other is an unusual small wooden model marked patent applied for and carbonized disc.
Good
FES859
30
60
PHOTO

6304-422
6304-422 STANLEY No. 69 one-handed beader. Missing cutters handle worn but complete corrosion on head very rare.
Good
RSI276
150
300
PHOTO

6304-423
* 6304-423 Lot of four YANKEE screwdriver bits. Standard bits for YANKEE reciprocating screw driver different widths from 1-8in to 5-16in.
Good plus

CGN285.286.

287.288

20
20
PHOTO

6304-424
* 6304-424 Leather punch. Unmarked cuts a design that looks like flames marked 1071.
Good
CP79
10
20
PHOTO

6304-425
6304-425 Lot of miscellaneous tools. STARRETT No. 64 universal test indicator appears complete with some minor surface schmutz bottom half of original box. Plus Lot of two small levels STANLEY No. 40 rule and square level Type 5 and a Japanese cross-testing level immaculate in original blue box. Plus two adjustable machinists screw jacks unmarked hexagonal steel heads larger is 2 1-2in long closed and works smoothly smaller one has been adjusted with a pliers and needs lubrication.
Good and better

CGN304.99.

244.306.307

55
110
PHOTO

6304-426
6304-426 Lot of cabinet scrapers. A total of 8 scrapers mostly rectangular but one convex and one concave two by DISSTON one by EBERLE rest unsigned a little surface corrosion on a couple of them but overall excellent condition.
Good plus
CP75
25
50
PHOTO

6304-427
6304-427 J.H. WIDDOWSON adjustable screw die. Unusual design can be adjusted to different diameters marked J.H. Widdowson and Lancaster dont know if its Lancaster PA or in England also marked B990. Well made and functional.
Good plus
ALV41
25
50
PHOTO

6304-428
6304-428 Lot of three TUFFEY screwdrivers. Aluminum handles with fold-out levers to provide additional torque for those stubborn screws one is 10 1-2 and the other two 9 1-2in. All marked patent pending alumninum handles have a number of dings but are intact.
Good
ALV511.520
55
110
PHOTO

6304-429
6304-429 Lot of three plier-type tools. DISSTON Triumph saw set what looks like a Bernard patent leather punch by SCHOLLHORN although Im not sure how it works. And a UTICA TOOL CO. seal press pliers. Disston saw set has some surface rust otherwise all are nice and clean.
Good and better

ALV106.

121.173

40
80
PHOTO

6304-430
6304-430 Lot of two pliers. SCHOLLHORN parallel jaw pliers with diagonal cutters a little surface rust but overall nice and clean. And an unmarked fencing pliers with wire cutter some teeth chipped away from lower jaw.
Good
ALV171.212
30
60
PHOTO

6304-431
6304-431 BOARDMAN combination wrench. Originally in 1865 by A.W. Park and manufactured by Boardman and Co. of Norwich Norwich CT Boardman took out second patent on improvements in 1866 it was later manufactured by Towr and Lyon but this one has the less common Boardman mark jaws sprung but otherwise in very nice clean condition.
Good
ALV161
40
80
PHOTO

6304-432
6304-432 LOWENTRAUT 20th Century wrench brace. Patented in 1901 by S. J. Johnson and manufactured by Lowentraut this is one of the most gimmicky of the combination brace tools and always popular with collectors this one is in decent shape with good rosewood handle but a fair amount of nickel loss and someone used pliers to tighten the wingnut.
Good
ALV545
80
160
PHOTO

6304-433
6304-433 A.E. CUNINNGHAM band saw set. Very complex spring-powered saw set patented by Roswell Cook in 1873 unmarked but unmistakable. Made of cast iron and brass works smoothly and one of the more attractive sets.
Good plus
ALV252
60
120
PHOTO

6304-434
6304-434 THOMPSON patented buggy axle wrench. Patented 11-2-1888 by Henry Thompson of Maine and manufactured by Portland Wrench Co. Patent date cast into body good and unusual.
Good
ALV28
40
80
PHOTO

6304-435
6304-435 STANLEY No. 992A variable angle vise. Vise adjusts to different angles 7in long some surface rust but a good design and solid worker.
Good
ALV592
35
70
PHOTO

6304-436
6304-436 EIFEL-FLASH plierenchs and EIFEL-GEARED Plierench. EIFEL-FLASH plierench. Manufactured by FLASH SALES CORP. of Chicago. The original version marked only with the first 5-2-16 patent wrench is in very nice condition with one extra jaw and the original screwdriver. Original pouch is falling apart rating is for the tool. Plus EIFEL-GEARED Plierench. Manufactured by the American Plierench Corp of Chicago successor to the Eifel-Flash wrench in very good conditionin original plastic pouch with two different jaws included.
Good plus
CGN280.214
50
100
PHOTO

6304-437
6304-437 CRESCENT TOOL CO. double-ended wrench. 8in-10in type no pitting good jaws.
Good plus
GNM219
40
80
PHOTO

6304-438
6304-438 Lot of two combination tools. Both with curved pliers and hammer head one of square stock marked E and C. WYNN 3 WARRANTED STEEL HAMMER other is unmarked with rounded hammer with waffle face. Very good condition.
Good plus
LEE926
25
50
PHOTO

6304-439
6304-439

D and W adjustable wrench. Screw adjusting wrench with slanted jaws patented 1911 and sold by DOOLITTLE and WHITEHEAD of Wallingford CT. Some surface rust but no pitting jaws work smoothly owner initials.

Good
UNK112
35
70
PHOTO

6304-440
6304-440

J.P. DANIELSON pipe wrench. 7in long pipe wrench manufactured by Danielson of Jamestown NY. Surface rust but no pitting jaws work smoothly good wooden handle.

Good
UNK114
50
100
PHOTO

6304-441
6304-441 QUIKAXION wrench. Marked patent pending but I cant find any reference to it 6in flat stock sliding collar quick adjustment action jaw a little dinged but not bad.
Good
GNM216
40
80
PHOTO

6304-442
* 6304-442 STANLEY No. 42 saw set. Worn but functional.
Good
UNK109
10
20
PHOTO

6304-443
6304-443 Lot of three patentee adjustable wrenches. BILLINGS and SPENCER 8in S-handle marked with 11-14-05 patent COCHRAN 6in Speednut and ELGIN Live Alligator with some light surface corrosion.
Good and better
CGN142.203
30
60
PHOTO

6304-444
6304-444 PLIERENCH in original pouch. Combination plier and wrench manufactured by American Plierrench of Chicago. Nickel plating very good jaws work smoothly in original plastic pouch with two substitute jaws and changing tool.
Good plus
UNK113
50
100
PHOTO

6304-445
6304-445 Lot of two adjustable wrenches. ELGIN Live Alligator with spring loaded alligator jaw patented 1897 7in long nickel plating good with some minor flaking user initials jaws work smoothly. Plus a STEINADLER German center screw bicycle type.
Good
UNK115
60
120
PHOTO

6304-446
* 6304-446 Lot of two bit extensions. A STANLEY No. 180 24in and a NORTH BROS. No. 2150 30in. Both in nice clean condition with minimal surface corrosion.
Good
GNM186.187
20
40
PHOTO

6304-447
6304-447 Wooden fret saw. 14in deep 5in wide unsigned good clean condition.
Good plus
M33
30
60
PHOTO

6304-448
6304-448 Two open-end wrenches still attached from mold. The word FREESE is scratched into the center but otherwise unmarked. The double-ended one is 13in long 1 1-4in by 1 3-4in. The single-ended one is 1 1-2in.
Good
ABR6
25
50
PHOTO

6304-449
6304-449 Eight open-end wrenches attached to mold. Unmarked except for 5 each is 6in long 5-8in on one end and 3-8in on the other one has broken off but is included.
Good
ABR1
30
60
PHOTO

6304-450
* 6304-450 Carriage Wrench. Unsigned 9in long 1in box end on one end and three open end on other.
Good
M22
20
40
PHOTO

6304-451
6304-451 WAKEFIELD Wizard No. 120 adjustable wrench. Early version marked patent pending 8in long with same adjustment mechanism on both ends.
Good plus
ABR106
40
80
PHOTO

6304-452
6304-452 Lot of two twisted handle monkey wrenches. 14in model is unmarked 5in model looks like ACME in diamond mark. Both work smoothly some loss of nickel on small model.
Good
ABR107
50
100
PHOTO

6304-453
6304-453 Traveller. Probably Wiley Russell but name is too rusted to tell. 8in diameter ruled edge open loop iron handle.
Good
M67
35
70
PHOTO

6304-454
* 6304-454 Wooden model of end wrench. 13in long 2 3-16in on one end and 7-8in on the other B and 13427 marks 3 worn off. Used for sand casting molds.
Good
M23
20
40
PHOTO

6304-455
6304-455 CRAFTSMAN adjustable pipe wrench. Unique roller jaw mechanism patented 11-12-07 and sold by the Craftsman Company of Conneault OH. The 10in model surface oxidation but no rust or pitting and adjustment works very smoothly.
Good plus
M28
50
100
PHOTO

6304-456
6304-456 Panel raising plane. 10in long brass fence wood very clean with a few dings cutter marked Hissinger so maybe German.
Good plus
ABR0002
40
80
PHOTO

6304-457
6304-457 Lot of four wrenches. Two end wrenches flat wrench is 5-8in and 3-4in and offset with 7-8in open end and 5-8in closed. Plus two adjustable auto wrenches both 9in one by Crescent Tool Co and one unsigned.
Good

CGN85.97.

22.25

25
50
PHOTO

6304-458
6304-458 Lot of two COES type wrenches. 12in perfect handle by COES WRENCH CO. surface pitted and jaws slightly sprung and a 10in solid metal handle model marked Railroad Special in nice condition.
Good
GNM220
55
110
PHOTO

6304-459
6304-459 Lot of two adjustable nut wrenches. A WINCHESTER 10in with wooden perfect handle small crack good clean jaws and a PEXTO 8in with waffle patter n metal handle jaws dinged up but close smoothly.
Good
CGN111.156
25
50
PHOTO

6304-460
6304-460 Lot of two STILLSON type pipe wrenches. 9in model by WALWORTH MFG. CO of Boston with black handle. According to Ken Cope Daniel Stillson worked for Walworth and offered them the original patent for $1500 which they declined kind of like when I decided Microsoft was a shaky investment. And a 7in perfect handle model by OSWEGO Tool Co. The Walworth has a chip out of the jaw and the Oswego has some pitting both jaws work smoothly.
Good
GNM217.218
50
100
PHOTO

6304-461
6304-461 Lot of four wrenches. 10in TRIMO pipe wrench by TRIMONT MFG. two adjustable nut wrenches an 11in model by BARCALO MFG. of Buffalo and a 14in model by HERBRAND CO. of Fremont OH. And an S-shaped open end wrench 3-4in and 7-8in marked WILLIAMS and 367 special. All in good overall condition with moderate surface corrosion the Herbrand jaws are a little sprung.
Good and better
GNM49
55\\60
120
PHOTO

6304-462
6304-462 Lot of two wrenches. MEADVILLE WRENCH CO. screw-adjusting nut wrench 15in solid metal handle jaws slightly sprung. And an unmarked adjustable wagon wrench with nickel plating substantially corroded but works smoothly.
Good
LEE895.930
40
80
PHOTO

6304-463
6304-463 Lot of four STANLEY pliers. No. 1 battery pliers two No. 4 thin nose pliers with sweetheart marks and No. 9 1-2 diagonal cutters. One of the No. 4s has some rust and loss of nickels others are good plus to fine.
Good and better

GNM210.

211.212

30
60
PHOTO

6304-464
6304-464 Lot of three alligator wrenches. BONNEY No. 2 7in KandB CO of New Haven with taps in center 8in and H S and B OVB model 5in surface rust and some light pitting.
Good and better

CDE2311.

2312.2313

45
90
PHOTO

6304-465
6304-465 Lot of three bicycle wrenches. One manufactured by RICHARDS of Sheffield with Tent logo WHITMAN and BARNES improved bicycle wrench and an unmarked center screw type all 4in with decent jaws and no significant rust.
Good and better

CGN152.

157.160

25
50
PHOTO

6304-466
6304-466 Lot of three adjustable nut wrenches. Quick adjusting wrench patented in 1921 and manufactured by GORDON AUTOMATIC of Union NJ 7in A COES 5in metal handle marked with 12-24-01 patent and a 6 1-2in center-screw type marked only AMES jaws of Ames a little dinged up otherwise good.
Good

CGN135.

143.151

25
50
PHOTO

6304-467
6304-467 Lot of seven block planes. STANLEY Type 1 No. 220 cutter adjustment wheel replaced by a bolt and locking lever missing parts plane. Plus GREAT NECK G2 block plane 7in sole rear knob cutter adjustment unusual maker. Plus Type 6 with large J type trademark on cutter japanning 30prcnt complete with good cutter. Plus later version with notched rectangle mark on cutter pressed steel knob dark blue japanning. Plus No blade adjustment knuckle cap most japanning worn off. Plus block plane with slide-in knuckle cap brown paint joint. Plus 5in sole slide-in cap overall pitting.
Good
CDEVarious
85
170
PHOTO

6304-468
6304-468 Lot of six adjustable wrenches. 8 1-2in Barcalo with tang on end and FORD mark 11in Billings and Spencer 10 1-2in by Diamond Tool and Horseshoe of Duluth either plated or painted silver very well. Plus three Ford adjustable wrenches. One 9in marked MOORE DROP FORGING others just with Ford mark 8in and 9in jaws a little chewed up but surfaces generally good.
Good
CGNVarious
50
100
PHOTO

6304-469
6304-469 Basin wrench. Has a name and patent date but too faint to make out jaws at right angles to solid iron handle 9in long surface oxidation but works smoothly and no pitting. Plus tool marked a whatsit and your guess is as good as mine. two sliding jaws that lock together could be a saw vise but doesnt look like it parts are labeled K17 and K18 red japanning mostly complete.
Good
ALVVarious
60
120
PHOTO

6304-470
6304-470 Lot of four-fold rules. STANLEY No. 62 and 72 1-2 and a CHAPIN-STEPHENS all are worn and dirty the Stanley 62 is the best with all of its pins other two are missing pins and have more wear and staining. Plus one marked UPSON NUT CO. which was acquired by STANLEY in 1890 and one marked STANLEY both nice and clean the UPSON version is missing one pin has a small chip out of the edge and some staining and corrosion on hinges.
Good minus and Better
FNKVarious
55
110
PHOTO

6304-471
6304-471 Lot of two breast drills. MILLERS FALLS single-speed drill with iron frame and breast plate 14 1-2 long 3 1-2 drive gear with red japanning in better than average shape and about half the decal Barber chuck. Plus WARDs MASTER QUALITY two speed model clean and complete with good original green paint and level in cast iron frame improper modern bolt holds head on and would need to be replaced.
Good
CDEVarious
55
110
PHOTO

6304-472
6304-472 Lot of seven wrenches. Two BILLINGS and SPENCER center-nut adjusting wrenches one 6 3-4in one 6in and five alligator wrenches two WHITMAN and BARNES 9in No. 2 Bulldog models one has WandB diamond logo and Bull-Dog is hyphenated and one 7in unmarked from flat stockwith nut cutout.
Good
CGNVarious
120
240
PHOTO

6304-473
6304-473 Lot of three user made marking gauges. One with boxwood wedge locking gauge brass head with hole for four pins all missing . Head and wedge in good condition but head a little loose. One with nicely turned barrel-shaped fruitwood head with hand carved wooden locking screw. Point worn down but still there. One original wedge one chip out of end of bar but otherwise nice and clean. a beautiful tool.
Good and better
CDEVarious
120
240
PHOTO

6304-474
6304-474 Lot of three marking gauges. MARSHALL WELLS Zenith boxwood two brass strips on head fixed pin with split in end trademark worn but legible. And two unsigned user-made grass hopper type gauges with locking wedges one with unusually nice laminated head with original locking wedge. both with slight warp to stems.
Good
CDEVarious
70
140
PHOTO

6304-475
6304-475 Lot of seven Hammers. Hand forged 5 1-2in head and 12in handle a solid hunk of iron. Plus two with 7in head 12in handle with original handles one with screw eye in end unmarked other with handle thats a little loose. Also GOLDBLATT TOOL CO. in unusually good condition with clear mark cast into head 8in head 12in handle looks like old replacement. Plus unmarked hammer some surface rust 6in head 13in loose handle. Plus sledge 6 1-2in head on a 12in handle that needs tightening. Plus PUNCH-LOK hammer marked Punch Lok and Chicago on both sides of head with a P in the middle 3 1-2in head on 12in original handle.
Good
NWVarious
130
260
PHOTO

6304-476
* 6304-476 Metal brace grab bag. All need to be cleaned at least and some may have parts missing but it looks like most would make decent users. No returns on these - strictly as is.
Caveat emptor
CDEVarious
5
30
PHOTO

6304-477
6304-477 Lot of four hammers. PLUMB bricklayers hammer 24 ounce head 11in handle that looks original. Plus Stoneworkers hammer 6in head 16in handle that doesnt go all the way through the eye and is probably an old replacement. Also 7in head 14in handle that could be an old replacement. And mallet holes in both faces for wooden inserts now missing head looks hand forged pitted no markings old handle.
Good
NWVarious
70
140
PHOTO

6304-478
* 6304-478 Lot of four screwdrivers Heavy-duty PERFECT HANDLE and three unmarked all well used but no major damage. Good 20 40
good
CDEVarious
20
40
PHOTO

6304-479
6304-479 Lot of 4 STANLEY Block planes. STANLEY No. 9 1-4 block plane. Plus STANLEY No. 9 1-2 block plane. And two STANLEY block planes.
Good plus
GNMVarious
80
160
PHOTO

6304-480
6304-480 Lot of six Block Planes. OHIO TOOL CO. No. 120 block plane. Plus two MILLERS FALLS No. 97 block planes similar design to Stanley 110 but with cutter adjusting level that engages grooves on the bottom of the cutter. And two knuckle-joint block planes one has WIRTH marked on cutter otherwise unmarked. 7 1-4in soles non-adjustable throats.
Good
CDEVarious
95
190
PHOTO